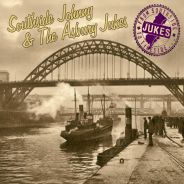 SOUTHSIDE JOHNNY & THE ASHBURY JUKES
"From Southside to Tyneside"
SECRET RECORDS LTD
.
Recorded at the Opera House, Newcastle
26th October 2002

Incl. 8 page color booklet
By Ginger Coyote
TRACK LISTING
Disc 1
Take It Inside
Baby Don't Lie
All Night Long
Long Distance
Gin Soaked Boy
Without Love No Easy Way Down
Coming Back
All I Needed Was You
Disc 2
Help Me
Cadillac Jack's Number One Son
This Time Baby's Gone For Good
Some Things Just Don't Change
I Won't Sing
Pipeline
Sleepwalk
I Don't Want To Go Home
I Don't Want To Go Home
-- Reprise
Passion Street
This Time Is For Real
Hearts Of Stone
The CD has tracks written by Southside Johnny, Steve Van Zandt,
Bruce Springsteen, Tom Waits and Goffin/King.....
Tunes from pretty heavy hitters and the band does a good job..
However, having seen Southside Johnny & The Ashbury Jukes
play a bar in New Jersey, this CD lacks alot in energy...
I realize that it was recorded in 2002 and I saw the band
in the 80's, so with time (besides the inevitable aging process)
the production has gotten better and lost the band's raw sound.
For some, it may be an improvement. For others it may be a disappointment.
But the CD has quite a collection of tunes for the price,
and that is worth it all..
www.secretrecordslimited.com
Fleur@dreamcatcher-records.com