Cycle Sluts from Hell
Cycle Sluts from Hell Halloween '07 Reunion
@Rebel/Motherfucker Party or "I Was a Back Up Druid!"
By Morgan Y. Evans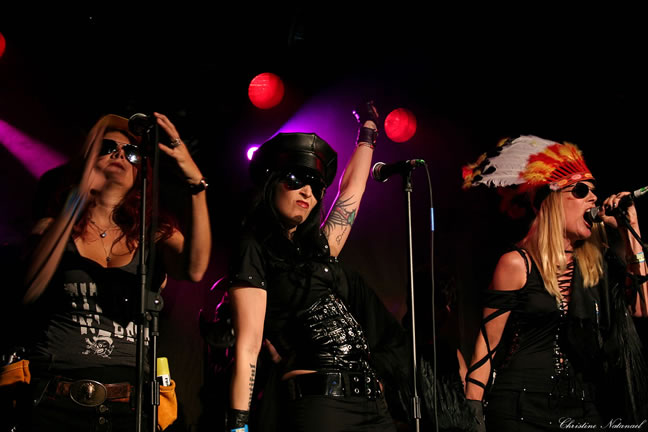 The Cycle Sluts from Hell, a notorious underground female fronted metal band, are best remembered for their poseur-hating anthem "I Wish You Were a Beer". All rants at losers and lame guys aside, they wrote quite a few great metal tunes in their day but sadly, broke up after only one album, 1991's self titled Sony cd. Due to label problems, bad management and inter-band conflict, this potentially huge group unfortunately ended up as a terrific, though influential. footnote. They deserved a lot more
The October, 31st (and reportedly final) Motherfucker Party, was a chance to come back and light a few more fires under the asses of the complacent hordes. A series of parties which were always in a different location, this final Motherfucker event was at club Rebel on West 30th street and was billed as "Motherfucker's Monster Mash-Night of 1,000 Monsters". The crowd was large and well-bedecked, from jeweled gypsy girls to the obligatory undead to a giant Chewbacca.
I am a long time friend with the Cycle Sluts own Honey 1percenter (aka. Donna She Wolf, now of the terrific She Wolves). It was with disbelief and then surging enthusiasm that I said yes when she asked me to be a back up druid on stage for this event. I would get to help make a stage prop Stonehenge (ala Spinal Tap, of course), wear a robe and wave around a giant fake axe. All of this, basically, amounted to some of my wildest metal dreams come true! There was even some free booze!
The show started with Brooklyn, NY's gothic mopesters the Hunt, pounding out convincing gloom rock while lead singer Jasper writhed and hopped around the stage. They were followed by the excellent and always fun Stalkers (also from Brooklyn), whose debut YESTERDAY IS NO TOMMOROW is a must hear for fans of messy garage mayhem. Singer Andy Animal mocked and reveled with the audience at the same time while new guitarist Lefty, in a ridiculous wizard-looking get up, leapt high into the air as drummer Josh Styles pounded the skins. They also had some pretty cute ladies dancing around.
Finally, though, it was time for the Sluts to take the stage. June 24, 2006 was a previous "one time only" reunion at The Delancey in New York, but this was probably destined to be crazier simply because it was Halloween. Queen Vixen, Honey 1percenter, She Fire of Ice, and original guitarist Lord Roadkill took the stage, with some great hired guns (including Nick Marden from The Stimulators on bass) and She Wolves own Tony Mann (ex-G.G.Allin, Dee Dee Ramone) behind the kit.
The band sounded tight and booming, with the ladies voices holding up great despite the years since their debut. "Taste the Flesh" remained anthemic metal perfection while "Talisman" evoked a world of Dungeons and Dragons Valkyries gone leather. "Bad Ass Mama" was pure attitude, with the crowd waving their fists along with the groove. It was kind of hard for me onstage during "By the Balls" because we druids were supposed to repeatedly grab our crotches and bend over in pain during the outro, not an easy feat when you are wearing a spiked bracelet and already holding a pointy axe!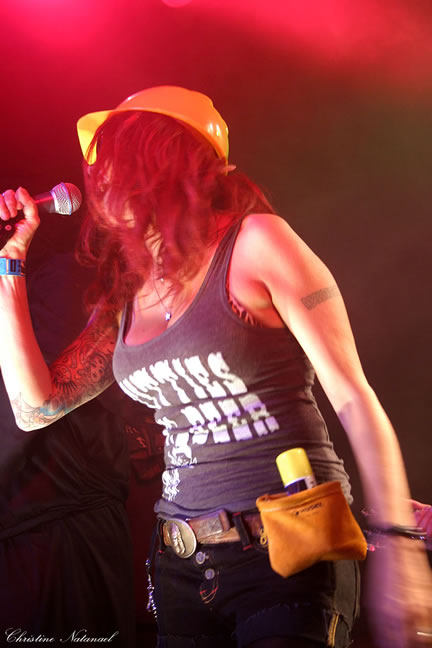 I was kind of confined to near the side of the stage, though we did get to dance behind and with the Sluts at certain points. The highlights by far, for me, were getting to hold axes aloft over the ladies' heads while they head banged in the bridge of the doom meets thrash of "Dark Ships" and chugging a whole beer through my nasty tasting mask while the crowd went nuts for "I Wish You Were a Beer." The encore "Queen High Love" sort of derailed a bit amidst the chaos, but is so catchy you can't help but get it stuck in your head for days. And anyway, the show was near perfection, ample proof as to why these girls rightfully ruled NYC in a reign of terror during their heyday.
Let's hope for another one!