Slick 46
"I Don't Wanna"
Debut Album
Longshot Music

Review by Sharla Cartner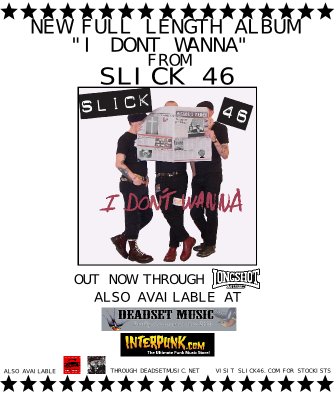 Tracks

1 I Don't Wanna
2 Better Man
3 Oi! It's Friday
4 Quit
5 Checking Out
6 Coming Up
7 Life
8 Everything You Want
9 No Matter What
10 Drunken Wish
11 Sad But True
12 City Bye Night
13 Shot Thru
Personnel

Tim Mumford - Guitar/Vox
Paul Mumford - Drums
Owen Dwyer - Bass/Vox


Oi! Old school punk band

Slick 46

are kicking out their debut album

I Don't Wanna

(Longshot Music)
here downunder before they jump a plane to the states. The Melbourne based trio packs nose bleeding beats,
loud and proud sing along choruses and fast furious gutiar riffs on this album I Don't Wanna.
Their influences Rancid, The Clash and Sham 69 are heard throughout this album
and any true fan of those bands will love these aussie lads too.
The songs I Don't Wanna, Oi! It's Friday, Quit and Drunken Wish
immediately held my attention -- also check out Checking Out.
I Don't Wanna is a kickass debut album and it has made itselfa cherished member of my punk music.

So lace up your Docs, get your mitts on this cd and get yourselves in the pit!
Aussie, Aussie, Aussie! Oi, Oi, Oi!
Sharla Cartner
MusicFanbiz
22 Jun 2008 3:00 P MISSING LINK RECORDS ( all ages album launch ) Melbourne, Victoria
12 Jul 2008 8:00 P THE ART HOUSE(album launch) Melbourne, Victoria

30 Jul 2008 8:00 P THE STORK CLUB OAKLAND, California
31 Jul 2008 8:00 P GAYLES BAR PETALUMA, California
1 Aug 2008 8:00 P GILMAN STREET BERKELEY, California
2 Aug 2008 8:00 P THE DOLL HUT ANAHEIM, California
3 Aug 2008 8:00 P THE ZOMBIE LOUNGE SAN DIEGO, California
4 Aug 2008 8:00 P BIACCI'S UPLAND, California
6 Aug 2008 8:00 P THE VAUDEVILLE TUSCON, Arizona
7 Aug 2008 8:00 P THE YUCCA TAP ROOM PHEONIX, Arizona
8 Aug 2008 8:00 P THE DOUBLE DOWN LAS VEGAS, Nevada
9 Aug 2008 8:00 P THE OLD STAN SONORA, California



26 Sep 2008 8:00 P QUEENSLAND tour (tba ) BRISBANE, Queensland
27 Sep 2008 8:00 P THE JUBILEE HOTEL gold coast, Queensland