rock goddess
simone stenfors
By Chris Rockson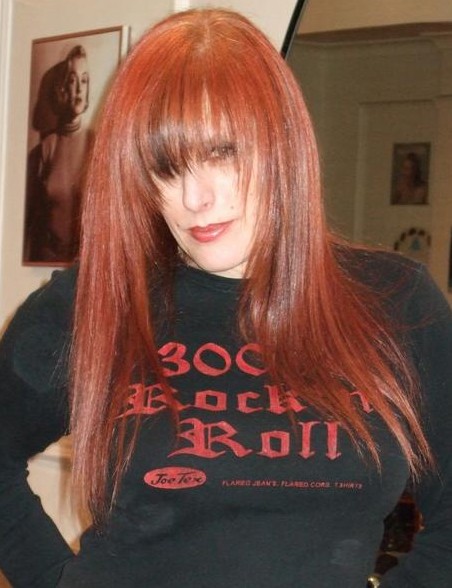 Simone Stenfors is a Rock Goddess. She lives the rock 'n roll lifestyle to the very limit, and has done for forever, growing up during the Swinging 60's in London, through the original Glam Rock scene, an original Punk Rocker that dated Rat Scabies and went on to marry Nasty Suicide, guitarist with Hanoi Rocks. She was there at the very creation of the scene that became known as Punk Rock, friends with the likes of Sid Vicious, Rat Scabies, Lemmy, Phil Lynott, The Heartbreakers and Jayne County, to name but a few.
She has a great story to tell, having travelled around the world, living the rock n roll dream to the hilt, she's seen it all!
From her home in London, Simone talks openly about her life and times.
She's on form today, having only just recovered from a night of live music with the Damned, who've just started their latest UK tour, and late late night partying, so I don't ask her anything too intense…well, not yet anyway!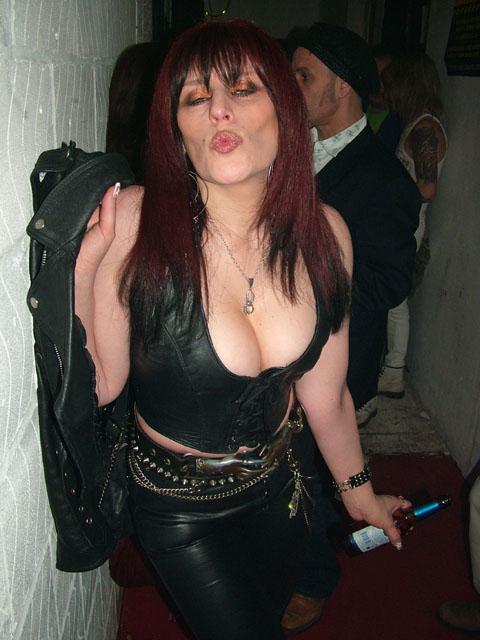 PG : Tell me about you. Where you come from and how you ended up in London, right in the middle of what was to become the Punk rock movement.
Simone : I was born in the West End of London actually. I was 14 when I started going to the Roundhouse, it was the tail end of the Hippie scene. There were lots of characters, Buttons The famous Hells Angel, Jesus, a guy in white robes who thought he was Jesus, and used to hand out fruit, Magic Michael and lots of other weird and wonderful, colourful eccentrics. There was a small group of us aged between 14 and 17 we hated hippies hence the goth look. I used to listen to the velvet Underground a lot back then. The clothes we wore were like Victorian in appearance, we got them from anywhere we could and just wore them...I used to wear black lipstick, blue blusher, white face, ostrich feathers, victorian clothing, which back then was pretty radical, and almost gothic in style...
PG : After the 60's had died away, and the music mutated into Glam-Rock, how did you become involved in the scene?
Simone: We used to all go down to Kensington High street, where the market was and all the cool shops like Biba and hang out around there. We used to go down to Portobello Road on Saturdays. Everyone used to hang out in a pub called Henekys, Hawkwind, Pink Fairies and all the weird and colourful characters that were around at that time. There was greasy spoon called The Mountain Grill where we all hung out too which Hawkwind made famous when they named one of their albums 'Lords of The Mountain Grill' after it. Around that time, I'd started hanging out at the Roundhouse, especially on Sunday night's. I saw some amazing bands there and the people there were the coolest on the planet. I met Lemmy, Phil Lynott, saw the biggest names play there including The Who when they did 'Tommy'. The Roundhouse was the main venue in London at that time, everyone played there!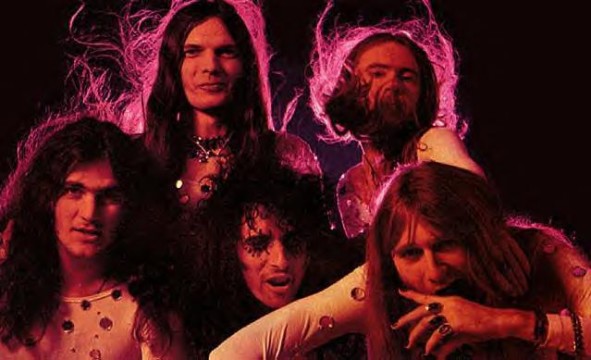 PG : Which bands were you listening to?
Simone : I had discovered a very underground band called 'Alice Cooper', who had just released the 'Love it to Death' album. I played that record until almost had no grooves left – I played it to death! I was absolutely in love with that record and Neil Smith was my ultimate teenage idol. There was Bowie and The Velvet Underground, also favourites of mine.
PG : Describe the scene at that time?
Simone : It kind of happened really, it wasn't a conscious effort by anyone to create a 'scene' as such, we were just into the music and hanging out at places like the Hope & Anchor pub, The Roundhouse of course, The Nashville Rooms and The Speakeasy. The Speakeasy was a beautiful club, and was more of a hang out for rock musicians than the other places. On any given evening, you would find the likes of Robert Plant, Lemmy and Phil Lynott of course would be there, usually playing Pin-Ball, the Heartbreakers, Leee Childers, Jayne County, Sid & Nancy, The Damned, Generation-X, they were all there. The bands also used to go and watch the other bands play as well, it wasn't as competitive as it is these days.
PG : Out of the bands that were around at the time, who were your favourites?
Simone : I'd seen the Damned at The Roundhouse during the Summer of 1976. That gig was so LOUD!!!! Captain, Dave Vanian, Brian James and of course Rat were a great band. We used to have some amazing parties too, but Leee Black Childers had the best. He had a beautiful house in Highbury.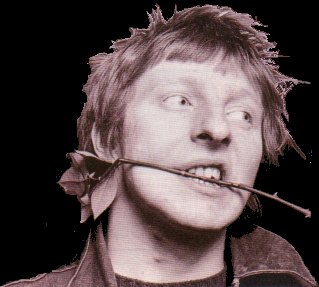 PG : You were romantically involved with Rat Scabies as well?
Simone : I'd seen them play a show at the Hope & Anchor pub and got talking to them afterwards. We actually got together three days after our first meeting, he asked me out. Being the girlfriend of the drummer in the Damned opened a whole new world to me, an Inner Circle of Punk Rock. That was November 1976.
PG : It must have been great to be involved in the punk movement in London at the time. Why did it end so quickly?
Simone : It was around April/May of 1977, It became a fashion rather than the movement we had started, and the original people started to lose interest in it. There was also a massive increase in 'Punk Rock Bands'…they were springing up all over the place. I started to look for something else that I could get into. I'd always loved rock n roll music, and with the Teddy Boy scene, I moved into that for a while.
PG : You married Nasty Suicide from Hanoi Rocks. Tell me how you met him?
Simone : It was at the Funny Farm. I'd heard their 'Malibu Beach EP' a few times and was totally in love with their sound, but I didn't know what the band were called. I asked my friend Overend Watts who they were and he told me. It just so happened that they were playing at the Lyceum and I went along. They were a great live band and totally gorgeous. I didn't really meet Nasty for sometime, we were like ships in the night, and then I met him at 'Gossips'. He fell for me right away!
PG : He played guest guitar with Johnny Thunders on a number of occasions?
Simone : Yeah, Johnny was always playing with other musicians all the time. He did some shows as 'The Living Dead' and the 'Johnny Thunders Allstars'. That band played at the Speakeasy, and included in the line-up, Paul Cook, Sid, Steve Dior, The Only Ones and Steve Jones too. Years later he used to get Nasty and various other members of Hanoi Rocks to play alongside him. Johnny asked lots of people to get up on stage and play with him.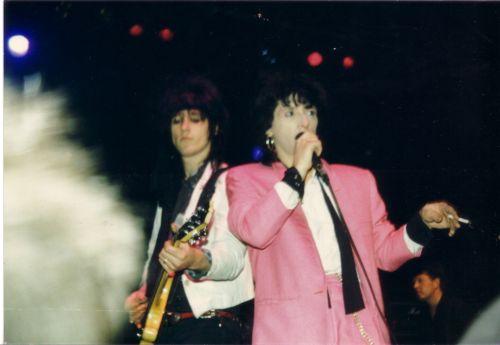 PG : You toured around the world with 'Cherry Bombz' and finally moved to LA, that must have been cool?
Simone : Yeah it was, they were a good band too and had a great look. Unfortunately, a lot of the audiences thought they were just going to be another Hanoi Rocks, and were expecting them to replace Mike Monroe with another male singer, and because they had Anita in the band, seemed to also lose a lot of their female fans...and there were TONS of them! It all ended in 1986 for Cherry Bombz when the band split. Nasty tried various other bands, 'Soho Vultures', 'The Weird Things', but none of them gelled and he became depressed about it. We moved out to L.A at the end of 1989, where he formed 'Cheap & Nasty', another absolutely great band. We'd hang out with all of the rock n rollers, and Nasty made guest appearances with them. They had major record company interest, and were on the verge of signing to Geffen Records...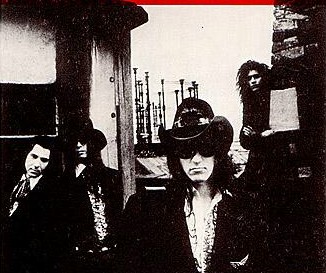 Nasty and the band moved back over to the UK, but we had trouble getting back into the US, so decided to stay in London.
PG : You were recently included in the TV documentary about Sid Vicious, the Final 24, and I've heard you're publishing a book too? What else is going on in your life right now?
Simone : Yes, I was asked to be a contributor to the Sid Vicious episode of The Final 24 series as I knew both him and Nancy. It was shown around April of this year on Sky it was about Sid's final 24 hours before his death. I'm writing a book too about my life, so look out for that one. I've also been featured in various books and interviewed for various websites too. I go to loads of gigs as well, as you mentioned earlier, I was at the Damned last week-end. I'm also active in helping raise awareness of the terrible plight of Gorilla's. I'm thinking of setting up a benefit show to help raise funds for the charity 'Gorillas.org', so if there's anyone out there that would like to help me get started, please get in touch through my Myspace or website.
PG : Right, ok, thanks for chatting with me, good luck with the book and the wonderful work you do with 'Gorillas.org'.........do you have a message for the readers of Punk Globe Magazine?
Simone : Id like to wish everyone of you a merry and peaceful Christmas and a fantastic New Year. With love and best wishes, Simone X0X0X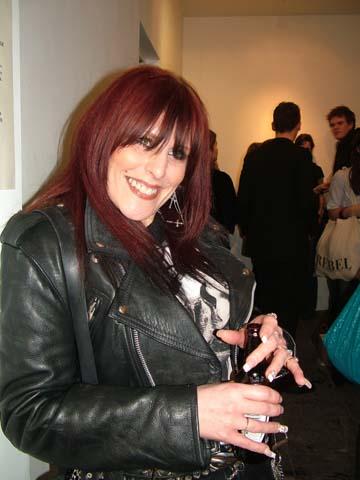 Find out more about Simone at her website and Myspace site.