Ginger Coyote Speaks With
One Of The Founders Of The Rad
Internet Radio Show
"PANCAKES AND PUNK"
By: Ginger Coyote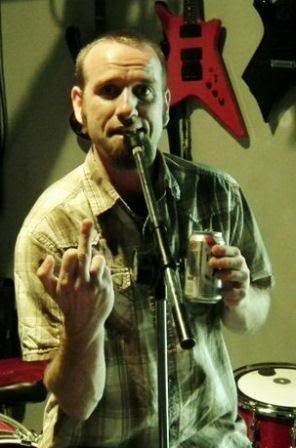 I had a chance to interview Shawn ADAMS who came up with the concept of serving pancakes to bands who appear on the show... The show has been airing for one and a half years giving bands a great breakfast along with promoting themselves...
Shawn: I came up with the idea for Pancakes and Punk while I was walking to work one day. Other than the toilet I think my best ideas come from walks. I was sick and tired of music, especially radio and the way its presented. I wanted to somehow bring back the life and heart of music. Today the kids are saturated with bullshit. In essence, I wanted to bring the passion back to the air waves. Far and few are able to accomplish this anymore.
Punk Globe: Tell us who all are involved with the show?
Shawn: Its myself Shawn Adams ( the Host ) Jim Brannon the Co-host, And our Lovely Ladies of Punk Blair Murdock, Amber Ambrosia, Dafne Gisselle and Madison Price.
Punk Globe: Tell the readers how they can find the show and when it airs?
Shawn: The Readers can find Pancakes and Punk on www.wpmd.org on Fridays 9 a.m.PST till Noon PST
Punk Globe: How long have you been doing the show?
Shawn: We have been doing the show for a year and a half now. Some of the shows line up has changed, but I think that the crew I have in place right now will be here for a long time. We have become a close knit family in the past few months.
Shawn: As of now we do the show on the campus of Cerritos College in Norwalk, Ca. Are we affiliated with them? I don't think the school or the station would like us to say yes. We just do our show from there!
Punk Globe: So you actually serve bands pancakes while they are guesting on your show?
Shawn: Yes ! What better than breakfast and bands to start the morning ! We love to start the Fridays off right. Other than the fact that there are hot girls running around the studio, I think the bands love the fact that they get a free meal when they come in the studio.
Punk Globe: You mentioned that the woman who cooks is very inventive with her pancakes mixes?
Shawn: There are actually two women that blow IHOP out the water; Blair Murdock and Amber Ambrosia. We have had a couple Pancake Girls, but when I brought in Blair and Amber, I wouldn't let them leave. These are some of the most creative women on the face of the earth. I don't know how they do it sometimes. Week after week they come up with some of the most ingenious pancakes that taste phenomenal. My hat goes off to them. Like I said the first time I tasted their pancakes( no pun intended ) , " Your Hired" and they haven't left yet!
Shawn: Not to my knowledge, but they should. Lets not tell them that they might leave!!!
Punk Globe: Who are some of the bands that you have had on the show?
Shawn: We have had an abundance of bands on the show from big name acts to local southern California bands. We have had Pennywise, Authority Zero, GBH, The Casualties, Anti-Flag, Kevin Lyman and many more. Some of the local bands we have brought in are Piss N Blood, Clepto, Barb Wire Dolls, DMF, Party Foul, The S.C.A.B.S and so many more.
Punk Globe: Have you had any Comediennes or Actors on the show?
Shawn: No. Other than the girls on the show we have had no comedians.
Punk Globe: I'm sure the guys provide plenty of laughs also.. Tell us about some of your most memorable shows
Shawn: One of the most memorable show had to be when we had Pennywise on. To be exact Zoli and Fletcher called in and spoke of what was going on in the world of Pennywise. With the change in the line up ( Jim ) leaving, Fletcher finally spoke out on his departure. It was some of the rawest and most emotion filled interviews I have ever been involved in.When I asked Fletcher what he thought of Zoli ( lead singer of Ignite) taking over, he said it was nice to finally have someone who can sing! WOW! It was some of the best radio I have ever been involved in.

The second most memorable moment had to be when I got tattooed on the air.The professor at the school was not to keen on us doing it, but like I always say, " Fuck it !" I do what I want!
Punk Globe: How would a band or a performer contact you about appearing on the show?
Punk Globe: Any parting words for Punk Globe readers?
Shawn: Just to always tune in and keep rocking! The scene is fucking alive no matter how little media attention we get. And also check out our Internet television show on
www.flashrock.com
once a month! Also thanks to all who have supported the show for the past year and a half you guys fucking rule!
Punk Globe would like to thank Shawn for the fun interview...

Photos by Chris Evans unless noted.