Long before, Ru Paul, introduced Sharon Needles on 'Drag Race' ... The Hip Crowd had already been introduced to the ORIGINAL SHARON NEEDLES.... You may know her from the legendary Lovedolls or the fabulously fun Butt Trumpet. I am sure you know her from the iconic Betty Blowtorch and most recently Hell's Belles... It was great to get back in contact with Sharon, Liz McGrath, Winter Rosebudd and Blare n' Bitch... They are all so vert talented, strong, funny wonderful women. I am proud to call them my sisters.... I love them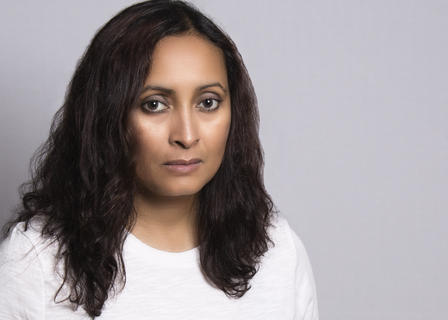 PUNK GLOBE: Thanks for agreeing to do this interview....
Sharon Needles: It's an honor getting interviewed for Punk Globe. I've been reading the magazine since I was a teenager, so it's kind of a big deal for me! :)
PUNK GLOBE: Give us some background on yourself? Tell us about your youth and when you felt the urge to play guitar?
Sharon Needles: As a youth, I loved to play air guitar with a tennis racket rocking out to KISS records. By my teen years, I got into punk rock and I knew that my fingers were quite dexterous and could probably pick up the bass guitar with ease. I chose the bass guitar first, because listening to punk bands like Sex Pistols and Ramones through the late 70's and early 80's, I figured it would be an easy instrument to learn and I wanted to play right away.
PUNK GLOBE: Tell us about your very first guitar and your first band?
Sharon Needles: The first guitar I bought was a Yamaha BB300 bass guitar. The first band I played in was with my friend Larry Lugz from Riotgun. We were called Flesh Weapon. I met Larry through a mutual friend and he came over to my house and asked me to play something. I played the only song I knew, Louie Louie. Right away he said "You're in!" From there, Larry taught me how to cheat my way around on the bass guitar and I was hooked.
PUNK GLOBE: Tell us how you got involved in the music scene in Hollywood?
Sharon Needles: I moved from Huntington Beach to Hollywood in 1987. A friend of mine worked at Hollywood Book And Poster and he knew a lot of people from the LA music scene. He called me up and told me a band we both knew of called Lovedolls were looking for a bass player. He gave me their number, I auditioned and got the gig. That was the first band I was in when I moved to Hollywood.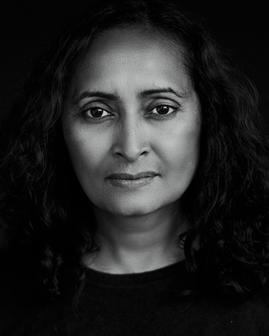 PUNK GLOBE: Who were some of your early influences
Sharon Needles: My main musical and guitar influences are AC/DC, Buzzcocks, KISS, X, Black Flag, Aerosmith, The Clash, Alice Cooper, The Stones, NY Dolls, The Ramones, The Runaways, The Stooges, Johnny Ramone, Malcolm Young, Joe Strummer, Keith Richards, Johnny Thunders... the list is long.
PUNK GLOBE: How many bands had you played with before Butt Trumpet
Sharon Needles: I'm gonna take a guess and say close to 10 before Butt Trumpet. And that's when I was just getting started. I'm kind of a band whore. I've been in a lot of bands and played with a lot of different people over the years.
PUNK GLOBE: After playing the club circuit and doing small tours . The band was signed tell us about that?
Sharon Needles: Butt Trumpet recorded a few 7-inch records and a full length LP and they were released by a small indie label called 'Hell Yeah'. The same full length LP was also released in Italy on a label called 'Helter Skelter'. Between these releases we did a lot of touring up and down the west coast and across the south. Our singer at the time met a guy named Duff Marlowe, told him about the band and gave him a tape of our music. The guy turned out to be an A&R rep from EMI/Chrysalis and he loved us. Long story short, EMI took the music we already recorded from the indie LP, remastered it and released it on their label.
PUNK GLOBE: Shortly, after getting signed you had a personnel changes.. I don't know how much you wanna talk about it.
Sharon Needles: I'll try to make it brief. Our original singer left, we replaced him, and the new singer left after a few weeks. Bianca was already singing lead on a few songs and everyone loved hearing her, so we thought the obvious thing to do was keep her on vocals. She was game and it was the best choice we ever made. Bianca had those mega-blasting lungs! Haha!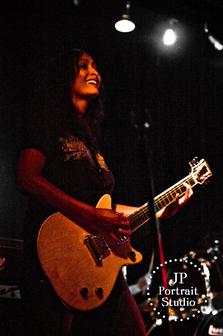 PUNK GLOBE: I remember Todd Kent who was booking us calling and asking about doing a west coast tour. After seeing Bianca taking on alot of the vocals. It was a perfect fit,,, All was going great until we hit Seattle... There was some sort of problem with your label and a radio station. However we did rawk the roof off at The Off Ramp...
Sharon Needles: Hmm, honestly, I don't remember what happened in Seattle, though I do know we played with you (White Trash Debutantes) at The Offramp. We did a west coast tour with you and I remember playing in Santa Cruz and a few other places. The 90's are kind of a blur. I didn't do drugs, but I sure did consume a lot of alcohol!
PUNK GLOBE: When did Butt Trumpet get put to rest and from the ashes rose Betty Blowtorch began?
Sharon Needles: Butt Trumpet was over for us around 1995. Bianca went off on tour and played with the Humble Gods and I played with Bobsled, which is where I met Judy Molish (who would become future Betty Blowtorch drummer). Blare and Jerry did other things as well during that year off. Bianca and I stayed in touch while she was on tour and after a while, we told each other that we missed playing together. When she got back, me, her, Blare and Judy got together and BAM! Betty Blowtorch was born.
PUNK GLOBE: I Remember seeing Betty Blowtorch and was blown away by the great musicianship from four women and Winter Rosebudd and the other women manning blowtorches...
Sharon Needles: It was pretty obvious from the first 5 minutes of jamming together, that we had an undeniable chemistry. We were so excited that we envisioned hot girls doing fire tricks while dancing on stage with us. We called Winter Rosebudd, Liz McGrath, Carol Furiya and a girl named Cricket. They became our flaming-hot, fire-wielding blowtorch girls.
PUNK GLOBE: The music was punk metal with lyrics were written with s female perspective ie: 'Shut Up And Fuck' 'Size Queen' to name a couple songs.. You were the new L7....
Sharon Needles: We wanted to go in a little different direction after Butt Trumpet. Less punk and a little more rock, yet still tongue-in-cheek. We definitely were (and still are) fans of L7 and the influence was obvious.
PUNK GLOBE: But sadly, the band came to an end, with Bianca's fatal car crash... I understand there is a documentary about the band. Tell us about that? And you also did a few shows with Mia filling in on bass as Betty Blowtorch. From what I heard the shows were well received..
Sharon Needles: Angie Scarpa (who now plays with Blare in an all-female Black Sabbath tribute band called Black Sabbitch), made a documentary film about the band called Betty Blowtorch And Her Amazing True Life Adventures. It's sort of a collection of concert footage, behind-the-scenes material (including a studio visit by Vanilla Ice), on-the-road shenanigans, television & radio appearances, news footage and some interviews with the band members and friends. We have played a few shows with Mia X on vocals and bass and she has been very well received. We LOVE Mia and we love that we occasionally play, continue to share our music, and keep the torch lit.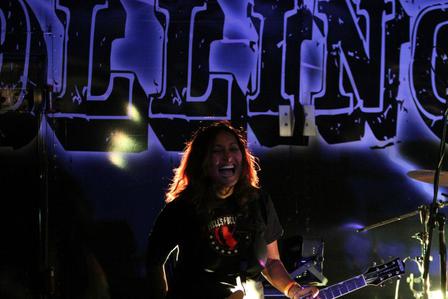 PUNK GLOBE: You also worked with the fantastic Alice Bag tell us about that?
Sharon Needles: I did! I played with punk rock trailblazer Alice Bag, Lysa Flores and Judy (Molish) Cocuzza and we were called Stay At Home Bomb. We'd play a gig, Lysa and Alice would go out into the audience and hand out cookies that they had baked before the show. We had a clothes line rope with baby clothes hanging across the stage, blenders blending, the works! It was a blast!
PUNK GLOBE: Now you are a proud mama and playing with Helles Belles... Do you tour alot with the band? I know that Marc and Ligaya from One Finger Films were in awe about Helles Bell's... They also loved Betty Blowtorch..
Sharon Needles: I'm a proud mama of a 14 year old and his name is Zeke. Can I just mention that he is extremely handsome? Kids are a wonder and wonderful.
And yes, I'm playing rhythm guitar with an all-female AC/DC tribute band called Hell's Belles. The band tours constantly. I'll say an average of 4 to 6 shows a month, usually alternating weekends. We do a lot of festivals, motorcycle rallies, and corporate parties. Judy Molish is also in the band. We follow each other around and end up in the same bands a lot!
PUNK GLOBE: It was so wonderful that you and Blair were interviewed for the Ginger Coyote Rock Doc.. I hope you had fun doing it?
Sharon Needles: Blare and I had an absolute blast being interviewed with Marc, Ligaya and Ginger for the Ginger Coyote Rock Documentary. All three of you were a pleasure to talk to and so much fun to hang out with. Thanks for including us in the documentary!
PUNK GLOBE: Tell us what is in store for Ms. Sharon Needles in the future?
Sharon Needles: Hell's Belles have a new CD out and we're always out touring. Occasionally, we play and dress up like Judas Priest and call ourselves Belles Bent For Leather. Betty Blowtorch will be getting together as friends, playing some gigs here and there as well. Keep your eyes open.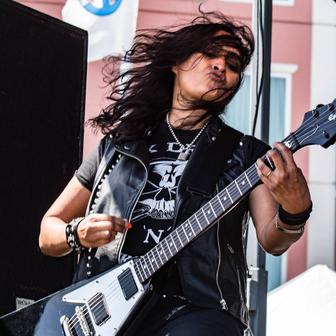 PUNK GLOBE: Do you have any Internet addresses you would like to share with the readers?
Sharon Needles: Sharon_Needles_(Instagram)
SharonNeedlesOG(Twitter)
https://www.facebook.com/sharon.needles.942 (Facebook)
Hell's Belles -https://www.facebook.com/hellsbellesusa/
Hell's Belles - www.hellsbelles.info
Belles Bent For Leather - https://www.facebook.com/AkaHellsBelles/
Betty Blowtorch - https://www.facebook.com/bettyblowtorchofficial/
PUNK GLOBE: Describe yourself in three words?
Sharon Needles: I like chicken.
PUNK GLOBE: Amy Last words for Punk Globe readers?
Sharon Needles: Congrats to Ginger and Punk Globe for 40 years of keeping us all in touch with the scene. I'm super proud of you! And to Punk Globe readers: Thanks for helping to keep this treasure of a magazine essential!