Shanne: AArghhhhh! Of course we are very excited to be playing together again. So far rehearsals have been just like driving a car.. we didn't forget how to do it. It's been emotional too
OK, the line up is --
Shanne Bradley -- Bass
Shane Macgowan-Vox, Harmonica
Fritz -- Guitar
and new French Superstar Eric Le Baton on drums
Punk Globe: Have you played any shows yet?
Shanne: We are putting our toes in the water with a secret show, as special guests at The Cute lepers party on 6th May at 100 Club. The legendary Johnny Moped is also playing. How great is that going to be?!! It's only £6 to get in plus the club holds 300!
Punk Globe : The Nipple Erectors is such a great name for a band.
How did you come up with the name?
Shanne: I had a strange teenage dream about a band wearing rubber suits covered in Nipples. Think I was influenced by Jobriath, who I had seen on TV popping out of a clear plastic sort of orange shaped head piece ..it sprung open in segments `and he started singing. lol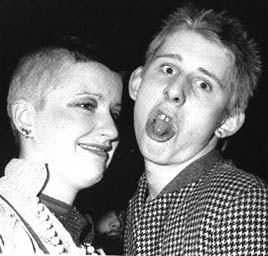 Shanne and Shane in the 70s
Punk Globe: Can you tell the readers how you met Shane and began writing music with him...
Shanne: I first noticed him at the Royal College of Art leering over the bar.
Later I auditioned him in my bedsit at Stavordale Road N5 .. I was looking for a front man. As soon as he entered the room he dived and rolled around on the cheap lino screaming a Stooges number. I knew he was the one. We have always felt at home and understood each other so it was not hard to make music,if you want to call it that..we were more into expressing ourselves as loudly as possible
Punk Globe: I remember reading about The Nipple Erectors in Zig Zag Magazine. It was an Awards Issue with Jayne County on the cover... In what year did you start the band and where was you first show?
Shanne: Oh yes, I'm in touch with Alan Anger, I think he wrote that! We learnt to play in my bedsit -- then some months later we had our first performance which was at The Roxy in late summer 1977. Roger Towndrow was on guitar he just put it through a fuzz box..it was astounding everyone was there, even Paul Weller's family, Captain Sensible threw flowers at us at the end -- there was a stage invasion with everyone singing "Downtown." We massacred the Petula Clarke song, and then we split up the same night. Arcane Vendetta, who had just bought a toy drum kit instead of his usual biscuit tin, refused to play ever again, saying he couldn't handle the fame. We continued but we never seemed to have a permanent stable line up for very long..too much explosive energy going on!


Punk Globe: Were you close with the Sex Pistols?
Shanne: Hahaha. In 1975 they gate crashed St Albans Art School .... a sort of 60s band gone wrong..we were dancing because we thought it was so bad it was almost good..anyway they persuaded me to come to their gigs because I seemed to be like them..I had butchered badly peroxided hair, an ill fitting old lady' corset, suspenders, holey stockings, huge ice skating boots minus the blades – and wore badly applied black eyeliner..
Rotten asked me if I dressed like that all the time, so I said, "Yes." Malcolm took my number and started phoning me when they were playing. They ended up playing at St. Albans three times because I booked them back..not sure how I got away with it, because I wasn't even the social secretary!
After the pistols declined a fourth, I booked The Damned. It was their second ever gig !
Punk Globe: Did you ever play a show with Jayne County?
She writes for Punk Globe and is a good friend..
Shanne: Jayne was Wayne county and The Electric Chairs when I first saw her...Shane and I used to sneak into gigs alot and try not to get chucked out by the promoter..who was John Curd, usually..
hiding in the toilets at the round house springs to mind..I remember Jayne hid us in her dressing room once..later we knew The Electric Chairs because they lived near me in Highbury.
I don't think we ever played with Jayne but then I sometimes hear about alot of things I've forgotten about!
Punk Globe: I know that you play bass and that Shane sings
but can you tell us about the other members of The Nipple Erectors?
What have you all been doing since the band broke up?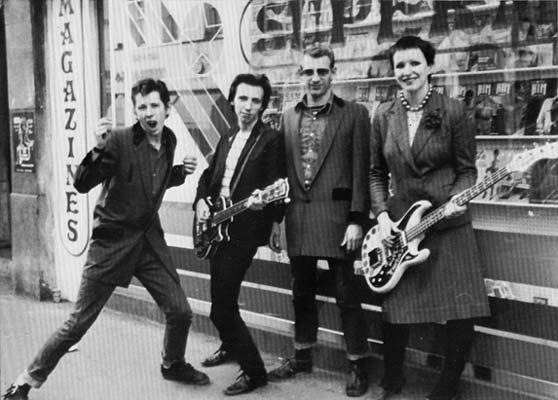 Shane, Roger, Gerry, Shanne -- King of the Bop! Soho
Shanne: Um no, not really... we had four guitarists and umpteen drummers..two of whom are now brown bread! Roger Towndrow, who played guitar on the first two singles: "King Of The Bop," and "All The Time In The World," is an artist.
On our present line up, Fritz, our guitarist, lives in the middle of nowhere up north near Hadrian's Wall, on the English border with Scotland. He spends alot of time alone with his chainsaw. Drummer Mark Harrison, who was in the line up with Fritz, lives in Gambia, and I don't have his number!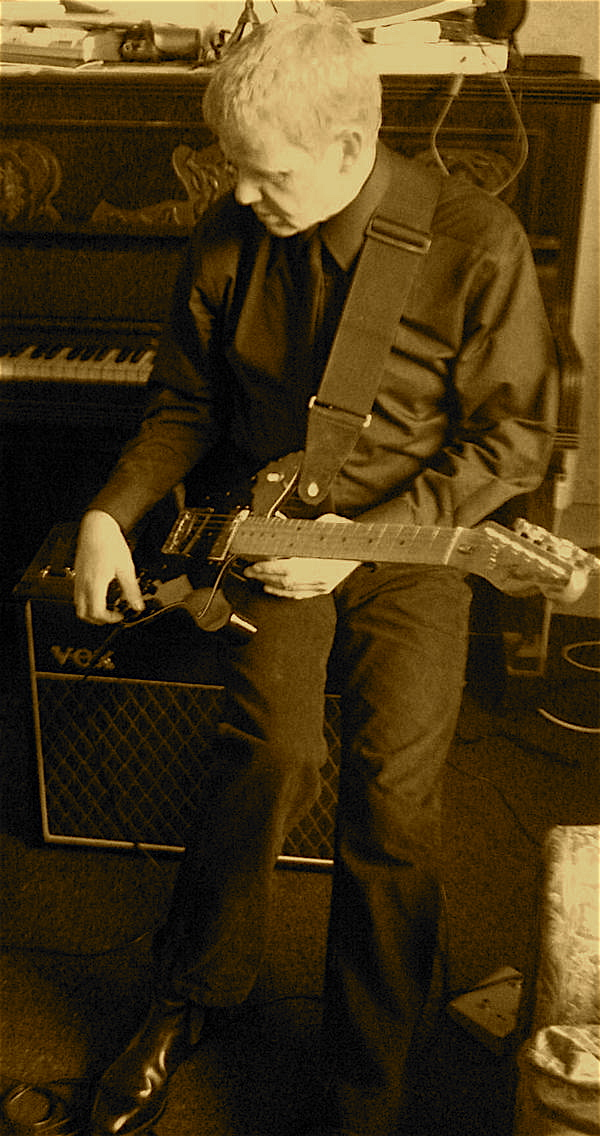 Fritz, current guitarist for Nipple Erectors
Thankfully French superstar Eric le Baton has come to the rescue. Shane lives in Dublin on Planet Shane. His Pogues exploits are well documented. As for me, I'm still here in London playing from time to time and being a misunderstood artist..I have helped to found many bands -- probably the best known being The Men They Couldn't Hang.
I've got a couple of talented daughters, too.
Punk Globe: What year did The Nipple Erectors play your final show?
Shanne: Hmm, depends on which version of the band.?..The end of 198O..it was yet another line up that included Jon Moss on drums who went on to notoriety in Culture Club.
Shane and I kept playing together experimenting with crossing folk and punk music. I had got sick of rock music at the time and was into Greek traditional music, especially from Crete.
John Hasler played stand up drums, and he found a Scottish fiddle player.
The Pogues and The Men They Couldn't Hang evolved from this.
Punk Globe: What prompted the band reforming?
Shanne: A plethora of things..mainly boredom and anger..I'd been in touch with Fritz and Shane for a while and we sort of talked about it.. in October last year I met The Briefs and ended up going to four gigs. In Bristol during the sound check, I was having a go on Kick's bass .. and somehow ended up playing "Gabrielle" with them.. the buzz came back!
Punk Globe: Do you have any plans to record?
Shanne: We have talked about it! It's early daze.
Punk Globe: I know your "Only The End Of The Beginning"
is a collector's item. How many were pressed?
Shanne: No idea we have been ripped off :(
Punk Globe: Do you have alot of posters from the shows?
Shanne: Flyers.. somewhere..and badges. The best thing is I've got a
handwritten diary from 1977 with drawings and photos!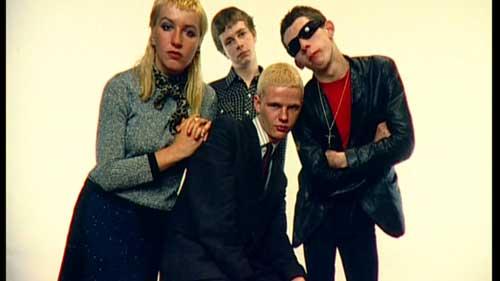 Hung Over Session Camden
Punk Globe: I love the song "Gabrielle." Can you give the readers
some background on the song? Your bass lines and Shane's voice are so good.
Shanne: Thank you! Gabby was a bottle blonde freak model who wore leather pants. She used to dance around and tease Shane at The Roxy disco -- he was slightly obsessed with her.
Punk Globe: I also really like the Pogues tune "Shanne Bradley."
Quite an honor I might say. Were you surprised by it?
Shanne: Yes, because it's a delicate waltz ..He said he wrote it
in the traditional Irish manner whilst thinking about me. What a sweetie.
Punk Globe: Have you seen any shows lately that you enjoyed?
Shanne: I've just seen one of the greatest shows from Thee Vicars. I also like Let's Wrestle. Both bands are between ages 16-18.


Punk Globe: What bands did you enjoy playing with in the early 80's?
Shanne: The Jam and The Damned
Punk Globe: Who are your favorite bass players?
Who inspired you as a player?
Shanne: I mainly picked it up because it had four strings. I used to love Phil Lynott -- went to alot of early Thin Lizzy gigs! Though Mick Ronson is my favorite Guitarist... Ziggy Stardust and The Spiders from Mars were the first band I ever saw. They changed my life., not forgetting Fred Berk, RIP (Johnny Moped's bass player). He gave me a toy bass and after a quick lesson from him and Captain Sensible, I was away.
Punk Globe: During your original inception did you ever play America?
Shanne: USA No! We played in the 70's hotspot of Belfast in Northern Ireland. We were one of the few bands who went over there. To play in a mixed Catholic and Protestant club!
Punk Globe: Do you think that the current inception of
The Nipple Erectors will play the USA?
Shanne: I've been to the States once at age 17 for a week to the East Coast..spent one day in New York and hated it. At the time no one had heard of David Bowie. I thought the place was backward, and couldn't wait to get home! lol Of course I'd like to go again and see how it's changed, but for many years I've had zero interest in the place apart from the music! Sorry! However, I have met some really great people on myspace..I broke my foot last year and submitted to virtual reality. They tell me there is interest so why not..will be fun..can't wait -- let's go!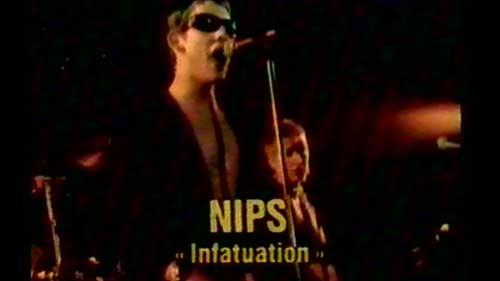 The NIPS on German TV
Punk Globe: How many dates have you got lined up so far for the band?
Shanne: There are some secret ones and possibly a big London one in the pipe line. I hope promoters will feel free to contact us.


Punk Globe: I would like to thank you so much for the interview, Shanne .. Good luck on all your upcoming shows... Are there any final words that you may like to add to the interview?
Any last thoughts for Punk Globe readers?
Shanne: As many people are aware, this band is living on the edge, so anything can happen. The spirit is still alive. Shane says he is angrier now than he was back then, so be prepared.

Punk Globe would like to thank Shanne Bradley so much for the great
interview .. She is so cool and such a talent...