Tells All About The Nipple Erectors Reunion Show , Shane MacGowan and Sarah Palin....
By:Ginger Coyote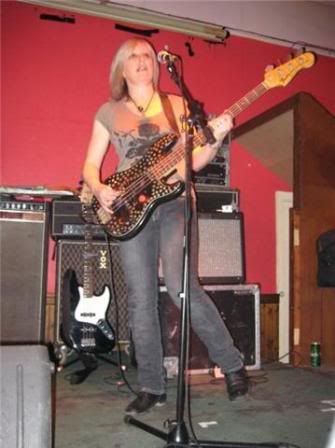 Shanne: We were uptight, upright and fast.Then it was over too quickly and they screamed for more.
Punk Globe: How long had it been since you all had played together?
Shanne: OOOerrr not since the late 1970s with Fritz on guitar..
Shanne: Sold out, people were complaining they couldn't get in, not even the press could get in. There was alot of love! So many faces old and new. Such a lovely atmosphere down there. IN FACT I lOVE the 100 Club its where I used to go and see the Sex Pistols et all. Some of our earliest friends from those days came down. We decided to go on first. Shane managed to arrive from Dublin halfway through the sound check.He was brandishing some knuckle dusters at me! I didn't take any shit from him though. My Wing Chun Kung Fu training came in well handy. He actually growled through one song. Anyway It was The Cute Lepers record release party and The legendary Johnny Moped also played. What a great night we had a party at the 12 Bar club afterwards.
Shanne: We played at the Dirty Water Club on 6th June 2008. Shane was unavailable so my daughter Eucalypta (age 15) sang the whole set after just 2 hours rehearsal in the living room. She also performed a couple of her own songs with guitar.That was real Punk. She had previously jumped up at the 100 club gig to do back ups on Gabrielle, having shouted "I can sing better than him" through the whole gig. She makes Grime music!
Punk Globe: Any chance that the band will be playing any shows in 2010?
Shanne: Yes. I am very optimistic about that.
Punk Globe: Any New Years resolutions for 2010?
Shanne: I never make New Year resolutions.
Shanne: Yes and No! Not with the Nipple Erectors.They ask us to play every year but we haven't so far.This year could be the one ...watch this space! And Yes this year I played every day of it except one.
Punk Globe: I know that you had played bass with The Briefs doing a cover of a Nipple Erectors song. Have you done any guest spots with any other bands? Or again with The Briefs?
Shanne: We have done about 4 tracks. so far. Still more to do. Shane has bought a new Gretsch guitar. Prepare for gut wrenching.He is working on his feedback,
Punk Globe: Have you seen any good bands that you would like to recommend us ?
Shanne: Well...you maybe suprised...Alice Cooper! I just saw him in the Theatre of Death show at Hammersmith Apollo What can I say? He hasn't lost 'IT'. All the young bands who think they are putting on a good 'show' at their gigs need to go and see a real showman at work.
Shanne: The thought of Sarah Palin running the USA on an international level was such a bad joke it was hilarious! Unthinkable! So we had a good laugh at her. It was such a relief when the majority of the American public agreed and she didn't get into power.
Punk Globe: Had you been a fan of Tina Faye before this?
Shanne: No, I'd never heard of her before! Brilliant!
Shanne: Nope!
Punk Globe: You have Kids right? How do they feel about having the Ultra Fabulous Shanne Bradley as a Mom?
Shanne: Yes Thankyou, I wish they would call me ultra fabulous! Haha !!!! Now that's a question and a half! I have two girls. My eldest has joined the police force and my youngest is a grime musician OK?
Shanne: Like a Latino lover he got them done in Spain, but he does not ever wear them. Far too painful. I think he got them on the cheap. Like party teeth! Possibly we should give them away as an xmas prize?
Punk Globe: Can you give us any web addresses so readers and your loyal fans can get updates at?
Shanne: Get the band down off the ceiling, Finish the album, Sort out an agent. usual stuff!
Punk Globe: Any parting words of wisdom for Punk Globe readers?
Shanne: Don't forget to moisturize and of course Hang on to your own teeth at all costs! LOOK FORWARD TO SEEING YOU IN 2010!!!!!!!!!!!!! HAPPY DAZE!
Thankyou Shanne... You fucking RULE!!!! We here at Punk Globe would like to wish you a very Happy New Year and all best with all your ventures... We Love You!