Several years ago during the era of My Space I became aware of sexy Mikael Richard now known as 'Sexy Rabbit' who was centering on his up and coming label Blackcat Records. Over the years we have stayed in contact. Although he is now concentrating on his incredible art.. So, I decided the time was right to find out what he has been up to. Enjoy my interview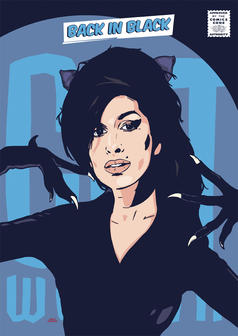 Punk Globe: It has been quite a while since our last interview..... How is Blackcat Records coming along?
Sexy Rabbit: Yes, it's been a while now. Time flies! Black Cat is for the moment in stand-by. Several years have passed since my latest release. I'm more focused on doing art these days.
But I'm really proud of my label. I met some great people along these past years and it was a great experience to make records .
Black Cat Rds changed my life, really ! I'm now drinking Jack&Coke because of Lemmy and smoking big cigars because of Mr. Kaves of The Lordz Of Brooklyn hahaha !
Punk Globe: I totally agree.You worked hard on the label... What is your last release?
Sexy Rabbit: The latest release to date is from 2014. It's the debut album of the California band True Rivals. It's called The Revenant.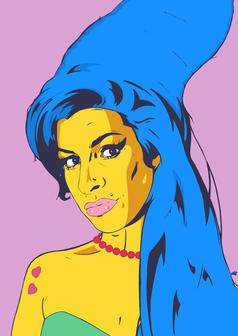 Punk Globe: Are you still based in Tours, France?
Sexy Rabbit: YES, always in Tours! Born and raised.
Punk Globe: Now that Blackcat is running it's course. Are you still working with any distribution companies?
Sexy Rabbit: No one. I'm distributing the BC releases by myself only. Directly from the BC website and on Discogs too.
Punk Globe: I have been watching a piece of your artwork as it progresses on Instagram. It is a painting of the late Lemmy Kilmister of Motorhead. Tell us about that?
Sexy Rabbit: Oh yes, this is a poster based on the Motörhead song 'Fire, Fire'. I'm working on a whole series of artworks about Lemmy songs. Lemmy was the real deal. He was the Man! I want to pay him a tribute this way. There is more to come.
I feel very lucky to have released the first 7" of The Head Cat, his side project. I just asked for it and he said yes! It was unbelievable. Black Cat started this way. The label wasn't created yet.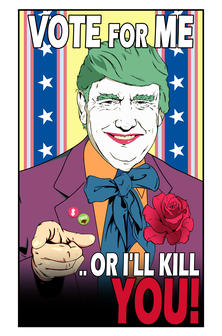 Punk Globe: Another piece of artwork I absolutely adore is the late Amy Winehouse! How long did it take to complete..
Sexy Rabbit: Sometimes it take me 5 minutes to draw the pencils and sometimes it take me 5 hours. It really depends. I have more facilities on certain days. After the drawing finished, I ink it and scan it and then add colors with Photoshop. So it takes me several days to finish a poster completely.
Punk Globe: Tell us what artists inspired you while growing up?
Sexy Rabbit: A lot of artists. Two artists really made me want to draw when I was a young boy. The great Norman Rockwell and also an Italian artist called Jean Mascii, who worked for the cinema, painting fabulous movie posters.
But the artists whose inspired me later the most in my own style are comic book artists, like Jack Kirby, John Romita Sr., John Buscema, Gil Kane, etc... and later, artists like Alex Ross, Adam Hughes, Terry Dodson, J. Scott Campbell, etc... And of course poster artists like Frank Kozik & Coop, from the Punk Rock culture. All of these people played an important role in my drawer's career.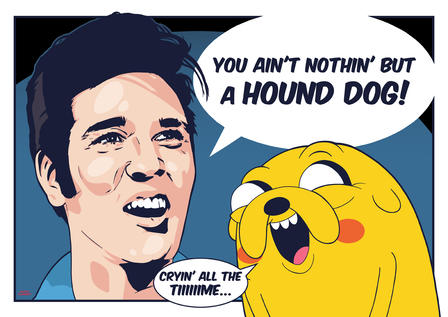 Punk Globe: What contemporary artists do you admire now?
Sexy Rabbit: In parallel, Pop Art/Street Art artists like Shepperd Fairey or D-Face, or Tattoo artist like my good friend Tokyo Hiro inspired me alot.
Punk Globe: Are you familiar with Fernando Carpaneda and Jesse Mosher from New York City?
Sexy Rabbit: To tell you the truth I don't know nothing about these guys hahaha ! But I promise you that I will inquire about them right NOW!
Punk Globe: Have you done any art exhibits?
Sexy Rabbit: Some years ago, I did one with a friend of mine and his brother, a famous french BD (french comic books) artist. An exhibit about Blues music. I painted several Bluesmen portraits for this occasion. It was a great experience.
But the exhibit brutally stopped when my friend's brother passed away.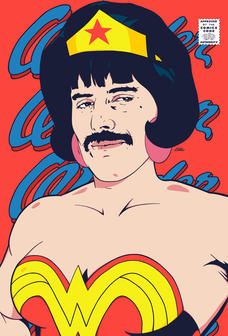 Punk Globe:Oh that is so sad. Bands have used your artwork for album covers and posters?
Sexy Rabbit: Oh sure! I did alot of record sleeves and flyers for bands and record labels... sometimes some people steal my artworks too and used them without any permission. But I think it's the same for the majority of the designers. It's like that, it's part of the game.
I did art (including record sleeves & flyers) for bands like The Mice, Nancy, Chuck Norris Experiment, Lovesores, Electric Frankenstein, etc... to name a few. Most of all the Black Cat Rds releases and alot of record sleeves for a German based label called No Balls Rds. And of course, that adventure started with the California band Throw Rag for which I did several flyers for their shows. They gave me my first chance. This band is incredible. Back in the day, when I met them it was the entire formation with King Taco as a second guitarist and 'Action' Craig Jackman before he leaved and joined the 'LA Ink' TV show. I'm always in touch with them even if I do no more flyers for the band but I remember these days with a little nostalgia!
Punk Globe: Do you sell prints of your artwork?
Sexy Rabbit: For the moment, I'm selling prints and stuff on the RedBubble website only. But I have a silkscreened machine here at home and I should print posters and TShirts someday in the future... I'm so lazy right now.
Punk Globe: I know this may be a long shot do you plan on any new releases coming out on Blackcat?
Sexy Rabbit: Perhaps I'll put out a new release later this year. A very limited pressing of a LIVE LP from The Head Cat. I already finished the artwork. It'll surely be a Picture Disc record. Stay tuned for this one!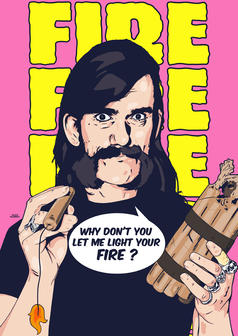 Punk Globe: You just went through an election with The Russians hacking into Emmanuel Macron's website... Luckily France voted right unlike the United States and the tangerine terrorist winning the electoral vote.. Such a disaster!
Sexy Rabbit: Yes... But I'm not really involved into politics. I think they're all the same. I remember the people's joy when François Hollande was elected, but it turned out to be a disaster in the end for the country and the people quickly regretted their vote! So...
Emmanuel Macron seems to be a nice guy, but it's just the beginning. Wait and see.
Punk Globe: I like Emmanuel Macron and Justin Trudeau from Canada... They are hot, sexy and cool.
Sexy Rabbit: Hahaha! No comment!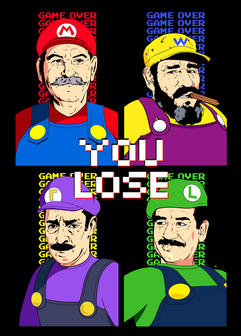 Punk Globe: Do you have any internet addresses you would like to share with the readers?
Sexy Rabbit: Oh sure. The RedBubble link for all the prints and stuff like TShirts, clocks, etc... (www.redbubble.com/people/sexyrabbit) and the label address for the BC releases (www.blackcat-records.com).
My Instagram account (www.instagram.com/sexy.rabbit/).
And my website where you can check all the different designs I do (http://sexyrabbit.wix.com/sexyrabbit).
Punk Globe: Any last words for Punk Globe readers?
Sexy Rabbit: Thanx alot for you interest. I hope you'll like my art and feel free to follow me on Instagram for all the news!
Special thanx to my dear friend Ginger and the Punk Globe staff for the great job! Much love.