I was staying at the Hard Rock Hotel in Las Vegas. Not sure if you've ever been there, but the whole place is a rock'n roll temple. I kept getting off on all the Elvis and Sex Pistols stuff under the same roof... Elvis jumpsuits right next to a Sid Vicious slot machine. I loved it! I decided then and there I had to create something to incorporate both as the place made me realize that both extremes appealed to largely the same people. Also, I wasn't doing all that great attracting the off-duty strippers and realized I needed some kind of shtick to lock in more action... It was along those lines of thinking that the ideas for Heartbreak Hotel came to me. Upon arriving home I arranged that one and followed it with I Can't Help Falling in Love a few days later. Then all I had to do was put together a band.
Q. How do you choose which songs of each to integrate together?
Nick.....I deliberately do not listen to Elvis songs. Truth be told, I'm a Pistols fan and being an American I was raised being force-fed Elvis. I start by choosing a Pistols song I feel like playing any given day then look over Elvis' repertoire. I know most of the hits so when I come across a song that has a similar structure in my head I just work it out.
Q. How initially did the band form? Were you all in other bands previous?
Nick....Once I came up with the idea I pitched to my friend and bass player, Mark. He and I were in the practice of hanging out at his flat in the Mission District eating Pakistani food and drinking wine and vodka and playing acoustic guitars. I wasn't a hard sell. Mark know Priscilla, our singer... a goddamn diva with pipes like I've never before heard. When Mark pitched him the idea, he was all over it. He's a creative guy and saw the potential. Lev, our drummer, hits harder than anyone I've seen outside of Keith Moon. He was in once he heard Priscilla was in.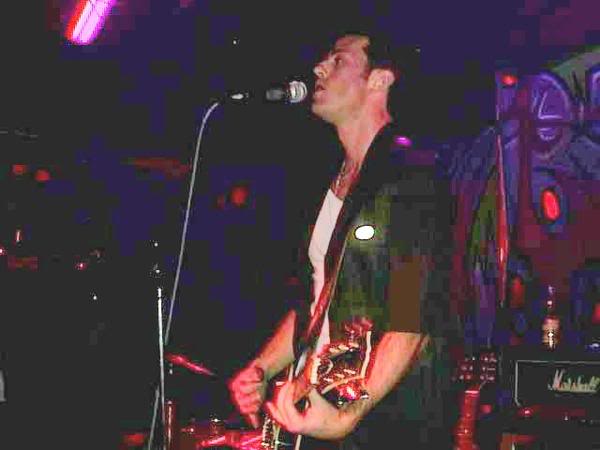 Q.
Were you all in other bands previous?
Nick……
Former Bands:
Priscilla - Vaccines
Lev: Amazing Embarassonics
Nick: Ghost, Shine On, Race Train, Cinnamon Razorblades
Mark: Some Greatfuldeadsantacruzhippything
Q.
How has punk influenced your life / lives?
Nick...Punk gave me a reason to play guitar. I've never had a lesson and don't want one. I was raised playing Social Distortion, Ramones, Minor Threat, Johnny Thunders, Sex Pistols, the Damned and the Clash
Q. Which artists do you find inspiring from past or present?
Nick….old Social Distortion, Ramones, Minor Threat, Johnny Thunders, Sex Pistols, the Damned and the Clash, New Green Day, Foxboro Hot Tubs, The Network, Rancid, the Phenomenauts, Tim Armstrong,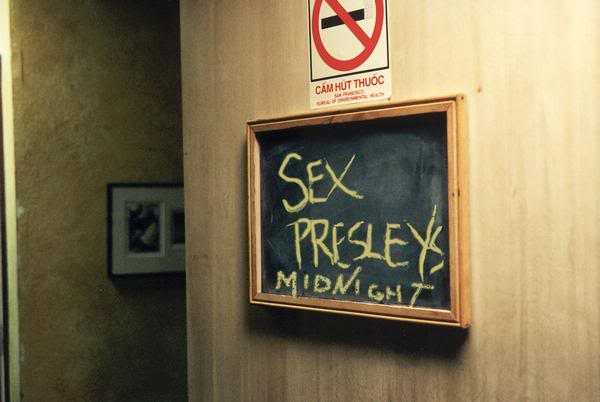 What does punk mean to you?
Nick…
It means great music without the distraction of technical bullshit. I don't want to need a degree to bang my head.
Q.
Where can people get your stuff?
Nick…
Our MySpace.
http://www.myspace.com/sexpresleys
The copyrights for these mashups have been a nightmare. We can't use our real names because of a lawsuit we're ducking. Just get a hold of us on MySpace and we'll get you our music.
Q.
What do / did you want to achieve doing this?
Nick….I want people to dig what we do. I don't expect to get rich. I just want people to know who we are and dig us. I was in LA a few months ago and saw some random kid with Sex Presley's written on his jacket. THAT is what I want!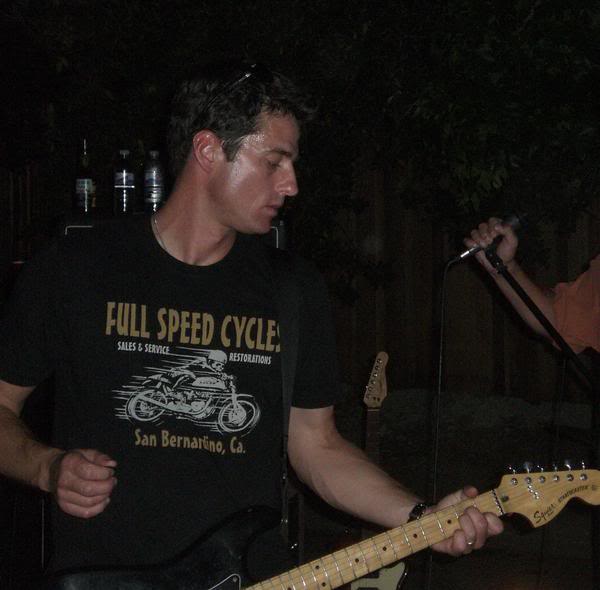 Nick Pistol