<![if !supportLineBreakNewLine]>
<![endif]>
VBW ATTACK!
The SENIOR DISCOUNT Movie
(Full Length DVD) 
By Carl Macki
<![if !vml]>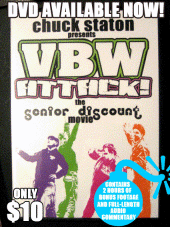 <![endif]>
Senior Discount:  Crazy like Johnny Knoxville and crew. Smart as a fox in the hedgerows. They take silly to the edge. The edge of what? Punk rock n droll. More than droll, this video will either have you laughing or thinking it's stupid. It's both.
The band mainly consists of: Chuck Staton on vocals and guitar, Kevin Silva playing bass and vocals, Tom Wells on guitar and back-up vocals; and Christian Staton playing the drums. Sometimes they have a lot of friends who play with them. Sometimes in this their expanded version with friends, they are known as the VBW.

And Chuck wrote to me – "Just to give you a little history on us, like we said, we're from Rhode Island. . . .

"We won the Providence Phoenix Best Music Poll for Best Punk Band this past year, and we also sold out a 350-person capacity movie theatre for the premiere of our first full-length movie. "
The five-banger CD they enclosed, along with the DVD, has some pretty lively tunes. You can hear a taste.

"All our music is on our myspace page if you'd like to check us out.  www.myspace.com/seniordiscount
"We've opened for a lot of nationals  -- Gym Class Heroes, Brain Failure, Catch 22, Streetlight Manifesto, Whole Wheat Bread -- and of course, many nationals from New England -- Big D, Darkbuster, Street Dogs, Stealing Jane, Wilhelm Scream, Sasquatch, The Bloodshot Hooligans, Badfish, Daly's Gone Wrong, Patent Pending, Monty Are I -- and we really have an energetic live show."
 "Senior Discount: The Movie." It's well done, It astounded me, These guys are having fun. Congratulations on this  freshman effort.  See them live near you or on myspace.
<![if !vml]>
<![endif]>
Band Photo by Michael David