In the modern world everything appears to reek with politics, conformity, fear, and self-absorption. Sometimes, it feels like we're living in George Orwell's 1984. A world where Orwell's Winston Smith is a persistent worker who dislikes the Party, and fantasizes of rebelling against Big Brother.
What does any of this have to do with Rock-N-Roll?
Everything!
Rock-N-Roll, at it's core, is all about rebellion.
On the cusp of a new rock revolution, with a sound that inspires rebellion in all forms, The Second Sons are making music that would be considered a thoughtcrime in Orwell's dystopian vision.
Now, that is an exciting proposition, as they have arrived just in time to remind us that Rock-N-Roll is played from the most private parts of an individual. Before they perform at the Isle of Wight festival this year, let's see what Nick and Chris Harding of The Second Sons have to say: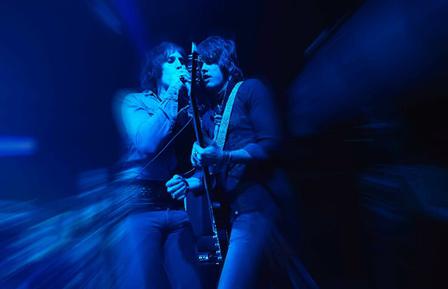 Punk Globe: Tell us about your new recordings?
Nick: It's an interesting thing, I've learned, being an artist. You can start a project in one month, or year, and before you even notice it, and not really by design, you all of a sudden find yourself on the other end of the calendar with a release date slated, job done. But because you grow as an artist - especially when you are being creative you tend to grow artistically at a seemingly exponential rate - the result of this can sometimes be that you end up with a brand new product that no longer reflects the band's current self, due to the time it took to get from rolling tape to release. Our new recordings are not as such. We got into the studio with Chris [Kimsey] and set fire to the rest of it. It took less than 3 weeks to get from setting up the mics to international release. That's how Chris works. When it works, it works. When it doesn't, which is rare, it doesn't; and you move on to finding a way in which it does work. Simple as 2" reel-to-reel tape, hit, record, cut. What we ended up with was a direct reflection and capturing of who we are as a band in that exact moment in time. And it still applies. "Can't You See" and "Ain't It A Shame" are indicative of who we are, here and now. We are very proud of how they turned out.
Chris: I'm extremely excited about our new E.P 'Can't You See'. This marks our first collaboration with the legend that is Chris Kimsey, and it's just a taste of what's to come from that relationship. I think it's safe to say that we will be working together and making records for a long time. Until Chris decides he doesn't want to make records anymore. Which I don't see that happening for some time. This is also, in my mind, the first time we've recorded music the way we've been wanting to record since we began - completely live off the floor. We wanted to capture the vibe and tones of our favorite records, and the nature of those recordings is to do it live off the floor. I love to listen to Otis, the Stones, Ray Charles, Pickett, and Bobby Womack. And to be able to hear the band just cooking. It leaves me imagining how electrifying the room must have been when it was all happening, and the band is hot. I'm very proud of how "Can't You See and "Ain't It A Shame" came out. I think we've captured something magical on those tracks, and I know Chris and the boys feel the same. We recorded everything at Eastcote Studios in North London, in just three days. Long days. I think we did an average of 16 hours a day, or something like that. Everyone involved was such a pleasure to work with, Chris, George the engineer, the studio staff and Phillip the owner. Something special happened in those three days.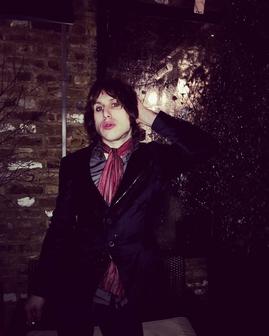 Punk Globe: What was the catalyst that inspired the band to form?
Nick: I don't know if I can say that there was any one catalyst, really. It just seemed the natural thing to do. We grew up seeing live music. Our mum and dad always made a point of bringing us, from a very young age, to places where we could see musicians play. Jazz, Blues, Country, the lot. They believed there was an importance in showing us that music didn't just exist at home on records, but it was down the street, in the city, the country-side. That changed it all for me. I knew what I wanted to do.
Chris: Nick and I grew up in a home with an amazing and eclectic record collection between Mum and Dad. The band may sound predominately Rock 'N' Roll upon first impressions, but it's the albums we grew up on, Otis Redding, Muddy Waters, Howlin' Wolf, Little Walter, Etta James, Aretha Franklin, Hank Williams, Wilson Pickett, Sam & Dave, etc. That is really the roots to our music and sound. Mix in a bit of rock 'n' roll of course for safe measure. It was wanting to bring these influences and music to a modern audience, with our own take on it, that was the major inspiration to for the group. That and the endless need to get on a stage and play. We're very lucky to have found cats that all love to play the same music in today's culture. I feel like Ale (drums) came up with Nick and I in the same house, with the same love and appreciation of the same music. It's remarkable.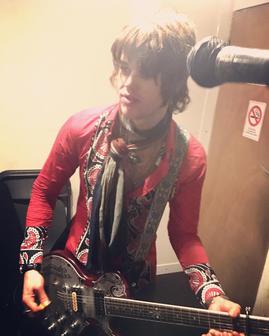 Punk Globe: Please describe your sound to our readers?
Nick: Our sound is really just "our sound". We take in what we like, and reflect ourselves back accordingly, musically that is. There is also the personal side, how we experience life, that we add to that. Love, grit, social reflection, all of it. It all affects the music. It's impossible to separate for us. That is what make us "us" and makes us sound the way we do.
Chris: In a sentence? Sixties and Seventies rock 'n' roll deeply steeped in soul, R&B and blues being played by guys who are living 50 years later after the fact with an influence of the times and events of a modern world, and can't help but to be.
Punk Globe: How does the band use social media to promote its cause?
Nick: We stay as active as possible on all the major social medias (Instagram, facebook, twitter, etc.), but don't let it interfere too much with our creativity. The music comes first; the rest is the rest. As a songwriter, I'd much rather put forward a great body of work, than a decent collection of 120 characters or less.
Chris: The band is as active as we can be on our socials, without it being detrimental to our creativity. We still need to write music at the end of the day. That being said, we do use it to keep in touch with our fans and share new music, events, and what we're currently up to. Instagram's alright.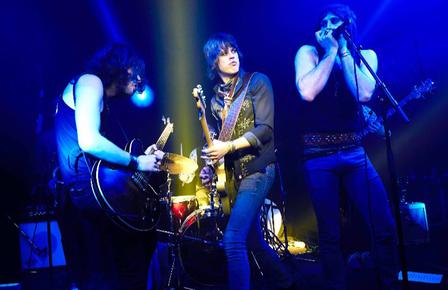 Punk Globe: So many bands today make DIY products. How important is a great producer?
Nick: Paramount. You need someone that you trust to encourage you when you're on point, and to tell you when you need to push further, in a way that doesn't stifle your creativity. Someone to push you to do better than you expected, help you grow in your field, and call you on your shit. That, in my mind, is what makes a great producer. And that's what Chris Kimsey is, a great producer.
Chris: I'm a strong believer in having the right producer. If they're right for the band, then what you create will be great in its own right. To me, a producer needs to fit in; and in our case, be a sixth member of the band. We definitely have that with CK. Nick and I are very fortunate as songwriters that most of everything we write, we agree on. That being what it is we're aiming to express and how to get there. Somehow we have that with Chris as well, which I think is remarkable. We know what it is we want to accomplish with a song, and where we want to end up with it. But we have three different ideas of how to get there, whilst staying true to the song. I'm still surprised how well it works really, hence the long future ahead haha.
Punk Globe: What is the craziest thing you have seen om the stage?
Nick: Crazy comes in all forms, and we've seen most of 'em... You'll have to wait for the book. It'll be worth the wait.
Chris: I remember Buddy Guy telling a story of when he was first getting on the Chicago blues scene. He saw some bloke come in, put a bag on the bar, and order a drink. In the bag was his woman's head.... In comparison to that, nothing too crazy. Thankfully.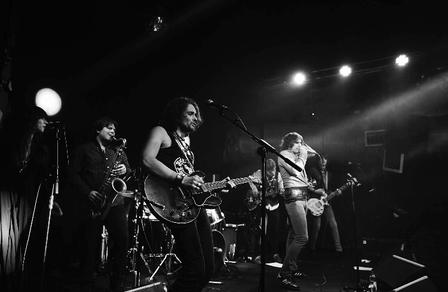 Punk Globe: How does the band juggle the art side vs the business?
Nick: Which side of the bottle are we on? How clichéd. All kidding aside, this is the music business, and should be treated as a business. Especially if you handle your own affairs, as we do. Know your field if you intend to contend in it. Know every backstreet and alley, if you intend to dominate it. It's important to find a balance though.
Chris: It's a juggle.
Punk Globe: Give us some info on your up and coming shows?
Chris: Right now we have a few cool ones to do. We just did one last week in which we teamed up with Instagram's @LONDON. It was over-sold by nearly 200%, which was a shame to have to turn people away. We did play to a select 200+ in the end at the venue, but we live-streamed the event from Instagram, and had tens of thousands of people from around the world stream the entire concert from start to finish! Next ones up are the launch of Levi's jeans "Summer of Love 1967" campaign, and Isle of Wight Festivals. "Wight Night", which is a cancer benefit, in association with "Stand Up To Cancer", which are both on the 6th of April. After that, we have a show for "Camden Rocks Festival" on the 18th of April, followed by another headline show at the Blues Kitchen, Camden on the 16th of May. Then we're back by request at this year's Isle of Wight Festival, which has Rod Stewart headlining Sunday night. After that, we're planning a tour into Europe in the late Summer or early Autumn.
Punk Globe: Who are some of your contemporaries that the band really digs?
Nick: I'm a big fan of Daptone Records out of Brooklyn, New York. They have great acts; a favorite being Charles Bradley. He's great. And the late and incredible Sharon Jones, as well. They're doing something right over there.
Chris: Obviously we love the greats that are still among us. I don't listen to much new music really... I do dig Charles Bradley though. Proper class.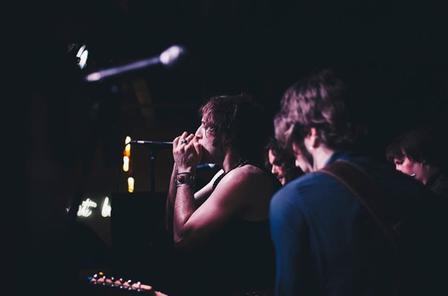 Punk Globe: How can our readers find you?
Nick & Chris: At our shows! Visit www.thesecondsons.com for everything on the band. The best way to stay in touch, is follow us on Facebook, Instagram, and Twitter – we're on it all, except for Snapchat.
Facebook: www.facebook.com/secondsonsofficial
Instagram: @thesecondsons www.instagram.com/thesecondsons Twitter: @SecondSonsBand www.twitter.com/secondsonsband
Photographer/credit: Al Stuart
Photographer/credit: Instagram @jessherberttt
Photographer/credit: Merrick Winter
Instagram @merrickwintermusic