Guitarist for Flyleaf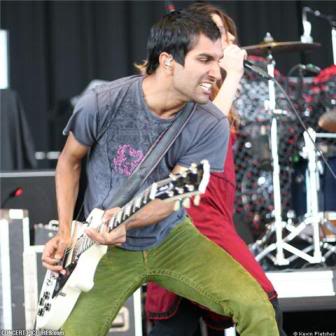 I had the chance to talk with Sameer Bhattacharya, guitarist of Flyleaf, about the upcoming tour with rock heavyweights Three Days Grace and Breaking Benjamin.
Sameer Bhattacharya: I am actually packing right now and we're leaving tomorrow.
PG: All the bands on the tour have major hits on the charts right now so there's a huge buzz surrounding the entire tour but I noticed the tour hits small to mid-grade market cities. Do you enjoy going to the smaller cities to play?
S: Definitely. The fans in those areas really appreciate it.
PG: The band's new album was released in September. How does it feel to have the "sophomore slump" off your back?
S: We were really excited to release "Memento Mori". It has a really important message about life and about how we're not all going to be here, we're all going to die eventually.
PG: Are you worried about matching the success of your debut album, which in turn went platinum?
S: We focus on the songs and the connection they have with the fans. As far as the success, statistics, and the charts, we have an entire team behind us who are worried about that.
PG: After this tour I saw the band is traveling to the UK for a short tour. How has Britain taken to your music? Is it a little different than the States or is it pretty much the same?
S: The fans are very interesting. There is something different about Europe and Great Britain . The radio is different and they see entertainment in a different light.. I feel that they are more personable there. It doesn't matter to them that you're in a band; you're just a person.
PG: It seems like they have more passion for music when they go to shows. To me they feel excited to see artists from around the world show up and play for them.
S: They don't really get interest from the "glam" and they're not attracted to the light, so to say.
PG: Will the band be doing any Summer tours or festivals?
S: Weíre actually working with a group of people to do some European festivals this Summer. We wonít be in America too much.
PG: The band has been around for almost 10 years now. What has been the standout moment, for you, in the past decade with Flyleaf?
S: There are so many things that go one thing from the next so itís very hard to pick one moment. One that stands out for me is being at the EMI Music Awards. You know, itís not the Grammyís; youíre with the writers. Being around such amazing songwriters all in one room was very humbling. I still get excited thinking about it.
Flyleaf will be on the road in the US promoting their new album, "Memento Mori", through March. You can check out the band at:
Flyleafmusic.com
-AK