I remember the first time I saw Sally in Seattle, it took me a minute or a month, to realize this is the woman whom I recognized from the Honeymoon Killers and the video for "Mildred Pierce" by Sonic Youth. She is a person who demands attention in both her personage, presence, and the way she attacks a musical instrument. It didn't exactly hit me in the head like the brick flying at my face until I watched her play with Tractor Sex Fatality. Watching her on that drum set turned on the invisible light bulb over my head. Here was one of the great female musicians from my early days. Whether you remember her on drums with the Honeymoon Killers, STP, with Bob Bert in Bewitched and more besides that odds are if you were listening to underground music in the 80's and 90's, you heard her play. If you were lucky you actually saw her play. She has been living up in the East Coast area again and has graciously agreed to answer some questions. There are certain sounds that remind you of certain times in your life or certain places you have been. The noise movement of the 80's and the 90's certainly makes me think of New York. The sound matched the city itself. It was a little scary, a little dirty and entirely in a space of it's own. Oh also if someone needs a drummer for a production of Hedwig and the Angry Inch, I believe Sally would be more than happy to oblige.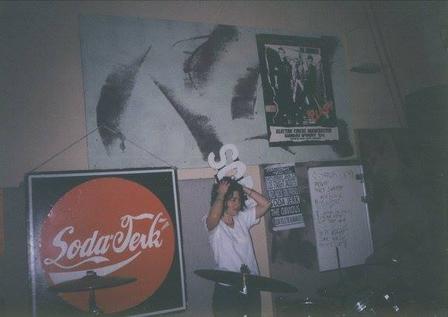 PUNK GLOBE: Did you learn to play drums in school? I've seen pictures of you in school musicals so you were a musical person starting early on?
Sally Barry: I wanted to. When I was in 5th grade I signed up to learn drums and play them in the school band. They weren't having it. Just refused to let me take drums. My mom went down to the school and called the bandleader a fascist, but they made me take flute, which I hated so I quit. I had been singing since I was really small, and was already teaching myself guitar, so I just figured fuck these guys, I'll play drums later. I did all the choruses and choirs. I liked acting too so I did the school plays and community theater, and the last two years of high school I sang in a rock band. I got into the music program at the university of the arts in Philadelphia as a voice major and studied classically for a year, then got bored and dropped out.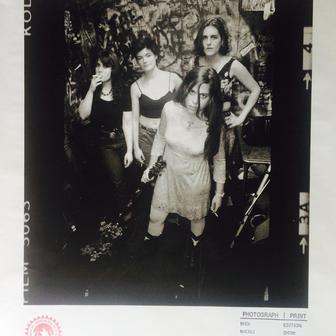 PUNK GLOBE: When did you leave home for NYC and how did you meet the people you would go on to play in bands with?
Sally Barry: Right after I quit college. I moved in with one of my friends from high school and his roommate, who were both going to the Manhattan school of music. The roommate and I had more in common than my friend, so he eventually moved out because we were driving him nuts with our crazy punk rock shit. We were making guerrilla art and we started a living room band which consisted of Fred (Lonberg-Holm... he's a well-respected improv/free jazz cellist now) playing cello and dulcimer and me playing pots and pans and bottles and cans. Eventually we got another roommate who just sort of sat in the corner and sang acid flashback type lyrics that we couldn't hear until we played the tapes back. It was a happy household. After a while we all moved out and I went down to the lower east side. I met Roy (Edroso) through a guy I was dating at the time. Roy and his girlfriend had a band and they were looking for a drummer. I said "oh, I'm a really good drummer, I'll come audition" even though I had never played a kit... just bottles and cans. So I showed up at the rehearsal space about ten minutes early, talked the guy who worked there into letting me in ahead of time to "warm up." I sat down at the kit and figured out how it worked, then I nailed the audition. It felt totally natural. I played with them for a little less than a year, then Roy and I ended up getting married. That ended that band pretty damned quick! Around that time a friend of mine was in a guitar shop and heard Lisa from the Honeymoon Killers talking about how they needed a drummer, so he gave her my number. She and Jerry gave me their first record to listen to and I knew I'd found my people, and it all just went from there.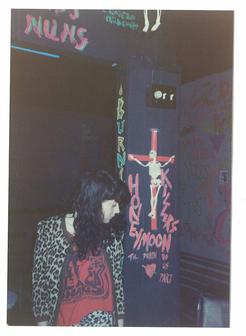 PUNK GLOBE: How would you describe the 80's and the 90's in NYC?
Sally Barry: It was great. Our neighborhood was amazing before it got gentrified. Cheap, gritty, fucked up, noisy, full of everything and everybody you could possible want to be around, and a bunch of shit you didn't want but that didn't really seem to matter. We were tough. There was so much energy in that scene, so much art, so many ideas and so much drinking.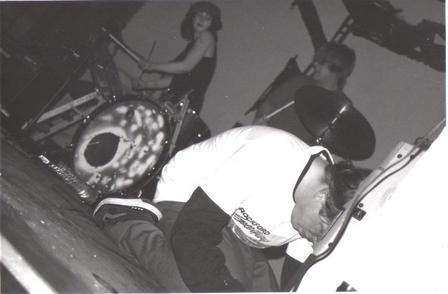 PUNK GLOBE: There are many famously attached to NYC women such as Lydia Lunch, Christina Martinez, Kim Gordon, yourself and many others. Was there a healthy environment for women musicians and artists in NYC?
Sally Barry: I think so. There were lots of us playing, and not just in all girl outfits. There was Sonda in Rat at Rat R, Thalia in Live Skull, Jacqui D. in Dust Devils, Julie in Pussy Galore, plus lots of women who had never played before realizing that they could just pick up an instrument and start bashing on it and make noise and have a fucking great time doing it.
PUNK GLOBE: Are there any musicians you wished you had gotten to play with but did not?
Sally Barry: I've been pretty blessed. I got to play drums with Bob Bert, sing with Mark Lanegen, play session drums with Chris Spedding, double drums with Ward Reeder. If I could pick through people I know and choose a couple of killer bass players they would be Jack Natz from Cop Shoot Cop and Dave Riley from Big Black. If I could pick a double drum situation it would be Lori Barbero from Babes in Toyland.
PUNK GLOBE: During your time with the Honeymoon Killers and STP how often were you playing a show?
Sally Barry: It varied. Probably averages out to about once every couple of months or so, excluding touring. You tried not to overplay the local clubs.
PUNK GLOBE: What do you think is the difference between alternative or hard core from when we were younger and now.
Sally Barry: Honestly, I was never huge into hardcore, and I'm out of the loop with everything else. I think the scene ate itself. I listen to the local college station in my car while I'm driving, about one out of five songs I hear are good. The rest all sound like boring rehashed shit. I have heard some pretty cool less-is-more keyboard based stuff, though... really stripped down, simple, edgy uses of keyboards. It feels new and old at the same time and I like it.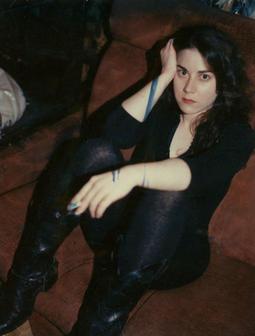 PUNK GLOBE: Do you see yourself ever playing in a band again, do you have any other artistic output at this time?
Sally Barry: Maybe, probably not a serious thing and probably not drumming. I put a mighty hurt on my body over the years and I'm paying for it now. I still sing, dick around on the guitar when the house is empty. I write a little. My son has two more years before he goes off to college, I'll probably get bored shitless once he's gone and start making spooky noise in the basement.