As a teenager, Rozz Williams was creating art that was intellectually light years beyond his peers. Growing up in Pomona, California to a deeply religious family, he discovered poetry, art, writing and music (the GERMS were an influence) and blended all of these into a lifetime project that seemed unfinished at the time of his suicide in 1998. He is considered one of the pioneers of the gothic rock scene and yet tried to distance himself from it with projects that were extreme and seemed designed to separate the Bauhaus crowd from the true believers. With his partner Ron Athey, a young Rozz did deranged performance art under the name Premature Ejaculation and was banned after a performance that involved Athey taking a bite out of a road kill cat they had found earlier. One of the brilliant photos included in this book is Edward Colver's picture of Athey holding the crucified cat.
In 1981 Rozz had a band with a guitarist named Jay and a rhythm section consisting of James McGearty on bass and George Belanger on drums called Christian Death. The band had a bit of a following and when they opened for the Adolescents, guitarist Rikk Agnew saw them and liked what he saw. After leaving the Adolescents Rikk approached McGearty and Belanger about the possibility of joining Christian Death only to discover that the band had broken up. They reconvened with Rozz and the Christian Death that would change the world of dark music was truly born. For the release of their first album, Rozz provided the stunning black and gold artwork on the front and back covers as well as the lyric sheet included. The album was a total piece of art with Edward Colver's iconic photos as the icing on the cake. There was a record release party at the Whisky in Hollywood and Ron "crucified" Rozz live on stage at the climax of the show. Rozz and the band rose to prominence only to implode under a barrage of drugs and misunderstanding before they could complete a landmark second album. In 1983 Rozz collaborated with a band called Pompeii 99 and this fusion morphed into the new Christian Death line-up and they recorded "Catastrophe Ballet" and "Ashes" together before parting ways in 1985. He served as vocalist for several other notable bands including Shadow Project (a collaboration with wife Eva O.) and Daucus Karota (their e.p. was produced by Bowie and Iggy associate Hunt Sales). Rozz also pushed the envelope with highly experimental musical projects such as EXP and Heltir.
In between his music Rozz kept busy with art, writing and film projects. The Premature Ejaculation project included cut and paste collage art in the punk flyer vein. In some ways they seem politically motivated with the use of dollar signs, swastikas and occasionally President Reagan. There are also photo clippings of human beings with diseases affecting their physical appearances in unpleasant ways. Black and white drawings from 1981 appear to be in the same style as the art on the "Only Theatre Of Pain" cover. The color collage pieces from 1996 are beautiful and quite vivid compared to the earlier black and white collages. Rozz also did paper cut outs applied to wood or wooden boxes. The inclusion of Paper Mache masks from the Shadow Project era show the wide range of materials Rozz could make use of and apply to other aspects of his art.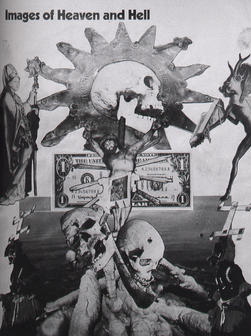 Originally published as a softcover by Last Gasp of San Francisco in 2003, The Art of Rozz Williams was for many a first look at so many different facets of Rozz's work. "I was not aware, deeply, of Rozz's artwork!" states Gitane Demone. "I was amazed by everything I saw in the book the first time!" Gitane contributed a remembrance of Rozz in the book and shares her thoughts on working with him for us here. "After I left Christian Death in 1989 Rozz sent me a letter saying he wanted to get back together. I felt so guilty for staying in the band after Rozz left," she confesses. "Valor is my son and daughter's dad and I wanted them to have a dad. I waited a couple of years and got in touch when he'd be in Germany because I was living in Amsterdam. That's when we got back together." The product of their reunion was not only the healing of old wounds but also a striking new collaboration of art and music called Dream Home Heartache after the Roxy Music song covered on the record. The hauntingly beautiful photos from the album by Kate Tan are featured in the book along with Rozz's lyrics.
photo by Kate Tan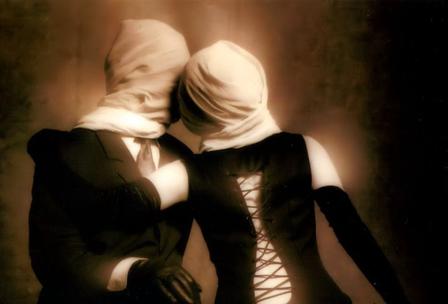 Christian Death guitarist Rikk Agnew also admits in his new introduction that he was not fully aware of the scope of Rozz's talent for art until seeing the book. When asked about how he and Rozz interacted on songwriting Rikk had some interesting recollections that paint a picture of a reserved and ethereal lyricist. "Rehearsal with Rozz was almost never. I would write basic riffs or James (McGearty, bass) would have riffs and We would all, sans Rozz, work on the songs," he explains. "When He did show up He spoke all ov maybe seven words. While We busted out the jams He would open His lyric book and read His lyrics silently. Next song He would simply turn the page, tousle His hair back, light a cigarette, take a drag and son on. That was full rehearsal. The only time We heard Him utter, sing, whatever it was at the shows."
Editor and Rozz collaborator Nico B., producer and co-director of the film PIG, has done the world a great service by reprinting this book in hardcover. While the original Last Gasp edition was a beautiful release, the book is much better hardbound. Originally planned as a book strictly of art and writings, it was expanded to cover art, poetry, lyrics and photos after Rozz's death. Nico has collected material that paints a complete and interesting picture of an artist using many mediums to express himself. It also contains the valuable inclusions of discographies, tour and show dates and will remain the most comprehensive guide to Rozz's work.