Punk Globe: Can you tell me how you came up with the spelling of Ripovs and who does what in the band?

MIKEY: I came up with the name and the oddball spelling. I wanted it to sound like somebody's last name (a la The Ramones), and "The Rip Offs" was already taken. It also sounded like some kind of cheap, shitty vodka...which is also appropriate for us. As to who does what: I play guitar and sing, Lord Jim plays bass, and The Mighty J plays drums, and also does double duty as the true Heart and Soul of the Band. And EVERYONE plays loud, of course.

Punk Globe: Having only seen you twice it seems like your music is generated a lot from 70's Rock combined with Punk Rock.

MIKEY: Yeah, that's very true, thanks. We ain't exactly getting any younger, and we all remember that bygone era when True Rock ruled the airwaves. So like most guys our age, we're still big fans of '70s hard rock, in addition to the un-Holy Trinity of Punk: The Ramones, The Sex Pistols, and The Clash.

Punk Globe: Do any of you have side bands you play with?

MIKEY: Lord Jim was in a blues/funk band as a side project for a while, but I think he's done with that gig for now. And all three of us also sometimes appear as "The Soho Shitestorm", backing up local punk legend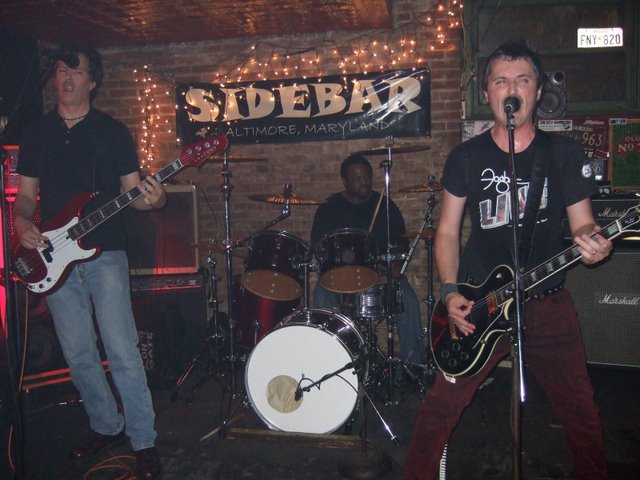 (and our pal and mentor) Steptoe T. Magnificent.

Punk Globe: Can you tell me what some of your influences are?

MIKEY: The usual suspects, ca. 1954 - 1984 or so: Elvis, Chuck Berry, Little Richard , Jerry Lee Lewis, Buddy Holly, etc., etc., up to and including The Replacements, AC/DC and Iron Maiden. But the band that brought it all home for me was the Who. When I was thirteen, I got my older sister's record collection when she moved out of the house, and it was mostly, like, the Mamas and the Papas, Petula Clark, Herb Albert...that kind of thing. Pretty dull. But there were a few Beach Boys and Beatles albums in there, too, so it was just a short slide from those bands to The Who, The Stones, The Kinks -- and then on to Dylan, CCR, the MC5, the Stooges, Mott The Hoople, Alice Cooper, The New York Dolls, early Springsteen, Thin Lizzy, Creem Magazine, KISS, The Ramones, The Sex Pistols, The Clash.. And once I heard the REALLY good stuff,there was no turning back...I became a total rock junkie. Lord Jim's tastes are a bit more eclectic...everyone from the Police (and Sting of course!), Hendrix and Kurt Cobain to Jeff Buckley,'80s metal, old-school punk, and James Jamerson (in Jim'swords, "THE Motown bassist"). And Mighty J is the true wildcard: he digs Van Halen,, '70s soul and R&B, '80s pop, Madonna, Janet Jackson...even some of the American Idol singers. So we're all over the map!

Punk Globe: What is the Baltimore Punk scene like? Do you play a lot locally?

MIKEY: In one word: "Friendly". The Baltimore underground has been VERY kind to us over the past few years. It's like an extended family, except that you don't hate them and hope that they don't show up to your
picnic. I think we played around 20 shows or so locally last year...not nearly as many as some bands...but we're older and uglier, and need more beauty sleep!!! And we're also lucky as shit to have a club like the Sidebar in Baltimore. Matty and the rest of the crew there genuinely understand how fragile this whole Rock-and-Roll thing is these days, and they bust their asses to create a supportive and positive environment for everyone. It's just a first rate venue...I really don't even want to think of what Baltimore would be like without it!


Punk Globe: Do you play a lot with touring bands?

MIKEY: Sometimes...no really huge names, but I was surprised when we got back into this a few years ago by just how many really cool, hard-rocking young bands are out there on the road right now. One of our favorite out-of-town bands are The Jukebox Zeros from Philly. Great tunes,great guys. You should check them out!

Punk Globe: How about DC the scene? Is The Black Cat still doing shows? White Trash Debutantes played there I remember. Tell us about DC.

MIKEY: We've never had much luck booking shows in DC, but that probably says more about us than it does about what's going on down there. Another of our favorite regional bands is The Hall Monitors -- they're based in DC, and play there a lot (at the Black Cat and elsewhere). If you're listening, DC, we're available!!!

Punk Globe: I know Richmond VA has a cool scene do you play there?

MIKEY: No, that's news to me. We'll have to check it out! There's also some good vibes brewing up in Harrisburg, PA (at a club called Smalls).The crowds there are fucking nuts, too. We've played Smalls a few times, and it's always a great party.

Punk Globe: What are your favorite locals clubs to play?

MIKEY: Hands down, The Sidebar and the Talking Head (which was closed for a while but now it's open again). Great people, great energy, cheap booze, and fun fun fun...it's amazing to me just how many serious
"musicians" in this town have no fucking idea that these places even
exist. And for that, we can be truly thankful...

Punk Globe: Any releases out on Vinyl or CD?

MIKEY: We put out a four-song demo/EP on CD last year ("Kick it Out") that we give away at shows. If anybody wants one, they can ask for it through our Myspace page ( www.myspace.com/loudassrock ) and I'll send it out for free.

Punk Globe: Any tour plans for the readers who do not live in the Baltimore area to see you?

MIKEY: We should be doing something in Philly soon. Harrisburg, too. I'll keep ya posted.

Punk Globe: Mikey- as I mentioned in my review of The Freaker's Ball you look alot like Steve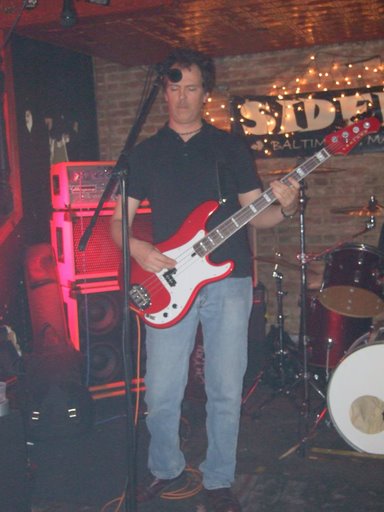 Marriott of Humble Pie during his prime. You mentioned you have gotten that before. Are you a Humble Pie fan?

MIKEY: Ha! Yeah...I have heard that before. But I think I'm taller than he was! What I loved about Marriott was that he always looked like he was having the time of his life in Humble Pie. I always dig a band that
remembers to smile on stage sometimes. I mean, this is supposed to be fun, right? I know that some people dump on a lot of that loud-ass '70s boogie music, but gimme it any day over about 99% of the depressing drop-tuned "heavy" garbage or pretty boy "indie" bullshit I hear on mainstream "rock" radio these days. At least that old school '70s stuff (Humble Pie, Foghat, Grand Funk...even Boston!) had balls, and wasn't all about laying some big, dopey, fake aggression trip on everyone. KISS and Cheap Trick were great bands, too, especially in their prime, with fans galore, and yet they still managed to have a sense of humor--something that's sadly lacking in Rock today. God how I miss Keith Moon...!

Punk Globe: Have you always been a three piece band? You all make a powerful sound..

MIKEY: Thanks...yeah, that's the goal...I guess we get lucky sometimes and actually hit it! We trimmed down to a trio this spring, when our other guitar player left to start his own business. He's an old friend, and
we all miss him a lot, but the show must go on, y'know?!?

Punk Globe: Who writes your material?

MIKEY: I come up with most of the raw material (lyrics and chords, etc.), and Lord Jim has recently contributed a new tune, but the songs themselves are all VERY much a collaborative effort.

Punk Globe: Do you play NYC? and what is your favorite club to play there?

MIKEY: I wish! We've all been to New York a bunch of times...but have logged exactly ZERO hours of Rocking up there. One day maybe!

Punk Globe: If The Ripovs could play any show what would be your dream gig?

MIKEY: I think it would be cool to open a show for ZZ Top. That would rule.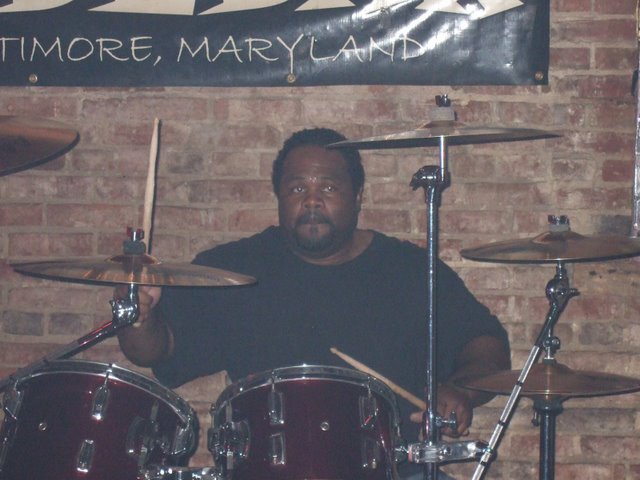 Punk Globe: Describe your best and worst shows?

MIKEY: Sometimes I think we only have "worst" and "less worst" shows. Not sure about "best", but if we're having fun, and the audience is partying and having a good time, that's cool. We're just happy to
still be doing this at all at our age! And our worst shows are pretty much when I get drunk and forget how to play my own simple ass songs. That happened to us once at the Talking Head...I did a bunch of shots of this really bad rail whiskey right before we went on. Forty minutes later it hit me like a ton of bricks, and I completely fucking blanked out on our last song...I just stood there like a moron, with my guitar feeding back, and everyone looking at me like "what the fuck is wrong with this idiot." Fortunately our old bass player saw I was in trouble, and smashed his bass to smithereens to cover for me. Pretty damn cool. Come to think of it, that might have been both our best AND worst show. Sweet...

Punk Globe: It was fun playing on a bill with you... Although the band I played with only had one full band rehearsal and it was so fucking hot we did not practice that long. You All Rawk any last words that you may like to add to the interview?

MIKEY: Thanks, Ginger (and thanks again for inviting us to the Freaker's Ball, too)! We had a blast, and are flattered as hell that you dig what we're doing and are giving us some space in Punk Globe! The next time you're in Baltimore, please look us up...and don't forget to take in some shows by some of our favorite local bands if they ever make it out your way: The Fishnet Stalkers, Chelsea Graveyard and the Screams at
Midnight, Blondsai, and The Living Wrecks. Baltimore may be the crime capitol of the northeast, but there's definitely no shortage of kickass Rock-and-Roll here by the shores of the Chesapeake Bay! Thanks again, and ROCK ON!