HUNG ON YOU RE-UNION SHOW
Islington o2 Academy
7th January 2010

Review By Rotten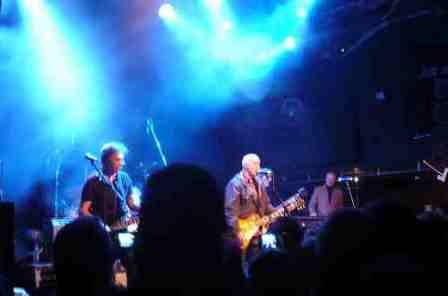 This gig wasn't just a gig by a reformed band, but more a celebration of friendship. A few years ago, talking to former Sex Pistol GLEN MATLOCK, he didn't seem to think a re-union by his post Pistols band RICH KIDS would ever come about, but GLEN, MIDGE URE and RUSTY EGAN rallied round to help guitarist STEVE NEW who is sadly and tragically suffering from terminal cancer.
RICH KIDS were back for one night only - and for the RIGHT reason!
The show was organized to help raise funds for Steve's family, and a bunch of his friends came along to help out.
Kicking off with a 3 song acoustic set by former ADVERTS main-man TV SMITH was a good idea, but having seen him live before, the bar was a great option for me, Next up was a band called THE ILLUMINATIONS, featuring Clive Langer, IAN BROUDIE (from THE LIGHTNING SEEDS) and GLEN MATLOCK who, amongst others performed a great version of WRECKLESS ERIC's "WHOLE WIDE WORLD."
VIV ALBERTINE formerly of THE SLITS was next with 3 witty acoustic songs - absolutely brilliant, a joy to watch and listen to, and I may say, a Woman who's good looks defy her years.
Next was CARBON/SILICONE, the band fronted by MICK JONES of THE CLASH and TONY JAMES of GENERATION X.......again, I had seen them a few times before, but they are an excellent band to watch who seem to to it for the pure love of performing. What made it all the more entertaining was due to the UK's bad weather (heavy snow!), RICH KIDS drummer RUSTY EGAN played their set as their drummer couldn't make the show!
Next up was another throw together.....GLEN MATLOCK, PATTI PALLADIN, TRACY HUNTER (daughter of MOTT THE HOOPLE's IAN), MAGGIE RONSON (sister of MICK), DAVE and STEVE NEW, all performing cover versions and the MATLOCK / PALLADIN song FACE IN THE CROWD, which I hadn't heard since a PHILLISTINES gig years ago,
BEASTELLABEAST were next on, STEVE NEW's current band, never heard them before, but they were modern, angsty and brilliant, showing why STEVE will be sadly missed and why his work is held in high regard by his peers....he even dedicated the song STOP THE CLOCK to his doctor for KEEPING HIM ALIVE!
MIDGE URE took to the stage acoustically next, performing some of his Eighties hits with ULTRAVOX, and it was at this point i thought to myself.....now all four Rich Kids have appeared on stage, is this the re-union????? until I heard someone in the loo's saying that "The KIDS have only rehearsed yesterday as a band, so it might not be too great".......oh well....I was here to pay my respect for STEVE NEW, so it wouldn't be a total wash out if they were not good.....but at least they were performing.
Then after another bar trip ( the beer flowing well but not helping my meds!), Dj Gary Crowley comes out to announce tonight's headliners, RICH KIDS.......
Kicking off with a song I have never been keen on, STRANGE ONE, It was obvious we were in for a great show, as this soon went into HUNG ON YOU,an absolute belter from their one and only album. The band sounded tight, rejuvenated from the long hiatus, and while all the members playing solo throughout the years had helped, it was only when the core four got together did the show seem right.
Midge's self penned PUT YOU IN THE PICTURE from his PVC2 days rocked along and got a great singalong going, while RUSTY attacked his drums with a power got him the job in the first place - he hadn't drummed for many years, but tonight didn't show it,
STEVE NEW, the man this night was for, was enjoying every minute, despite being seriously ill, and was showing what a great guitar player he really is, i was actually thinking that if he had past the audition for the Sex Pistols back in 1975, the two pronged attack with Steve Jones would have been phenomenal!
Next came RICH KIDS and the Small Faces cover, HERE COMES THE NICE, and the night was getting better, I have always loved the version of HERE COMES...they did, and I wasnt dissapointed here.
The song I really wanted was the b=side ONLY ARSENIC, which appeared next, great lyrics, great tune, my voice going hoarse with singing along, if the band would only re-record this song I am sure a hit would be had. GARY KEMP of SPANDAU BALLET joined the boys for the classic GHOSTS OF PRINCES IN TOWERS, another rocking moment, and next virtually everyone joined the stage for a rousing version of the Small Faces ALL OR NOTHING............Then an encore of the anthemic RICH KIDS again.
Then it was over.....what an evening, totally worth the admission price and traveling / hotel costs involved and to be honest, better than the recent PIL re-union shows I saw. I would love to see this band tour again, but with STEVE NEW's health in trouble it wont happen, so I am glad I saw this show.
Just as a small note, I wish STEVE NEW all the best with his fight, and hope he can finally get some recognition as the best guitarist of the Power Pop / Punk era.