"http://www.w3.org/TR/xhtml1/DTD/xhtml1-transitional.dtd">
Review of
"Dante's Inferno"
by Pamela Torres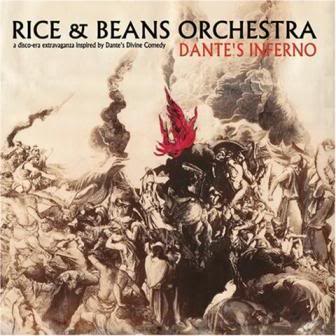 I know what some of you are thinking. Some of you readers probably assume that I'm a crazy fool for writing a 5-star review on a DISCO record. Well, I'm happy to confess that I've grown to love the genre not because it was so ludicrously popular on 70's radio but because (like heavy metal and hardcore rap), disco bred such an intense backlash that it was shoved under the carpet for freaks and geeks to enjoy. Also, when you think about it, disco is perhaps the first ever DJ-oriented form of modern dance music to emerge: it paved the way for the flashing rave club beats of electronica, techno, house, and even early hip-hop. As for the fully remastered release of "Dante's Inferno" by the Rice and Beans Orchestra, I can guarantee with a tuning pitchfork that it's one of the best disco albums ever made (not to mention the most underrated)!
Track List:
1. INTRODUCTION
2. EDGE OF HUMANITY
3. BEATRICE
4. DANTE, WHAT ARE YOU GONNA DO
5. THE POWER OF HELL
6. VIRGIL, MY FRIEND
7. IN CIRCLES
8. WHERE ARE WE GOING
9. THIS IS PURGATORY, WE'RE SORRY
10. STILL IN PURGATORY
11. ECLIPSE OF LOVE
12. PARADISE
Divided into 2 15-minute acts, "Dante's Inferno" is a vibrant and epic concept album directly inspired by Dante Alighieri's "Divine Comedy," an allegorical 14th century tale depicting one man's journey through the afterlife. Backed up by heavenly violins without skipping a beat, a soulful choir provide the narration for Dante's search for Beatrice, his long-lost love, as he descends into the 9 flaming circles of Hell and then climbs back up into the shining, angelic light of Paradise. For anyone who doesn't know, the RBO was a special project assembled by Puerto Rican songwriter Pepe Luis Soto. Much later on in his career, he produced several hit songs for performer Celi Bee, his wife at the time. It's therefore not surprising that under Senor Soto's influence, the rhythms pulsing throughout the "Dante" album are injected with a spicy and sultry Latin flavor. There isn't much else for me to say about this album except that it's a non-stop party from beginning to end! AMEN TO THAT! I really hope some of you savvy music fans will give this CD a chance. Other similar works I recommend are "Million Dollar Disco" by the Rare Gems Odyssey and "Disco Inferno" by the Trammps.

Before I go take a nap, I would like to wish to all you devoted Punk Globe readers a HAPPY APRIL FOOL'S DAY!!