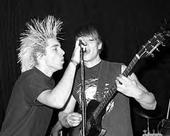 Born in the second generation of Bay Area punk, Ribzy's name is synonymous with the evolution of the South Bay punk music scene. In fact, they helped transfom it from a non-scene to one that eventually came to boast names such as The Faction, Los Olvidados and The Drunk Injuns to name a few. At a time when the Fab Mab was peaking in San Francisco, guitarist/vocalist Greg Oropeza assembled a crew (that would turnover many times in the band's twenty-five year career) and answered back to the San Francisco scene by throwing their own shows at venues such as Briner Hall in Campbell and inviting headliners such as Black Flag to perform. True old school punk DIY ethic.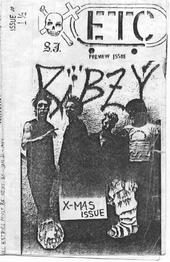 The band's sound evolved over the next two decades, constantly changing as the years went on. '81 - '85 captures the early spirit of the band with a collection of 30 gritty, raw tracks that include several unlikely covers (The Archies' "Sugar Sugar" and the Monkees' "Mary Mary", etc.).
The compilation leads off with "Cyanide Pill", which captures the entire feel of the early 1980s punk scene in just one track. The lyrics of "Clerk Is Dead" are typical of the band's cynical look at life in the city circa the 1980s. Crime, despair, and apathy are thesubjects explored in the best Ribzy songs.
The vocals of Derek Csimma, with his high-pitched screeches that emerged from the deepest part of his bowels, gave the band it's edge but later lead vocalist Dion Trottier put his own stamp on Ribzy's sound without the band missing a step.
This disc was inspired by the discovery of tapes of several recorded sessions that had been missing for 25 years. Their find is our good fortune as this compilation is a musical lesson of the early local punk scene in it's purest form. A treasure for fans of true punk everywhere.
- Larry Trujillo