PUNK GLOBE: Thank you for doing this interview .. Give us a description of your band Revenge?
JOSE: We are a band from Lima, Peru that plays hardcore punk with its touches of rock n roll ramonero. We have a raw and street sound, that's why we've been compared to The Exploited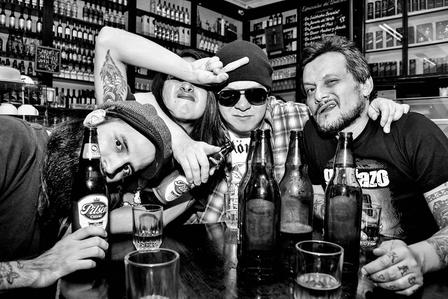 PUNK GLOBE: Who plays what in the band?
JOSE: Jose in the voice, Giovanni plays the guitar, Macha plays the bass and vocals and Diego on the drums
PUNK GLOBE: Tell us how you came up with the band's name?
JOSE: When we were recording our first EP we still did not have a name .. we only had 4 songs, they do not have a name either, and we recorded them all live. There is a song called Bad Habit that says they stuck me in the back, bad habit of shit, this is my revenge and ah 'between us we are in that the band is called Revenge!
PUNK GLOBE: In what part of (Peru) is the band located and in what year did you form?
JOSE: We are from Lima, Peru .. we rehearse in a district called Jesus Maria but we are watered by several parts of Lima. San Miguel, Pueblo Libre, El Cercado and Chorrillos. The band is formed in 2014 but we were really a playing band in 2015.
PUNK GLOBE: How many albums do they have and in what years did they come out?
JOSE: In 2014 we released an EP of only 4 songs recorded live to a take. Then in 2016 we released our first album called Mala Costumbre which has 13 songs and is also available on digital platforms
PUNK GLOBE: tell us about your last cd Who writes the material?
JOSE: We are all involved in writing , each one of us does his own part to make the songs sound better .. The credit belongs to everyone. The subject matter mostly reflect the discontent and bewilderment that one lives in this life and this society of shit ... Especially that of our great Pals. There are several issues where we crucify the politicians as fucking treacherous, amnesia or that they come .. and issues like stop fucking or commit your shit that are simple and straight to the point. There is also a theme called cheap perfume dedicated to destructive love relationships that help make life a bit more shit.
PUNK GLOBE: Who does the graphic design on your CD's?
JOSE: We have a friend who supports us with the art and visual concept of the band called Joao Kolera. For the cover of the album we wanted to show all the crap of this city in a single image.
PUNK GLOBE: Some of your musical influences?
JOSE: We have several influences .. Ramones, the cock, street punk gringo, Spanish punk rock, Peruvian underground rock of the 80s, metal, hardcore, etc. Among our personal tastes there is a great variety but always the main thing being punk rock.
PUNK GLOBE: How is the music scene in Peru?
JOSE: There are good bands, there is something for everyone, this is what is fashionable and what is not fashionable. Now there's a lot of modern cumbia, a lot of rockeritos doing it as cumbiambero. In the punk scene there is no shit, but there are good bands.
PUNK GLOBE: Are there alot of places to play in Peru?
JOSE: Here in Lima no. There are few places to play ... there are bands that play every month in the same bar. In the center of Lima there is one other place.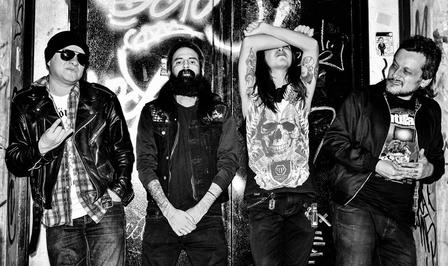 PUNK GLOBE: Favorite venue to play?
JOSE: We do not have a favorite place, but it's always good to play in the center of Lima. There are other plays in other districts of the city, but we can play anywhere and have a good show.
PUNK GLOBE: Is the band sign with a record label or are you independent?
JOSE: We are independent, not because we like it , we do not care and it is what we have. The last record we produced and released ourselves and here in Lima is normal, there is not so much support.
PUNK GLOBE: What do you remember about your first show? What were your feeling?
JOSE: Our first gig was a shitty. I remember that the second song and we wanted to get off the stage. We also had the bad luck to open two bands that played very well .. but I think those times have already passed .. Now we play until the end of our set and we want to continue playing!
PUNK GLOBE:Has the band toured?
JOSE: We have had the opportunity to travel to other cities of Peru. We have played in Arequipa and now at the end of the month we are going to Touch Ica, which is close to Lima. We hope that this year we will play more outside of Lima, we would like to go to Cusco for example.
PUNK GLOBE: What bands would you like to play with?
JOSE: We do not care who you play with. Great punk bands have come to Lima but we have no preference with who play with or not. It's all the same playing with a bigger band from out of town as it is playing with a new local band that plays well.
PUNK GLOBE: Tell us about the best show you have played?
JOSE: To play well is always a good show. Here in Lima a band that plays hardcore punk does not always play in the best places or with the best sound equipment. Then finding that combination is always good. Going away from Lima to play is always good too, you know people, you empty out, you take drugs and you pass the fucking mother.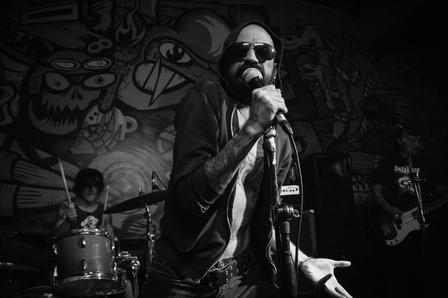 PUNK GLOBE: and the worst?
JOSE: I do not know if the worst because after all it does not matter and nobody remembers but I remember that in Arequipa, because of the height, we were a little short of breath and we were drunk among other things. We touch the roe but people like it
PUNK GLOBE: Does everyone in the band have day jobs? .
JOSE: Giovanni has his recording studio and records many punk and metal bands. Macha is a butcher, Diego is an aerobics instructor and José is a cook.
PUNK GLOBE: Do you have any Internet addresses that you would like to share with Punk Globe readers?
JOSE: Clear! you can do us the blessed like on facebook
https://www.facebook.com/venganzaperu/
and they can listen to us in bandcamp:
https://venganzabanda.bandcamp.com/
https://www.youtube.com/channel/UCC3gAshT3NJeJ7xfivWR99w
You can also find us on Spotify and Apple Music.
Watch our latest video on Youtube: Revenge! - Cheap Perfume
PUNK GLOBE: A few last words for Punk Globe readers?
JOSE: Thank you very much for the interview and we invite all readers to listen to Revenge !. For all the dirty punk rock lovers of Peru, last in all, we lose all wars, they put all the goals, but we do good punk!
--------------------------------------------------------------------------------------------------------------------------------- and you can