By Kim Friederich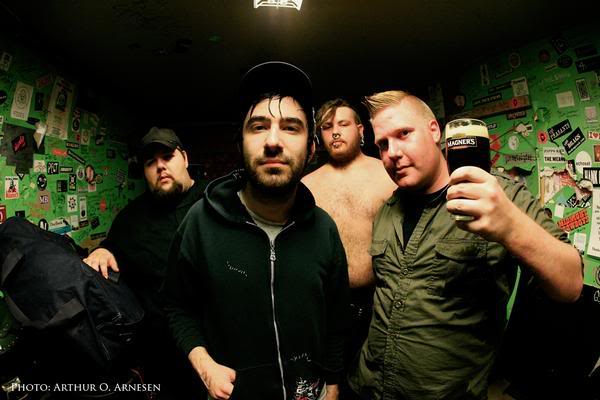 Band members:
Shawn- VOCALS
Mike-GUITAR
Looking but till then various-BASS
John-DRUMS

Over the years the lines of Punk has become blurred, as some bands take it to a Pop Music level, but if you look hard enough, there are bands out there staying true to the real core of Punk Rock.

REFUSE RESIST are a heady mix of the origins of Punk and Hardcore Punk, Gaining a lot from the UK bands of the Eighties third wave movement, using lots of singalong choruses that are sadly lacking in music today. Songs like "Still In Massachusetts" and "IRS" are tracks that while being angry rants, still have the power to make you want to throw your fist in the air and Pogo til dawn.

Gruff vocals and a faithful sound of aggression that never lets up really make this band a real Punk group that you really want to see live after hearing their recorded music.
Punk Globe: How did the band get together?
Punk Globe: Tell me how you chose the name Refuse Resist?
Shawn: The name was already picked by Mike and John. I loved it. It was great to describe what we do. We refuse and resist the mainstream ideal and views of what hardcore punk should be, and just enjoy ourselves. It's music, it should be a good time.
Punk Globe: Tell us about your latest CD "Mind: Yourself."
Shawn: It's 13 songs about doing that, being yourself, looking out for your interests and not really changing who you are. There are songs about drinking, relationships, government, and the state of things today. We write what we think we would like and hope others feel the same way and enjoy it too.
Punk Globe: If you could play with anyone from the music world ,Who would it be and why?
Punk Globe: What are the future plans for Refuse Resist?
Shawn: We are finishing up the last few songs for our new release on Thorp. We'll be recording at the end of August, then we'll probably do a bunch of weekend shows to promote the disc when it comes out in Jan/Feb of 2010. We enjoy the weekend shows / tours because in this economy people can only go out so much and usually wait till the weekends.
Punk Globe: Where can people find out more about Refuse Resist?
Punk Globe: Have to ask after listening to IRS , Did someone in the group get audited?
Punk Globe: What is the craziest show you ever played?
Shawn: I think playing with Leftover Crack was the best and craziest show we played. It was great to see kids acting like kids. Mosh pits, stage diving, and all the while looking out for each other. That's the way shows are meant to be every time.
Punk Globe: What do you think of today's punk music scene?
Punk Globe: Is everyone in the band from Massachusetts ?
Shawn: Yeah everyone has lived in Massachusetts our whole lives. It's a great and horrible place. There is no gray here. Either people love or hate you and it works both ways. I think the weather changes get us so irritable that we don't have time to filter our ideas and let everyone know how we feel at the moment. Which is beautiful and ugly at the same time.
Punk Globe: What is something your fans wouldn't know about you?
Shawn: I don't know, I mean we are incredibly open people and put ourselves out there for people to see. If there is ever a real question someone wants to know, we will tell them. It may not be the answer they were looking for, but rest assured it's an honest answer.
Punk Globe would like to thank Kim for the rockin' interview and hope you will check out Refuse Resist