"http://www.w3.org/TR/xhtml1/DTD/xhtml1-transitional.dtd">
Razorbax
Album Review
Something to Believe in
By: Renee Smith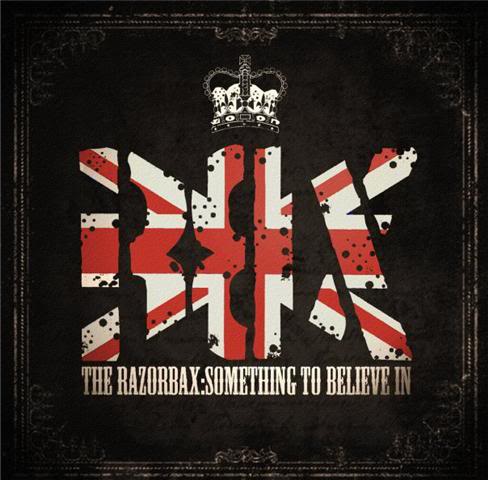 When Leigh Bucknall and company of Razorbax demand you "Wake Up! Wake Up!" on the opening track of their debut album "Something to Believe In" you simply have no choice.
You are plunged into a force of spitting and wailing of Bucknall's rich dense howl and continue on track after track through a journey that takes you from a punk rave up to wrenching acoustic ballad to ska.
The impact of "Something to Believe In" comes from an emotional and auditory assault that is at once new, dynamic, and exciting and familiar without being derivative. Listening to this album is like meeting someone familiar--someone you instantly "click" with--yet someone you know you've never met before. The sound is comfortable in the sense that the listener instantly gets it. There are echoes of classic punk, but nothing copy cat. These boys simply know their background and show their roots--clearly they were raised up on the Clash and Green Day and the result? A sound pure and authentic.
The opening blast of "Wake Up! Wake Up!" bears some of the musical phrasing of Big Country with lyrics both explicit and delicious. Bucknall's vocals turn a phrase like a heart breaking. The rhythm is from the Tre Cool School of Drums. Less than 3 minutes later is the title track. "Give Me Something to Believe In" is again more of a demand than a plea: "keep your religion, stop the bleeding." There is a reverberating theme of clocks and urgency and a fear of a life spent watching. The 50's rockish "Stupid Boy!" references "jesus around your neck" and steps Razorbax as a breed apart. These young men have been offered religion and religion isn't working. They want, no need, more. In a world of disillusion, fairy tales and talking snakes won't fill the void. The theme continues in "Waste of Time" which mourns the pain of having to "work 9 to 5 just to keep yourself alive--the voice inside your head says you'd be better off dead." Track 6 "Better Place" is a lovely acoustic track that continues the desperation of watching the clock on the wall. After a snarky "I like you better..." (when you say nothing), and a Green Day feeling "Picture on My Wall", the album closes with "Shot Down"--a ska like rhythm that calls to mind, again, the Clash and the early on connection of punk and reggae/ska.
This album should feel right at home on your ipod cozied up between your favorite classics. It may be 2010 but the world has changed little since 1977--the more it changes the more it stays the same. the social relevance of Razorbax is as powerful as the voice of punk in its inception. The band who is Leigh Bucknall, Louis Bowen, Jack Perry, and James Kitchen hail from the MIdlands, U.K. The force of their social consiousness reads authentic and pure. The passion of their frustration rings solid. Curious about the band, a bit of research revealed that in 2007 the band wrote a song entitled "Society Breakdown" that was inspired by the nightmarish story of Sophie Lancaster, a 20 year old British girl who was beaten to death for wearing black and being a goth. The punk attitude of now is rage against intolerance, not being part of the "redneck agenda," to quote Billie Joe Armstrong. In this way, punks are the hippies of this generation--concerned with peace, love, and understanding not to mention being "green" in a world of social unrest and greed that is intent on taking us all down. Music comes full circle--may it continue to rave on.