I approached Ray Dafrico about doing an interview some time restrictions to make the April issue of Punk Globe. Being the true Rock n Roller that he is... He went for it and the results are amazing...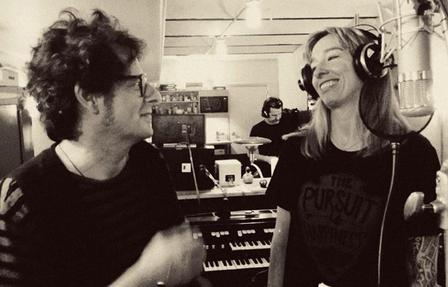 Punk Globe: Thanks for the interview Ray, Tell us about your early days in NYC?
Ray: Sure thing and thanks for interviewing me! So I was born in Jackson Heights, Queens in 1964. I was actually just in NY as kid although I do have a lot of very early memories. My father worked in the Empire State Building, so one of my first memories was him holding me up to the window and I can remember looking at the city at night and feeling like I loved NY and would always identify myself with the city although in reality we moved to New Brunswick NJ shortly after where I spent most of the 60's. I saw Robert Kennedy's funeral train there and watched them land on the moon there as well. We moved a lot, every 3 years in fact and I was a shy kid so it was like, oh Ray made a friend? Time to move! lol So yeah, I wasn't at Max's or anything like that. The time I was hanging out in NY was like the early 80's
Punk Globe: At what age did you find out that guitar was your instrument of choice?
Ray: Most people don't believe me when I tell them this, but was about 8 and started playing guitar because of The Partridge Family! I thought Danny played guitar, not knowing what a bass was. In fact I used to pronounce the word bass, like "bass" (like the fish). Reading the liner notes on their records baffled me because I thought the TV actors really played on the records! I had a good ear even then because they had Hal Blaine on drums and all the best studio musicians on them. Those songs still stand up today I don't give a fuck what anyone says! Tony Romeo was a great songwriter. I love perfect pop songs. I had some friends and we had our first "band' miming to the records. I had like this metal sunburst guitar that I played and I had a pair of striped trousers that I literally wore every day. I would put another pair of normal pants on top of the striped ones and then take them off at the bathroom when I got to school. But to answer the question it wasn't long before I discovered the Beatles, then my idol Keith Richards, The Bay City Rollers, Sweet, Queen and somehow right into punk rock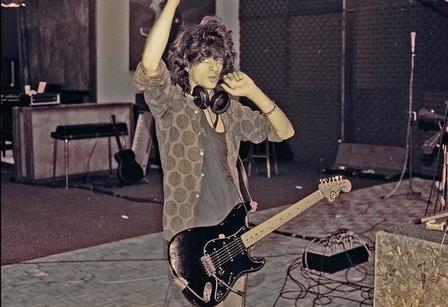 Punk Globe: Tell us who your guitar hero's were ?
Ray: I like guitar players that aren't show off's and know when NOT to play, so obviously Keith Richards, Pete Townshend, Chuck Berry, Robby Krieger, Dave Davies, Steve Cropper, Mick Jones, George Harrison, Ronnie Wood, Wayne Kramer, Brian Jones, Les Paul, Angus Young, Jeff Beck, Wes Montgomery, Brian May, Duane Eddy and less known players like Eddie Phillips from The Creation, Frankie Infante from Blondie, and Danny Cedrone From Bill Halley and the Comets. I think the best rock and roll solos ever may be on "Sympathy for the Devil and "Rock Around the Clock".
Punk Globe: Did you play with any bands while living in NYC?
Ray: The first band I was in was the Nightporters which got going when I was like 17 and living in Atlanta but we played all the NY clubs at the time, CBGB's,Danceteria, Peppermint Lounge, Maxwell's, The Pyramid, The Bitter End, Kenny's Castaways and maybe Traxx or Tramps. I can't remember them all. But we played the northeast a lot, DC, Boston, New Haven, Providence etc.
Punk Globe: What prompted your move to Atlanta?
Ray: Well like I said before, my family moved a lot and my father got a job in Atlanta so away we went. We were in Chicago and Philadelphia before that, where both my parents are from. The south was a bit of a culture shock which I don't think I ever recovered from, fighting rednecks turned me into a punk rocker!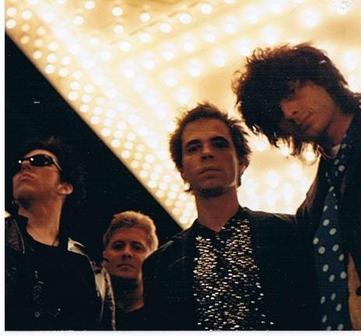 Punk Globe: Tell us about The Nightporters and Kathleen Turner Overdrive?
Ray: I started the Nightporters in high school by putting up an ad in a music store and met this guy Andy Browne and we hit it off right away because we were the only people who like the same rock and roll and believe me that was very hard to find back then! Once we found each other it was like the Blues Brothers, we were on a mission from God. We messed around with different people and finally found the right chemistry with Tim Nelson and Paul Lenz. We were similar to and also friends with the Replacements in a lot of ways. We were very raw and ragged but were more like if you mixed 60's garage and mod, 70's glam and punk and threw in a little ska/country. We were destined to conquer he world but the usual stuff that ruins bands was there and there was a lot of pressure as we were like local heroes but only 20 years old and had no label or manager to support us. We lived off popcorn and egg -rolls and opened for anyone who was playing then, The Clash, REM, Replacements, Richard Hell, Red Rockers, Bo Diddley, Peter Tork, Lords of the New Church, Cheetah Chrome, Husker Du, The Raybeats, Flipper, Fleshtones, all kinds of peeps. We fought a lot like a gang and ended up in a long drawn out ugly divorce but should get a medal for just doing what we did. We still play ever few years if we are getting along and do this thing called "Rat Aid" which we donate money to someone or something in need of it.
Kathleen Turner Overdrive was a collaboration between me and Tim from the Nightporters. He has been in Drivin n Cryin since leaving the Porters in 1986 and we kind of made up and had this band. We didn't take it all that seriously we just did it and people really liked it, especially the name. I thought it up as it was the stupidest thing I could thing of but it ended up getting "best band name' in Entertainment Weekly and all these kooky magazines and then Jack Black stole it and used it in that horrible move "High Fidelity". There's also a lot of other bands using it at the moment I think. Oh well, whatcha gonna do right?
I stayed in the band a while more as Tim couldn't decide if he would leave Drivin and Crying or not and I've never understood that band so it just got frustrating. We did shows with Joan Jett and the Smithereens, went to Costa Rica and almost did a tour of Sweden with Glen Matlock from the Sex Pistols but somebody forgot to call or something. Apparently Glen was like "where are they?" when we didn't show up! At least that's the story I heard. We also all almost got killed after a show at CBGB's driving back to Atlanta the driver fell asleep at the wheel but that's a whole other story!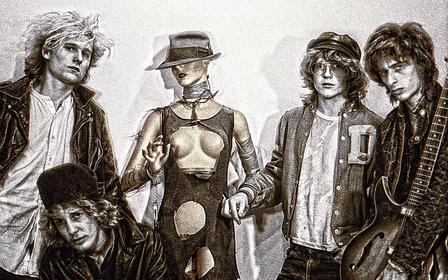 Punk Globe: Who would you say were influences for those two bands?
Ray: With The Nightporters, definitely the Clash and Generation X. I went around calling myself "Tony James" (the bass player in Gen X for a few months. I'm not sure why, I think t was to get these people that used to try to recruit you to be a Communist here and I would avoid them or possibly because we were spray painting our band name all over town!t Our influences were all over, Dylan, The Seeds, The Animals, Japan, Yardbirds, The Count Five, Stones, Who, Kinks, The Byrds, Bowie, John Lee Hooker, NY Dolls ,Bo Diddley, Hank Williams, Link Wray,The Mc 5, Ramones, Patti Smith, Archie Bell and the Drells, The Shadows of Knight, Pretty Things, Sex Pistols, Cheap Trick, Sham 69, we even used to play "Puff the Magic Dragon"! Kathleen Turner Overdrive was more of a let's just have fun punk band to see how silly we could be. We decided to start that band at a Buzzcocks show, so I will say they were a major influence. Maybe The Damned, Mc 5, Pistols etc.
Punk Globe: Did you have any releases with either band?
Ray: There is some stuff out there, singles, and EPs and some CD's We had singles on a label called "Blue Rat Records" and an EP out on a label called "Safety Net" out of Florida. K.T.O. but out it's cd on our own label called "Booger's Banquet"
Punk Globe: If so were you signed with a label?
Ray: No, not a major. There was lots of interest but they were basically terrified of us as we had bad reputations! lol I think they just had no clue of how to sell it since we were so real and were such a mixed bag musically. We almost did something with Craig Leon who did the first Ramones record and we had a friend that was good friends with Bono from U2 and Bono was going to put out a single on his label called "Mother Records" I think. It's all a bit of blur. I'm kind of glad now though. Everyone I know that got signed, got screwed! Maybe we weren't such dumb kids after all.
Punk Globe: Tell us about The Ray City Rollers?
Ray: The Ray City Rollers are just like my other "solo" bands, Kickstand, Shades of Shame, The Shanghai Gesture etc . I tend to change the band name if it has different members in and the older you get the harder it is to find people who are available to play. No one can ever pronounce my name right so I think up goofy band names instead. It's kind of like "Tom Petty and The Heartbreakers" but it dosen't sound right to have "Ray doesn't and the So and So's", Ya know what I mean? Actually that's pretty good. I was thinking "The Sore Losers" would be good too. I have just been playing out as Ray Dafrico and His Band lately, but yeah, The Ray City Rollers put out a CD called "Babylon Blues" a few years ago and toured California. The BAY City Rollers was the first band I saw live so I thought it was a funny name but we were having problems because people thought we were a tribute band! I don't like tribute bands although I am thinking of doing a Partridge Family one....
Punk Globe: You also do work as a photographer. Tell us about some of your favorite shoots?
Ray: I went to art School after high school to be a commercial photographer but left to do The Nightporters. I did some magazine stuff in the 90's and had a small studio for a while when they still used film. It's so easy to do now with digital, you just delete what you don't like and shoot more. One of my favorite things to do is get in the car and just drive and get lost and shoot anything I like. I am also really into film and film editing but don't seem to have the time to do it. I did make a full length documentary about The Nightporters called "Tell It Like It Is" in 2015
Punk Globe: I also know for a fact that you do Videographer work as you have helped Marc Floyd and Ms. Ligaya from One Finger Pictures, Tell us about that?
Ray: I was asked by Cyndi Ford, one of your writers if I would like to film some of the interviews and I said sure!. It was great to meet and hear stories from Jayne County, Bebe Buell, and Vanessa Briscoe Hay from Pylon. Plus I got to learn more about the history of Punk Globe!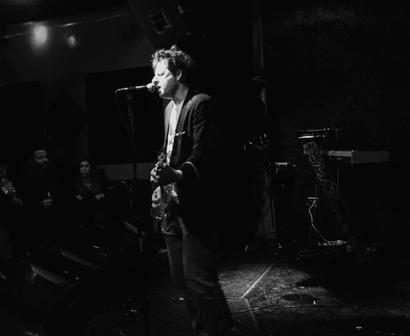 Punk Globe: Any other projects that you would like to tell the readers about?
Ray: I recently recorded a few songs with Cait O' Riordan from The Pogues up in NY and am trying to get that put out as a single and am also working with Toby Marriott (Steve Marriott's son of The Small Faces and Humble Pie) who played bass on those same sessions in NY and we've been gigging and are trying to get those sessions released as well. I'm also trying to get more of my solo Cd "Solo Au Go Go" printed as I'm sold out of the first pressing.
Punk Globe: You also have been very outspoken in support of the Democratic party against the Tangerine Terrorist and his administration.. Do You care to elaborate?
Ray: Sure, I find it hard to believe anyone wouldn't be out protesting. I got involved in the Hillary campaign and made calls and knocked on doors but I don't think anyone with a brain really ever expected the Donald to win this election. I'm pretty sure he didn't win it fairly. I mean they never counted all the paper votes in Wisconsin, Michigan and Pennsylvania, the Russians were involved, the FBI was involved so it's like "who the fuck knows how they did this but somehow they are now in power". At least for the moment. I think time will tell and it will all come out in the laundry. The thing that is really appalling is people that voted for him and that they support his agenda. I just can't wrap my head around it.
Punk Globe: What are your main topics of contingent with the RepublKKKans ?
Ray: I think the worst is the just the lack of concern for fellow humans on almost every level and their ignorance. They don't even realize that the stuff The Republicans are passing hurts them as well! Yeah I am against any kind of hate group. People need to stand up to them and let them know some of this has happened in the past in this country but its 2017 and we are not having it now. It's also concerning that Trump and company could quite literally and quickly end the world as we know it. But make no mistake, The Resistance is real and we are not prepared to let you get away with it!
Punk Globe: You are also involved with getting Jon Ossoff into office. Tell us about that?
Ray: Yes, I am helping him and his campaign out as I live in his district. I have a small group of resisters that have been on every march in Atlanta and have been meeting with all the local politicians and I was asked to help him out.
Punk Globe: Have you met Mr. Ossoff?
Ray: Yes I have. He's a straight up, likable and intelligent guy, kinda Kennedy like as he is young and has the courage, experience, likability and intelligence to really make a difference on a national level.
Punk Globe: Do you have any Internet addresses you would like to share with the readers?
Ray: There's my website www.raydafrico.com that has music and news updates on it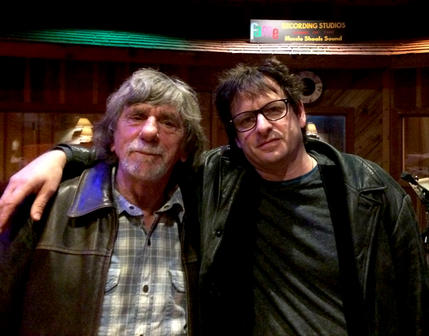 Punk Globe: Tell us what is in store for you in the future?
Ray: Good question! I have no idea! No, I have a few projects cooking like some of the stuff I mention earlier. Maybe I will run for President, but then I wouldn't have time to write songs and play guitar!
Punk Globe: Describe yourself in three words?
Ray: Scrappy, dedicated and thoughtful and.....
Punk Globe: Any last words for Punk Globe readers?
Ray: Thanks for reading, come see me play, stay strong and Resist!
Punk Globe: Thanks so much for the interview. Good luck with all your ventures and of course The Ray City Rollers... Fingers crossed that Jon Ossoff is elected.. You got my vote for President as long as you are not running opposite Bernie Sanders..