THE BAND QUICKIE SETS WORLD RECORD!
44 Shows in 1 Day!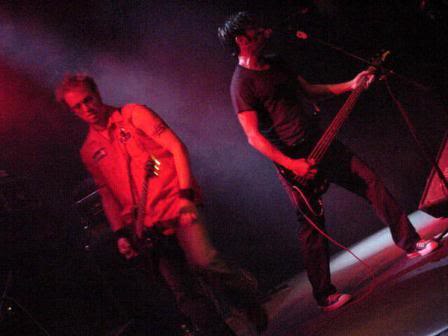 Seattle pop-punk band Quickie has set a World Record by playing 44 shows in a single day! Billed as the "40 Quickies in One Night" tour, the exhausting stunt had the band dragging their equipment from door to door, city to city, to perform a single song at each venue. The effort attracted the interest of local media, as well as the diverse communities of the greater Seattle area."The response has been fantastic and we really fed off the crowd's energy ," confesses bass-player and Quickie front man Lou Trez. "Playing 44 clubs from Everett to Lake City to Fremont to Pioneer Square—in one day-- will give you a great snapshot of where we live.
This is our story, but it became clear early on that it was their story too." In Lake City, Quickie were welcomed with thunderous applause by the enthusiastic Rimrock crowd, who even created a banner in honor of the band's visit to the self-proclaimed 'dive bar.' "Quickie #16," they bragged. At Mr. Villa's Mexican restaurant, the concerned staff offered up chips, salsa and much needed water for the thirsty band, driver and roadies. Quickie played Tony V's in Everett, and Tony himself followed the band from show to show, along with a television news camera-crew. And at 11 o'clock last night, street-corner hot-dog vendor Pedro greeted the band by saying "We've been waiting for you!" The band fell a little behind on the journey, as you might expect. Regretfully, Quickie missed their window at popular rock club El Corazon. Monkey Pub, Galway Arms, Lucid and Club Motor were also dropped to get the band back on track to it's promised final performance at the Central. "We always called it the 40 Quickies in One Night tour, and we delivered 44 shows," says Trez. "Pretty damn good. And a new World Record!" Not a bad investment for Zipfizz and Cowgirls Espresso, either. The companies helped sponsor the event, resulting in free t-shirts, CD's and product samples along the tour route.
The guys had gotten plenty of rehearsal in by the time they hit the stage at the historic Central, Seattle's oldest saloon and host to Nirvana, Alice in Chains and other Northwest icons. "We played a longer set there… I don't know… six or seven songs. Great audience! We could've played longer, but our drummer fell asleep. (laughs) I'm kidding! It was a crazy day, but we did it!" The next step is to submit the documentation to Guinness for consideration in their record book. And after that? "I guess we've got to come up with something, right? Oh, hey—I just got an idea!"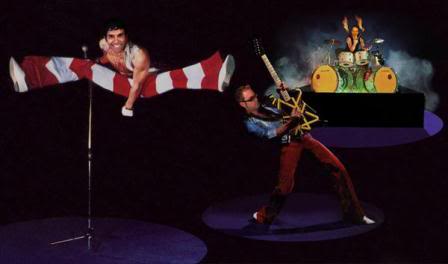 Here is a list of all of the shows Quickie performed on September 30th, 2010:

1. Bob Rivers Show (Bob's last broadcast on KZOK)
2. Finn Mc Cools
3. Race Car Cafe
4. Scarlet Tree (Acoustic)
5. Little Red Hen
6. Zippys
7. Sidekicks
8. Tracey's
9. Tony V's
10. Hayleys
11. The Anchor
12. Madison Pub
13. Flight
14. Baxter's
15. El Norte
16. Rimrock
17. Backdoor
18. Mr Villa
19. Dante's
20. Fuel
21. Temple Billiards
22. Seattle Historic Triangle Tavern
23. The Little Red Studio
24. The Red Door
25. The Hard Rock Cafe
26. The Ballroom
27. Ballard Loft
28. Rendevous
29. JuJu
30. Shorty's
31. Lava Lounge
32. Funhouse
33. Owl & Thistle
34. Tost 8:00pm
35. Dubliner
36. Linda's
37. The Garage
38. Belltown Billiards
39. J & M Cafe
40. New Orlean's
41. Merchant Cafe
42. The Central
43. Amani
44. King Kat