Punk Globe recently chatted with Sean Rowley and Julia Coyote of Punk Rock Social - LIVE. They are the people who are providing you with loads of fun and good music at venues like The Anarchy Libarary and Knitting Factory. Support the Music Scene and Punk Rock Social - LIVE......

1. Tell us about Punk Rock Social Live.
Sean: Punk Rock Social – LIVE is a night of great punk bands, cheap drinks, door prizes, and socializing at one of our favorite punk bars, The Anarchy Library in Downey, CA. The show was formed as a way to put an end to the usual grab-bag nights of music that plague LA and Orange County. We book really solid lineups of bands we think compliment each other, so even if you've never heard of the bands on the bill, you're guaranteed a night of great music.
2. How long have you been promoting shows at The Anarchy Library, and how often do you have shows?
Julia: We do the show at least on a monthly basis, sometime on a weekly basis. This July we've got a show every Thursday night.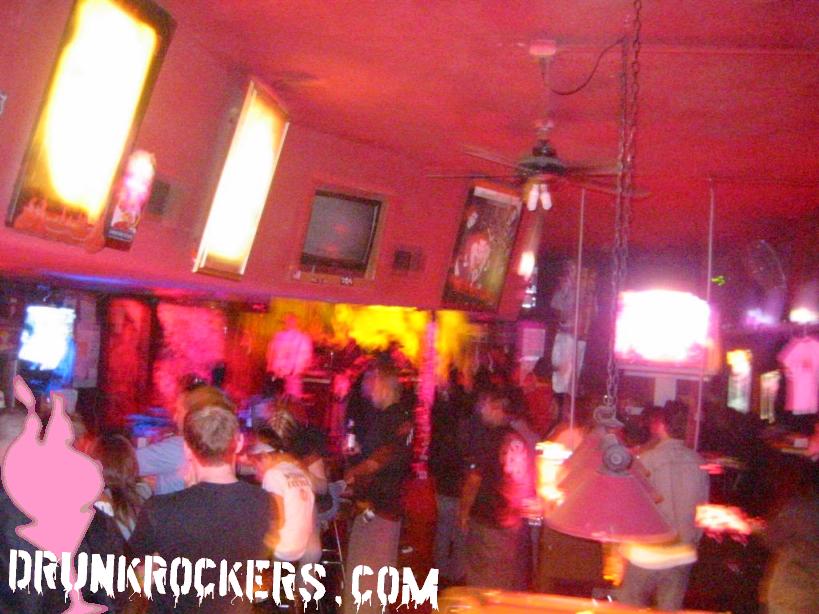 Sean: The Anarchy is a great place to hold our shows. It's a very intimate setting where you can see bands, play pool, foosball and drop dollars into the jukebox. Agustine, the owner has made a lot of improvements to the club over the last year including a new stage and sound system.
3. Who is involved with the artwork for the show posters? The illustrations are great and the colors really make the posters stand out.
Julia: It's a group effort: We are both involved in the art direction, Sean designs the layout and our friend Ed Reynolds is the illustration king. Sean and I are huge fans of limited edition rock posters; you know, the ones that are just for specifics shows and are produced by artists, not the record companies? Ed's a comic book artist (Zowie Comics) and we knew his style would be the perfect fit and also no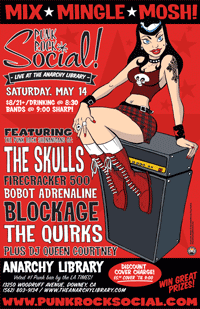 t something you see every day. Luckily for us, it was something that he'd always wanted to do too and he jumped at the chance.
4. Sean, you used to play with The Queers. How long were you with them, and how long have you been in California?
Sean: I was in the Queers for about 2 years, back in the early Joe/Hugh/B-Face lineup days. It was a great to be able to join a band that I listened to in High School. I moved from New Hampshire to L.A. in 1998, so that's uh…
5. How long has Blockage been around?
Sean: At the end of this year, we will have been together for 7 years, with the current lineup for the last 6 years.
6. Julia, Please tell the readers about yourself.
Julia: I grew up in New York City, I lived in Seattle for a little while and then moved to L.A. almost 6 years ago. I used to produce a popular comedy show at The ACME called The J. Keith van Straaten Show which was a live late-night talk show. We had celebrity guests, comedians and music acts on every show. We did 100 episodes and I guess now it's officially retired. Keith currently stars in What's My Line –Live also at The ACME and I'm creative consultant on that too. Having so much experience producing live shows paid off when Sean and I started PRS-LIVE because I was able to trouble-shoot problems immediately. For a relatively new show, it runs really smoothly. It also helps that Sean and I are on the same page with our creative vision so there is no third party to have to run everything through. If we like it, we do it!
7. I noticed you recently did a show at The Knitting Factory. Was it hard to get in the door, and do you plan on more shows there?
Sean: The Knitting Factory show was fun. The promoter actually asked us to hold a show there because he liked what we were doing at the Anarchy.
Julia: It was great because a lot of people made it out for our first Hollywood show. We keep telling everyone that Downey isn't that far from LA but Hollywood is a little easier for some. All the rest of our shows this year will be at The Anarchy Library, but we are in the early stages of planning a Hollywood spin-off show.
8. Do you have plans to expand the show into any new venues?
Julia: We have a wish list of venues where we would like to bring the show in the future but nothing currently planned at this time.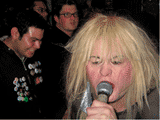 9. Tell us about some of your favorite shows.
Julia: I'm really affected by venue, so whenever I can see one of my favorite bands at The Troubadour or The Henry Fonda I'm always really happy. I've seen The Bouncing Souls in both, they're always great, I'd see them anywhere. When I saw The Muffs at The Troub last year I was introduced to Seattle's Visqueen for the first time, so I'll always remember that show! I just got to see X perform at the LA Weekly Music Awards which totally rocked. Last year Sean took me to see The Distillers at The Henry Fonda for my birthday, so that's got to be an all time favorite! I also love seeing shows at The Doll Hut and of course The Anarchy Library!
Sean: I'm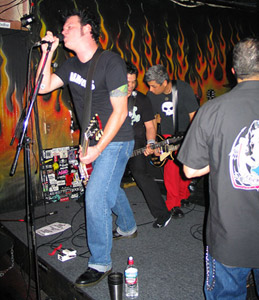 not a fan of the big stadium concerts, but Green Day at the Long Beach Arena was a hell of a show. I'll always see Stiff Little Fingers and The Distillers when they play. My first punk show ever was Suicidal Tendencies at the Channel in Boston in 1985, and that started it all. After that, my friends and I were driving down to Boston as often as we could to see punk shows. The 80s were a great time to get into punk. Some of my favorite shows from that time period were Circle Jerks, Bad Brains, Murphy's Law, Black Flag, Angry Samoans, Gang Green, X, and the Ramones. I got to see the Ramones with most of their lineups, and those shows are special to me.
10. Is it hard promoting the shows and finding time to work with your band Blockage?
Sean: It keeps me extra-busy, but Julia is a great creative partner and really helps me balance my energy between Punk Rock Social – LIVE and Blockage. The show formed out of our January '05 residency at the Anarchy Library. Landon, the booker there, told me I could pick the other bands for our residency. The show kind of grew organically from there. It's great having a regular hangout to play shows in. Having Blockage as the house band was a natural fit. We'd played the Anarchy many times before we started holding PRS-LIVE there, and always loved the club.
11. What's in the future for Blockage?
Sean: We're gearing up to record our first full-length CD, adding tons of new songs, and booking a southwest tour this August. We'll be touring a lot more and playing more all-ages shows.
12. Are there any special PRS-LIVE shows planned?
Sean: We've got some great local bands that we're showcasing every Thursday in July.
Julia: …and starting in August through October we'll be hosting a BBQ series with great headliners like The Vibrators, The Generators and The Queers. Free food, drink specials, and great bands all day.
13. I would like to thank you for doing the interview and do you have any last thoughts?
Julia: Well we definitely want to thank you again Ginger, for playing our Valentine's Day show – that was our first Saturday night show and White Trash Debutantes was a big part of our success that night!
Sean: I'd like to let people know that the vibe of our event is different from most punk shows. There's a great feeling of community when you walk through the doors of the Anarchy Library and the locals and staff there are very welcoming. Another factor that makes shows at the Anarchy unique, is that the bands often hang out with the fans all night. There's no backstage area for the bands to hide-out, so you might have the opportunity to meet some punk rock greats at our shows! And Punk Rock Social - LIVE is a cool place to meet new punk fans too. We really encourage people to socialize, and not just stand around acting like they're too cool for school.
We provide the punk, so for punk's sake, be social!
http://www.myspace.com/punkrocksocial