"http://www.w3.org/TR/xhtml1/DTD/xhtml1-transitional.dtd">
"ZOMBIFIED"
By: Pamela Torres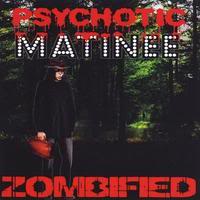 Are you thirsty for a glass of warm plasma?
Or how about some hot and steamy skull broth?
No? Well then...
I discovered this talented new band on the evening of June 5th during my birthday weekend. It was on that day when I attended New Port Richey, Florida's Club Bourbon Street to support underground metal acts performing in the annual Pressurefest. I specifically remember that I entered the venue to savor a white russian in a glass and show off my cartoon Beetlejuice T-shirt. Anyway, while most of the other groups delivered predictably dull and generic high school angst noises while sporting sneakers and shaved heads, Psychotic Matinee boldly stood out by going the opposite direction. PM's frontman and co-founder John was dragged onto the stage by two stunning female dancers clad in white nurse uniforms. He donned a black top hat and was bound in a starch white straitjacket, presenting right from the get go a colorful and cadaverous crypt spectacle of vintage Alice Cooper theatrics (something we hard rock audiences hardly get to see anymore!). As for Psychotic Matinee's debut album, "Zombified," the title alone says it all. From start to finish, this LP is a marvelous industrial rot orgy of groovy guitar and bass riffs with sleaze-o-matic camp lyrics about murder, masochism and mayhem! It may not be considered controversial by today's standards, but it's a hell of a lot of fun! The rest of the ensemble, by the way, consists of keyboardist Socio, barb wire string shredders Chaotic and Manic, and drummer AD.