Powerplant
The Stars Are Suns
by Carl Macki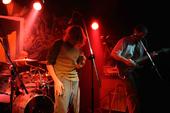 Jon Butler, Eric Jensen
guitars, vocals
Joel Ocampo
drums, percussion
(maybe more)

Song list
Contact
The Sun Is A Star
Polytech
Ancestors
Save Them You Could
Poor As Dirt
The Price Of Life Is Death
Seth's Song
To Terraform, Or Not To Be
"The Stars Are Suns" is an appealing mixture of hardcore and space jazz/rock. It's actually an amalgam of many different styles and influences.


Call it cosmic deconstructivism. It is cool and deadly, and the self-produced CD comes with a booklet with lyrics and graphics.


At times, it seems that indistinct vocals doesn't match up to the musicianship.

That may be because that album in its scratchy and dissonant, asymmetrical melodics flashes brilliantly and then recedes like the sun moving behind clouds and then into the open. The human voice just can't keep pace.

Visit

http://www.myspace.com/thepowerplantband to hear selected cuts off the album.
The band says,"You can order our new album online through paypal (joelcocampo@aol.com)!
10 bucks gets you a copy mailed to your house or the house of an unsuspecting friend.
Order yours today and be the first one on your block to ask that eternal question:
'What is holding up the fucking edge?' and ' Where the fuck is my cd, you fucks.' "