Interviewed By: Ginger Coyote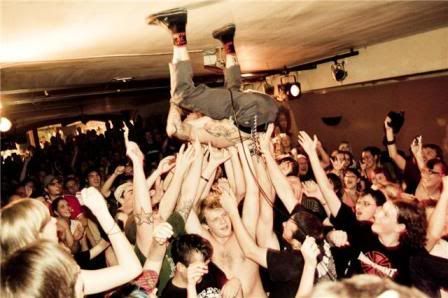 I recently received a CD on Unrepentant Records in the mail called "Until We Die" by a band called Pipes and Pints.. I loved the CD and was so surprised to find out that they were from The Czech Republic... So, I contact their Bagpiper Vojta to do the following interview... I hope you all enjoy the interview...
Vojta: We are Pipes and Pints, located right in the middle of Europe, at Prague, Czech Republic. Me (Vojta, bagpipes), Tomas (guitar) and Ondra (bass) are born and rise here, Vinca (drums) is from Moravia and Syco Mike (vocals) is originally from San Diego, but lived in Linz, Austria for long time. We know each other from around the scene and other bands we used to play before.
Punk Globe: Tell us about the bands name Pipes and Pints?
Vojta: This name was here even before a single tune or a band member. I had it as a motivation to learn a bagpipes, something that describes what kind of music its all about. Bagpipes and Pints of what ever, I think its obvious what you can expect. Also its paraphrase to "Somethin Something" Pipes and Drumms bands. A traditional name for bagpipes bands.
Vojta: It was desire to have a punkrock band with some melodic instrument. I was never successful with trumpet before, so one day I finally decided to follow my old dream and learn to play bagpipes. This time with a better luck I met great guys and good musicians that shared it completely and with full energy. First Tomas, who was basically looking for the same. And after some time all the others joined in. The final sound of our music is thanks to all of them of course.
Vojta: Plenty. Problem for touring bands is they need some guarantee, so they experience only about 3-5 bigger places. But we are known here and everything is round the corner, so we can enjoy every club in every city. Scene here and more to East (like Slovakia that used to be part of Czech before) is really wild and true.
Vojta: Specially at Prague you can choose from 20 people shithole to a massive stadium. So as a band you can get what you need. We love to play smaller clubs for its atmosphere. If you ever visit Prague, be sure not to miss some show at 007 Club, something like CBGBs in Central Europe, this club is functional more than 40years.
Punk Globe: What are the crowds like?
Vojta: Usually wild. Our fans are ready for action and thats how we like it. The more connection with audience the better. I always say the more East, the wilder crowds.
Vojta: There is good one, PH Records. Doin great job for ages now. And than some majors and indies as well, but thats branches. If you are good and your attitude have balls, you can get signed. But for local bands is best DIY, we are small country and everyone knows everyone.
Punk Globe: Do you tour alot?
Vojta: The more, the better. Last year was 100 shows, this year we hope for more and more. Thats why we are doing all this at the main point.
Vojta: So far probably Czech and Slovakia, no money on the world can pay you the feeling when packed club goes nuts. It happens everywhere else as well, but people here can get really mental :)
Punk Globe: How did you get signed to Unrepentant Records?
Vojta: Jim from UR found us himself and contacted us. He beleaved in our music from the first moment and so we beleave in work of his label. Everything was great with cooperation at Ep2008 so we just fluently fastened with releasing "Until We Die" with him. So far we are perfectly satisfied, Unrepentant Records knows what they are doing.
Vojta: Sure they are. Europe is very important for us and we needed a label from around. Wolverine Records was a hit, they are here for more than 17 years and doing a great job for all their bands.
Punk Globe: Are there other Countries in the Eastern Europe who have a strong punk scene?
Vojta: Poland is also great place to have a show. And even more east, I dont know really but wish we can experience it better some day.
Vojta: Just that much how me and Tomas love this music. I dont think music itself is affected really. Probably more the attitude, wilderness, pleasure from being on stage and enjoying your own tunes. There is only one Shane and The Pogues and no-one can ever imitate their woody, raw and true sound again.
Vojta: There are plans to tour constantly in next years. Our minimum is 8-10 shows per month and growing. There is 20 days tour over Europe in March and then every weekend as far as we can reach from the heart of Europe. We would like to introduce it in States as well and already looking for possibilities.I know we will make it sooner or later.
Punk Globe: You RAWK! Punk Globe wishes you all the best for 2010! Do you have any words of advice to bands looking to come to Eastern Europe to play shows..
Vojta: Make people here think you are BIG back in States that always works :) Or just good ould way, keep contacting labels, dont give up and if you really want it...

Thanks and hope to see you pals,
Until We Die