Birmingham O2 Academy, UK
15th December 2009
By: Rotten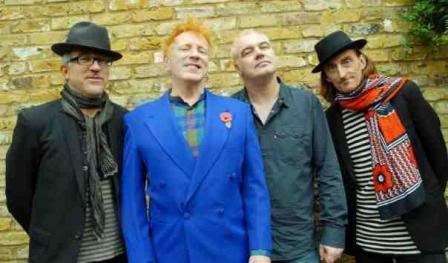 Well, when this tour was announced, I knew I had to be there, and after a thoroughly shit end to the year through many reasons, I decided this would be the night to cheer me up, and it worked!
John Lydon has always been an icon, and the chance to see the man near my home town and with PIL was an opportunity i wasnt going to waste. 17 years since they last performed, it didn't matter there was no Wobble or Levene, we had the great drums of BRUCE SMITH and guitar work of LU EDMONDS with new boy SCOTT FIRTH keeping a faithful bass sound.
The into for the band was John's RABBIT SONG.
Opening with PUBLIC IMAGE - somewhat missing a verse as Lydon's trousers were falling down!!!, he then remarked "All this Butter and i 've still lost weight!"
Next was a body blow of classics, CAREERING, THIS IS NOT A LOVE SONG, POP TUNES - which sounded heavenly, I just got lost in its groove, ALBATROSS was killer, John's voice holding up really well, although he does have a music stand with his book of words in front of him.........This I don't like, but I suppose there are a lot of sprawling lyrics to remember here. Next came TIE ME TO THE LENGTH OF THAT - a great version of an underrated song.
"Thank you for taking the time to listen to these songs, each one means something important" says Lydon, before THE SUIT......then came an awesome, unstoppable rendition of DEATH DISCO, you could really see the pain in John's face as he screamed thinking of his late parents. moving.
John's voice started to crack now, as he got to Flowers of Romance album material, expertly played by the band, FOUR ENCLOSED WALLS becoming a crowd singsong, and a stunning FLOWERS OF ROMANCE, with LOU playing a banjo with a Violin bow to get those haunting sounds. although I have to admit the drums here I didn't think were live as it sounded too much like the record.
Now came a real treat, The song PSYCHOPATH, from John's solo album from 1996, which sounded great live and was also great to hear John's calm voice. He was really ripping his tonsils tonight, giving us what we wanted.
DISAPPOINTED was done so expertly, a great tune, then came WARRIOR, USLS1, UNDER THE HOUSE, BLACK RUBBER BANDS, an awe inspiring ANNA LISA and REIGEON ended the show, until Encores of the solo single SUN and RISE closed a brilliant night.
Well, If they do tour again and near you, GO SEE THEM.............Thank you John, you made my year.......... And also great was the nice touch where you could buy the CD set of the gig straight after, with a DVD interview too!!!
"THERE ARE A LOT OF MASTURBATOR'S OUT THERE.........THEN THERE'S PIL"