Punk Globe: How did you feel when you got kicked out of TUXEDOMOON?
PZ::::: I was pretty upset because I really loved playing with TM ...It was my first experience with REAL TALENTED ART GUYS....but Steven got really angry when I was starting to play with SVT (or maybe it was still The Readymades...I cant really remember ) BUT TM was still playing in basements that were full of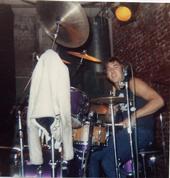 water, and doing that whole "we are starving ARTISTS " And I MISSED a TM show because I fucked up my booking and My OTHER band was opening for The Ramones and their crew wouldn't let us soundcheck while they were eating their Pizza so I MISSED a TM SHOW by 35 minutes.....Steven was FURIOUS.....thing was..... I LOVED the music that I was making with TM but they didn't seem to really care about having me in the band. I was VERY into being as creative as I could be at the time. We were all living at 3645 Market St. at the time and I was having a gasser working with Tommy Tadlock on his 4 track figuring out how to make drums sound like anything but drums. I loved that guy…….We would spend HOURS making a snare drum sound like a Dolphin or a Whale song or goodness knows what….I loved working with Tommy. He was a genius. He taught me TONS of stuff you don't learn in music school.. But Steven DID not want me walking around being a "Pop Star" So he made Blaine FIRE me and then they got Greg Langston to play the drums and in TRUE TM style THEN Steven made me come and show Greg how to play "No Tears" (Not that GREG couldn't pull it off himself, he was GREAT....It was just Steven's way of "Teaching me a lesson").
Punk Globe: What about the end of SVT?
PZ::::Well , That was pretty heartbreaking. I loved Brian ,& that band was just about the height of my life It seemed like we could move mountains...But a lot of people thought we sucked because we refused to PRETEND to be political....There was a lot of that "Oh the Clash isn't in it for the money so nether are we" Which more or less turned out to be bullshit……But anyway...I never wanted to be RICH.....I wanted to be HAPPY....And be able to pull off GOOD SHOWS...That was about as far ahead as I looked......
…When Brian died it was nearly the end for me…..He was my best friend and I had never lost anybody so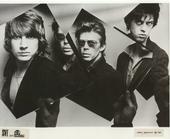 close before…It was fucking terrible….I thought I was a goner. But I had a lot of good friends who helped to pull me through…They ALL helped me....and I survived, somehow….And I continued playing with the YANKS who some people seemed to think were the idea in the first place….But I'm not sure about that……The Yanks Eventually Tanked anyway…
I went to Europe with the Flamin' Groovies and Cyril 'n George stiffed me for a bunch of cash…..Actually they stiffed EVERYBODY for a lot of cash by putting pillows in the hotel beds and leaving shirts in the closets & soap & shaving stuff in the bathrooms and skipping town just like in the movies…It was pretty funny…except the guys that t hey stole the money from didn't think so…Cyril & George didn't bother telling ME they were leaving with the trunk full of cash…They were SO paranoid they were getting robbed they started collecting all the cash from the shows.....About 35 shows...Thats a lot of cash........I haven't spoken to to Cyril since the night he shook my hand and said "SEE YOU AT THE BBC TOMORROW AT NOON" …..Have you heard my song "The Liar & the Thief" It's not about them…But it might as well be….
Punk Globe: What do you think about the RE-RELEASE of "NO REGRETS" On RYKODISC??
PZ: It's TRAGIC…It took those people about 25 years to TOTALLY fuck up the only real SVT album we ever made. Brian's brother took it upon himself to re-release the album but didn't bother with any BAND MEMBERS…He didn't' ask ANYBODY from SVT to be involved in the remastering of the album and for some reason he thought Johnny Colla should do it….Johnny Colla didn't know SQUAT about SVT other than going to 7th grade with Brian and somehow managed to blow a LOT of money totally fucking up the record (they made an ugly stupid new cover too at great expense that they didn't ask US about)….I tried to stop them from putting it out…..But they told me to go fuck myself. We no longer talk ..Colla wrote a BUNCH of stupid 'Liner Notes' that have NOTHING to do with SVT…But have a LOT to do with Colla's Ego…..They even forgot to mention anybody who actually MADE the record in the first fuckin' place….some of whom are RIP's now…..Like for example Mark "Rooster" Richardson from Atlanta who produced the album in the FIRST PLACE!!!!
Punk Globe: So what are you gonna do NOW???
PZ: I am going to continue to make music in the SPIRIT of my best friend Brian Marnell, the best way I know how We have enough material for 3 or 4 albums recorded at this point, we hope to find an outlet for it SOON....…And I will continue to try to play kickass stuff until I run into Brian,, Britley & Dirk and we can all yell at each other about how the chorus should go……..