Gets Candid With
Ginger Coyote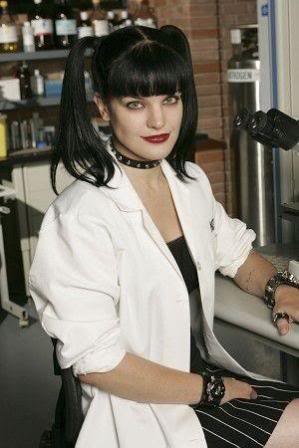 Pauley Perrette: I was born in New Orleans and lived all over the south, North Carolina, South Carolina, Tennesse... I was in Georgia for high school. I guess I kind of consider Alabama my childhood home because that's where my folks are from and it was always home base regardless of where we lived. My dad still lives in Alabama.
Punk Globe: How did you become involved with acting?
Pauley Perrette: It was an accident. I was bartending and working in clubs in New York City, planning on going back to school to finish my Master's degree. I was super broke and over heard a girl say she made $3000 doing a commercial. I really wanted to make $3000. There was a director that took a liking to me ad put me in a bunch of music videos and commercials. That's how it started. In my undergrad degree, I studied Sociology, Psychology and Criminal Science. So basically, I was studying human behavior, which ironically has become an outstanding background as an actor as far as creating and understanding characters and how they think, feel and interact.
Pauley Perrette: Everything on IMDB plus tons of other short films, music videos and commercials.


Punk Globe: What are you most proud of?


Pauley Perrette: Spending my downtime doing good works, helping people, being a civil rights activist serving my community, etc., being an awesome pet owner, and the group of amazing friends that God has given me that sustain me everyday.
Pauley Perrette: I think we knew we had something really special. I love the show. It's funny and addicting.


Punk Globe: Tell us about your character Abby. Did or does the show listen to your ideas about makes Abby be Abby?
Pauley Perrette: Don Bellisario, our genius show creator, made her up in the beginning and it's been an evolutionary process from there. I just adore Abby and find out new things about her all the time.
Pauley Perrette: I love Abby as much as other people. One of the greatest thing about her is how smart and capable she is. I have gotten so much response over the years about young girls wanting to get involved in math and science because of Abby. That's pretty incredible. She also has such a big heart. I love that as well.


Punk Globe: It is great that the show is centering episodes around Abby.. Do you have any personal favorites?
Pauley Perrette: Bloodbath is my favorite.


Punk Globe: Pauley, I know that you sang with the all Female band Lo-Ball.. Can you fill in the readers about your musical background?
Pauley Perrette: I've always been involved in music in one way or another. Lo-Ball was a bunch of really talented chicks. I'm proud of what we did.
Pauley Perrette: Being a total music junkie, there are so many. Rage Against The Machine always tops my list. I'm also a huge Indigo Girls fan, so it runs through all genres.


Punk Globe: You also recorded a song for the NCIS CD that CBS released. Can you tell us about the song and how the CD is selling?
Pauley Perrette: NCIS produced the official soundtrack in season 6. The soundtrack is fantastic with unreleased songs from a bunch of great artists. I wrote a song called "FEAR" which I love that is also on the soundtrack. The response was outstanding and the soundtrack is still selling well.
Punk Globe: I know that you are busy shooting NCIS but you do have a few favorite TV shows you do not miss. What shows are they?
Pauley Perrette: Americas Most Wanted is my favorite show, always has been. I'm a big TV watcher. I watch the news obsessively. Also news magazine shows like 60 minutes, 48 hours, Dateline, 20/20. My reality shows are Survivor and Big Brother. I also obsessively watch NCIS. I'm a HUGE fan! I even watch the NCIS marathons.
Punk Globe: You're friends with Evil Dick from Big Brother?
Pauley Perrette: Yup. Dick is a friend of one of my best friends Taime Downe. We became friends a few years back. His mom is a fan of NCIS and she's just a sweetheart. Dick's a sweetheart too, but he doesn't want you to know that. :)
Pauley Perrette: I try and spend my down time with as many good causes as I can. Some of my favorite organizations are Project Angel Food, Habitat for humanities, Campaign For Care, DonorsChoose.Org, HRC, APLA, EQCA. I also work with the homeless in a few different areas.
Punk Globe: And the work that you have put into overturning Proposition 8 is so wonderful.. Tell us about that?
Pauley Perrette: It is so unbelievable to me that this country can literally deny rights to one section of our society. It is bigotry. Marriage is deemed such an inalienable right that child molesters and serial killers can get married in prison, yet fine, upstanding, committed couples who do nothing wrong and contribute to society, pay their taxes, raise their kids, go to church and just happen to be in same gender relationships are denied this right. It is just so wrong. Until the late 60's, it was illegal for people of color to marry anyone out of their own race due to anti-miscegenation laws. It was a felony. How ridiculous does that sound now? Other people's personal relationships are nobody's business except their own and certainly should not be subject to legalized civil rights violations. It makes me sick.
Pauley Perrette: The Red Ribbons on Hollywood United Methodist Church are such a beautiful part of this community and of what we stand for as a congregation. When I first moved to Los Angeles I was struck by those ribbons as many are. They needed a paint job and eventually I just decided to see what I could do. With help from NCIS crew members, congregants and community members, they were restored to their rich red glory. They look so beautiful.
Punk Globe: You also participated in a Sermon about the Harvey Milk with Pastor Kathy Ledema. Tell us how that felt.
Pauley Perrette: Yep. I co-preached a sermon about civil rights with my pastor Kathy. The sermon was based on the movie MILK and we were absolutely honored to have Oscar winning screen writer Dustin Lance Black at the service. The audio of the sermon can be heard here:
http://www.hollywoodumc.org/media/img/media1-223.mp3
It was an incredible day.
Pauley Perrette: I never know what is in store for Abby! It's all cooked up in a room full of writers who are smarter than me. Abby pops in on NCIS:LA in the second episode.
Punk Globe: Do you have any website address that you would like fans to know about?
Pauley Perrette: All the websites for all the charities listed above. :)
Punk Globe: I know you are very busy so I will cut this short.. Do you have any last words for Punk Globe readers
Pauley Perrette: Yep...
"Injustice anywhere is a threat to justice everywhere" - MLK Jr
"Do not be overcome by evil, But overcome evil with good" - Romans 12:21
Punk Globe would like to thank Pauley for the fun and informative interview.....
back to home page