He's Got THE BEAT
Interview By Ginger Coyote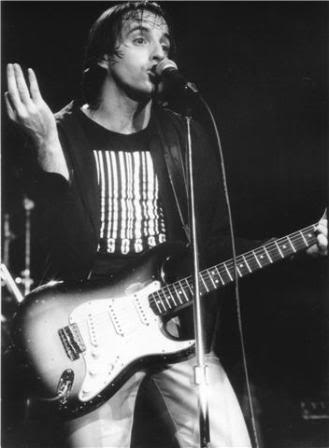 Playing in SF
Paul Collins is back playing in America after a few years of living and playing in Spain... Paul and the band will be playing a west coast tour with The Avengers and Pansy Division in September. We talk about the new tour and the old days in this interview. I hope you enjoy.
Punk Globe: Thanks so much for the Interview Paul. Can you tell the readers about yourself. Where were you born ? Where did you grew up.?
Paul Collins: Hi Ginger I am so happy to be talking to Punk Globe after all these years! I was born in New York City and I spent my first years in a town in New Jersey called Old Tappan then I moved to Long Island to a town called Manhasset. That's where I started playing the drums and listening to rock n roll radio…WABC with Cousin Brucey!
Punk Globe: Tell us a bit about your musical background?
Paul Collins: I had a band in Leonia the town I lived in before I moved into NY, it was my first band and we played original songs, the band was called Home Grown and the only song I remember was "I Lost My Body" When I was 17 I went to California and joined The Nerves.
Punk Globe: Who was also in The Nerves? It seemed that you had some powerhouse members in the band.
Paul Collins: Jack Lee and Peter Case.
Punk Globe: What did you do after The Nerves folded?
Paul Collins: The Nerves broke up sometime in 1977 and then Peter and I had The Breakaways for awhile, indecently Alive Records is going to release The Breakaways in October a full length LP some 30 years later! Then I met Steve Huff through an add he had in The Recycler sometime in 1978 I think and that's when we started working on the songs that would eventually become The Beat's first album.
Punk Globe: It seems that you had some problems with the band name The Beat and you had to add Paul Collins to the band name. Am I right?
Punk Globe: Can you tell the readers about your releases?


After 9/11 I moved back to Madrid, Spain and in 2003 I recorded Flying High in my home, my first recording since From Town To Town which I recorded in 1993. That was like starting over for me as I had been off the scene for so many years, I started touring again and played all over Europe and came back to the US to play SXSW which was a big success for us and we played it 2 years in a row and it instrumental in getting the word out to my fans in the US that I was alive and well. In 2007 we went to Gothenburg Sweden and recorded "Ribbon of Gold" with Chips Kiesby (Helicopters, Nomads) Chips is a great producer and Ribbon of Gold is a real return to form and my fans have told me that there are songs that remind them of The Beat's first record!
Punk Globe: The Beat was formed in LA . So why did you move to SF?
Paul Collins: The Beat was formed in LA with Steve Huff, Michael Ruiz(Milk & Cookies) and Larry Whitman(Needles and Pins) we got signed to CBS Records in LA but when Bill Graham became our manager we moved up to San Francisco to do our initial rehearsals and shows. For a few years we would bounce back and forth between SF and LA eventually moving back to LA before Steve and I moved to NY in 1982.
Punk Globe: You had quite alot of success.. Can you tell us about some of most memorable times?
Paul Collins: Well when we got signed in LA we had spent quite a bit of time scrounging around LA, getting thrown out of all the music stores so we had a real blast going to Guitar Center and making then haul out all their best amps and cranking them up to 10 and then leaving without buying anything! Also as anyone who lives in LA knows you can have a lot of fun being the toast of the town when you get signed so we did our fair share of partying at The Rainbow Room ect!
Punk Globe: Any cool tour tales?
Punk Globe: Can you tell us what made you decide to end the band when you did?
Paul Collins: We didn't really end we just kind of drifted apart, Steve and I worked together for some 15 years but by the time the nineties hit no one wanted to hear this kind of music anymore so it became impossible to make any money or get any shows so it just fell apart, I pretty much stopped playing for a long time until I started doing solo acoustic shows in Europe where there was still a demand for this kind of music.
Punk Globe: After Paul Collins and The Beat ended. What did you do with yourself?
Paul Collins: I wound up living in San Francisco and having to work any kind of job I could get, I sold office supplies by over the phone and then I got a job being a messenger for the Bay Guardian newspaper, it was pretty depressing not to mention it sucked being broke again! Fortunately we still had a following in Europe and I started going back there to play, then I recorded the Paul Collins record and when I was done Chris Von Sniedern and I drove across country to NY and I spent most of the 90's living there, doing some playing and a lot of crappy jobs!
Punk Globe: Did you stay in contact with other band members?
Paul Collins: Steve and I have always stayed in touch, but I lost touch with Michael Ruiz for awhile until I went back to LA to play the International Pop festival when we reconnected, there was even some talk about trying to get the original line up together with Larry and Steve but we couldn't get it together, then Larry passed away a few years after that may he rest in peace.
Punk Globe: Tell us about living in Spain?
Paul Collins: I spent the last 7 years in Madrid before moving back to NYC. I have a great band there with my manager Juancho who plays bass, my drummer Chris Bongers who comes from Milwaukee and Manolo who is a kick ass lead guitar player, they have played the states with me when we went to Atlanta and Austin and a lot of my American fans know and love them already! They will be with me for the West Coast tour with the Avengers and Pansy Division. We have done tons of shows together all over Spain, France, England, Norway and Italy! The band is great and we play songs from my entire career from The Nerves to the present!
Punk Globe: So you will be working with the band you formed in Madrid?
Punk Globe: Who is in this version of the band?
Paul Collins: Juancho Lopez bass, Chris Bongers drums, Manolo Cauchola lead guitar
Punk Globe: Is this a one time reunion or have you decided to get back into the action as a band?
Paul Collins: No we have been working for the last few years and I intend to keep working, it may be with a US band because now I live in NY. I did a tour last January with Gentlemen Jesse who are out of Atlanta where this is a very cool power pop scene happening. We met at SXSW 2 years ago and we became good friends, the tour we did was great, from Atlanta to Memphis, Bloomington, Milwaukee, Chicago, Cleveland, Toronto, Montreal, Boston New York! We had a blast and there where great turn outs everywhere!
Punk Globe: Is the Paul Collins and The Beat Fan Club re- grouping as well?
Paul Collins: Punk Globe: Is the Paul Collins and The Beat Fan Club re- grouping as well? Well kind of, now that the site has been up for awhile www.thepaulcollinsbeat.com and with all of my Myspace pages I have been able to get reconnected with all my old fans and it has also allowed me to keep in touch with all the new fans that are discovering my music for the first time! One person who was always very special to The Beat was Laura Lorda, she was our fan club president for many years and probably our very first fan. Her daughter Michelle even worked as a roadie for us for a while., I am still in touch with Michelle,who lives in the NY area. She just came to a show I just did with John Wickes at Kenny's Castaways in New York. She brought her 16 year old son... We hope that we will get a chance to see Laura when we play San Francisco on this trip.
Punk Globe: You have a tour planned with the band. Who else is on the tour?
Paul Collins: The Avengers and Pansy Division.
Punk Globe: Back in the day I can't ever remember seeing The Avengers and Paul Collins and The Beat play a show together. How did you get the bill together for this tour?
Punk Globe: Where will this tour start and where will it end? Can you give us the dates?
Paul Collins: We start in Seattle on September 11th at The Fun House and we end on September 20th at The Echo in LA!

SA 9.11.09 Seattle, WA The Funhouse
SA 9.12.09 Portland, OR Dante's
SU 9.13.09 Medford, OR @ Musichead
TU 9.15.09 Sacramento, CA @ Fireside
WE 9.16.09 Santa Cruz, CA @ The Blue Lagoon
TH 9.17.09 Oakland, CA @ The Uptown
FR 9.18.09 San Francisco, CA @ Bottom of the Hill
SA 9.19.09 Santa Ana, CA @ the Galaxy
SU 9.20.09 Echo Park, CA @ The Echo
Punk Globe: Have you got a Website or a My Space Profile address?
Punk Globe: Will you be releasing any product with the band? Has any of the old records been re-released in CD/DVD Format?
Paul Collins: Yes I will have The Nerves release's on both vinyl and CD as well as all the new Paul Collins Beat records, Flying High and Ribbon of Gold, plus great tee shirts as well!
Punk Globe: Are you excited about the upcoming tour?
Paul Collins: Yes very! I have not toured the West Coast in I don't know how long so I am very excited and I am hoping to see a lot of my old and new fans again!
Punk Globe: I wish you much luck with the tour and much success with the band.. Do you have any final words for Punk Globe readers?
I would like to thank Paul for the great interview and hope that everyone living on the west coast will check out the show....