Only Human
"Critical Mass"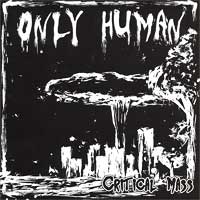 Felony Records
Personnel


Matt Hazard-aka Vinegar-- Lead Vocal
Jeff "the loco jalapeno" Waste -- Bass
Simon "Toxic Avenger" Waste -- Drums
Danny aka Jack Daniels -- Guitar
Daniel-aka Daz Aster -- Lead
Tracks
Critical Mass
What's Wrong With You
Created By Hatred
Hypocracy
Ignorance Is Bliss
Fascist Pigs
Bankruptcy
Never To Late
Coffee & Cigarettes
Citizen Of The World
Rubber Ducky
Only Human does not do well with plodding. Only Human does it fast, loud -- and repeats itself, being Only Human. You may have heard some of this before, but not in the same way.
Yelping and wailing and sonically handstanding their way through the songs on their album,
they do not need to rest. They do not.
Classic hardcore? Maybe not yet; but they are there one way or another.