By: Ms. Ligaya & The Floydian Device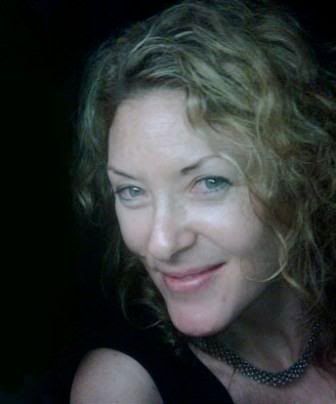 Ondi Timoner
The last few years has been a full-speed ahead, non-stop ride for filmmaker Ondi Timoner. She's rapidly built one of the most diverse resumes of anyone in modern American cinema. She has followed a battered woman's journey through the American criminal justice system; won an ICG award for her film 'RECYCLE' - about a homeless poet in the hills of Echo Park. She received rave reviews for 'JOIN US' in 2007 - an intimate look at the inner workings of a cult operating right in the middle of main street America. To pay the bills, there are music videos for Lucinda Williams, Fastback, The Vines, Paul Westerberg, DMC...

Currently, she's working on several projects simultaneously: 'COOL IT' which looks at the issue of global warming from a socio-economic perspective; another picture about an ancient form of bullfighting in Spain; another about a dam in Africa that is threatening to destroy a thousands-year-old civilization… She's also preparing to direct Eliza Dushku's upcoming biopic on controversial artist Robert Mapplethorpe and Patti Smith. And she's spent three summers documenting Perry Farrel's Lollapalooza Festival.

In addition to all this, Timoner is the only filmmaker in history to win two grand jury prizes at the Sundance Film Festival. First for 'DIG!' In 2004, a film that followed the Brian Jonestown Massacre and The Dandy Warhols through a seven year odyssey of drugs, friendship, rivalries, on-stage brawls, and some amazing music. In 2004, Time Out New York said: "This year has already brought two rock documentaries about squabbling band mates: 'Metallica: Some Kind of Monster', and 'The End of the Century: The Story of the Ramones'; but those are mere lovers tiffs compared with the discord Ondi Timoner captured in DIG!" Atlanta's 'Peach Magazine' has listed DIG! as the second best music film of all time.


WE LIVE IN PUBLIC TRAILER
Her most recent win at Sundance was for 'WE LIVE IN PUBLIC' in 2009. It's set to be unleashed on the public through Video on Demand and DVD release on March 1, 2010. (All contact info for the event is listed at the end of this interview) This movie, ten years in the making and edited from 5000 hours of footage, is a cautionary tale that examines the effect the web is having on our society, as seen through the eyes of "the greatest internet pioneer you've never heard of" - artist, futurist, and visionary Josh Harris. This movie starkly chronicles the dangers of overexposing yourself online. Timoner's website describes Harris as a man who has spent his life following his unique vision of the future, where technology and media dictate human social interaction and define our personal identity. At the turn of the millennium, Harris launched an art experiment called Quiet: We Live in Public. He created an artificial society in an underground bunker in the heart of New York City. More than 100 artists moved in and lived in pods under 24-hour surveillance. They ate, drank, had sex, defecated, shared a transparent communal shower - all on camera. On January 1, 2000, after 30 days, the project was busted by FEMA as a "millennial cult." Harris' next project, weliveinpublic.com, followed Josh and his girlfriend at the time, Tanya, as they lived their lives entirely on camera. Webcams planted throughout their loft documented their relationship as it slowly broke down under the pressure of constant surveillance.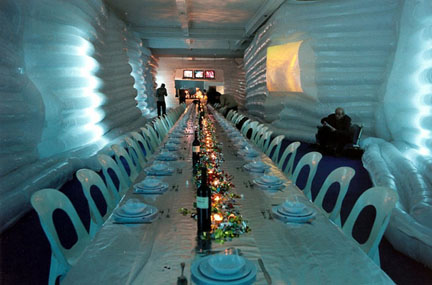 Dinner in the Bunker
We went into this interview prepared for a mainstream feature: A carefully ordered list of questions and follow-up questions; facts and figurations; observations, quotations - all carefully ordered and condensed to fit with our allotted time. Prepared to follow the map straight down the interview highway. Very quickly it became apparent that Ondi Timoner's life is not much different than one of her films. It is constant motion. It is winding and multi-faceted. It is continually interrupted by incoming information, yet still extremely focused. Our first few minutes were spent listening to her navigate several phone calls on a variety of topics - Her company (INTERLOPER FILMS); the Sundance Film Festival (where she had just finished her first stint as a judge); dealing with film distributors in the U.K., talking with the 'head guy' at facebook. All this while dealing with a documentary crew filming in her L.A. office. When things (briefly) quieted down, she was eager to talk about the upcoming release of 'WE LIVE IN PUBLIC', and the wicked ways of the online world.
Ondi Timoner: Hey Guys..
Punk Globe: You sound incredibly busy.
Ondi: Yeah.. It's just non-stop. I Just sent an e-mail to England. So much later there. I just had no idea that they would have grammatical problems over there (laughs). . You would think we would be the ones. I had to go through and correct a lot of the grammar on the front and back of the DVD…
Punk Globe: Is it going to be a March 1st release of the DVD in England as well as the States?
Ondi: Yeah, I had to stop things because they just kind of designed whatever they wanted, which is pretty weird. So I said I don't care if you have to push the release date, we've got a certain look to this movie.
Punk Globe: What had they changed?
Ondi: They changed the whole look of the menus inside. Everything about it should be run by the filmmaker, and they had just gone to print!
Punk Globe: Is that an ongoing problem when you're getting something distributed in so many different countries?
Ondi: They had done that in Canada too. It's out in Canada with this horrific cover on it and that was when we first realized that foreign distributors just kind of do whatever they want. So in America, it was kind of interesting balancing being a juror at Sundance while keeping an eye on all of this. I would be having to watch 16 films, then run around and do a million things; then all of a sudden it's like all these guys in the U.K. and America had all these deadlines on us and had to get to print. And I just couldn't always find the time. I guess it's all coming out March 1st, but I'm not too concerned about the U.K. We've got such an ambitious plan for America right now that I'm really going to focus on that. I'm trying to deal with twitter and facebook and youtube. There are 5 cities in America, and Vancouver in Canada, and we're linking them all together via live webcast.
Punk Globe: You are a prolific tweeter. You seem to have really mastered that tool for getting the word out…
Ondi: (Laughs) Yeah. That's literally for this film. I've never really had any interest in living in public prior to this. And I actually don't. When I'm home, I don't tweet too much. But if I go in public, I figure that's what I should do. And it's been the primary vehicle for promoting this film and for reaching and finding our audience. I met the founder of Twitter at Sundance and he signed over a book to me and said we're really happy with the way you've used the tool. Like, we think it's ideal. I'm at 5,005 followers today (laughs).
Punk Globe: What does an Ondi 'follower' look like?
Ondi: I've got some great ones… like Ashton Kutcher and Trent Reznor and Bill Gates.
Punk Globe: Didn't Ashton hand out a some ass-kicking to CNN last year by beating them to one million followers?
Ondi: Oh, a long time ago… in internet terms. Now he's like 3 or 4 million. When he tweeted out that 'WE LIVE IN PUBLIC' was brilliant, it drove 40,000 views of the trailer on you tube in 24 hours.
Punk Globe: When you have Ashton Kutcher and Trent Reznor and Perry Farrell getting the word out for you, that's not a bad crowd (laughs). There were pictures of you hanging out with Bill Gates at Sundance last week. What was that like?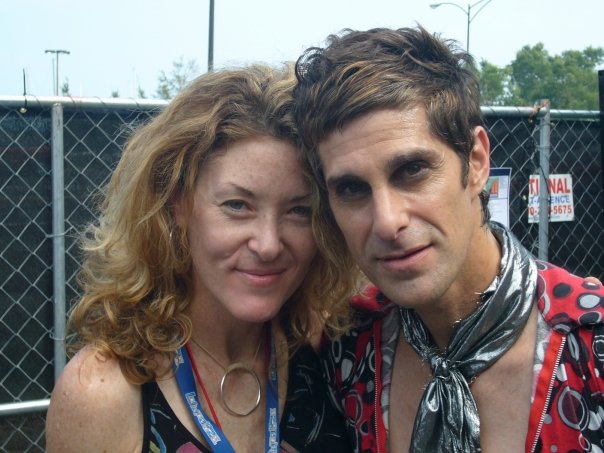 Ondi and Perry Farrell
Ondi: Not a bad crowd at all! When I met Bill Gates at Sundance, I was star struck. And I don't get star struck. I just think he's such an incredible force in this world. What he's done with his money, and what he's innovating in terms of you know, we can do this.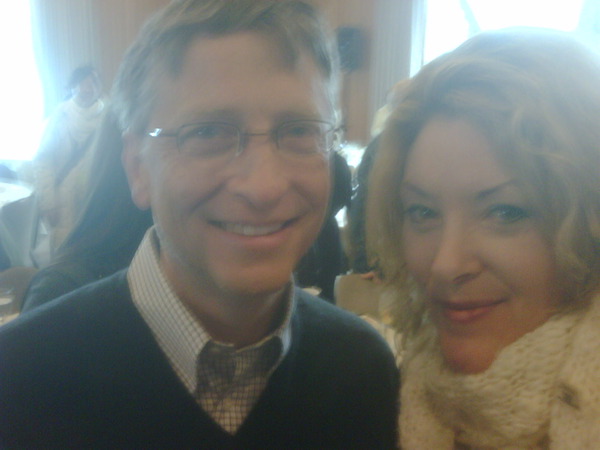 Ondi and Bill Gates
Let's change the world and take care of those less fortunate, etc. I was thrilled when I realized he was following me on Twitter. I thought, I gotta step it up. Gotta step up the value of these tweets (laughs). Just Kidding.
Punk Globe: Last week, you finished your first stint on the jury at 2010's Sundance Film Festival. Founder Robert Redford has said that in recent years, Sundance has increasingly become just another marketing tool for big budget, Hollywood movies. This year, Redford named John Cooper as new Artistic Director with the plan that the festival return to it's original intention: Working outside the mainstream and supporting independent vision. Did you see any of that happening this year?
Ondi: Oh it's going back. I mean, it was just really amazing to just see Sundance have such an independent bent. John Cooper is very much about that. Not to say that (former director) Jeff Gilmore wasn't. But the cool thing is you can already see differences. Like opening night, instead of it being one film, it was three or four showing around town. And documentaries were no longer just in the Holiday Village Cinema. Now they're actually playing in the library; and playing in the Egyptian; and playing in these venues at Sundance that were always held only for narrative films. So yeah, there was actually a lot more support. And Sundance is now touring the films around the country after the festival… so that's totally new. On Thursday night at the festival, they played the movies from the festival in different cities around the world. They're doing all this kind of new stuff integrating the festival and the films that they have curated; and every festival in the world seems to rely on whatever Sundance is going to pick. When you get home from Sundance, you get invitations to everywhere. So they do a great job. I love those guys. Obviously I'm partial and bias, and rightly so. But I do think it's the greatest festival - certainly in America. I don't want to insult Toronto! I haven't been yet. I think we may go in the future..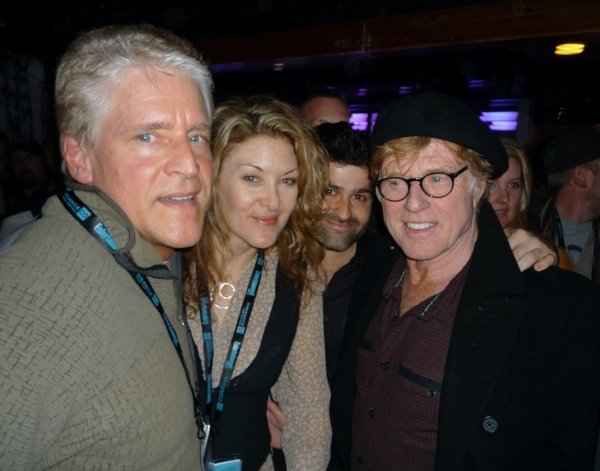 Ondi with Robert Redford
Punk Globe: You are so immersed in filming and editing projects; and have taken so little time off over the past 15 years… What was it like to step out of that role, and spend 10 days watching movies, being on the jury, and hanging out in Utah? And how does being a documentary filmmaker affect the way you view other people's films?
Ondi: For what I was doing, for people to take the time to watch an 80 or 90 minute film… I think any longer than that is not really a good idea. I was just on the jury; and if there's one thing I learned, it's just keep it short. I'm always the filmmaker, so it was just wild to sit back and really put everything I could into judging it as appropriately and fairly as possible. And time and time again, there was this recurring theme of 'keep it to the point' you know. Just get your point out there and don't ask for any more of anybody's time than you need to ask for; and keep them entertained from beginning to end. I guess I got into this to entertain people at the same time. When I started doing documentary, there really wasn't a big audience like there is now. People complain that docs don't have a theatrical audience. It's like, are you kidding me. When I was coming up… I sound like a dinosaur saying this… I graduated Yale in 1994; and I made a few docs while I was there. And I was certain that one of my films about a woman in prison in Connecticut, (THE NATURE OF THE BEAST) would get her out of jail once everyone saw what the injustice was. Then I realized really quickly that there was nobody watching…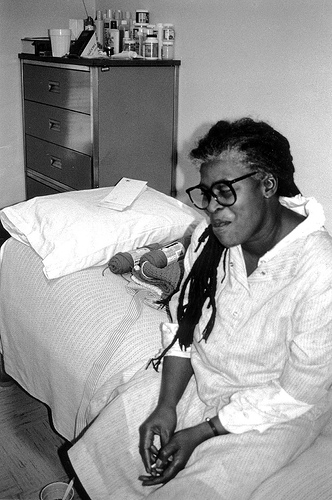 The Nature Of The Beast
Punk Globe: Didn't you take this project to Hollywood; and Queen Latifah was going to play the woman (Bonnie Jean Foreshaw) who was in prison?
Ondi: Wow, you're up on your research my friend.. Yeah, that's how I ended up out here trying to get Queen Latifah to do it; and it was too controversial for her. So she said she couldn't take it on. Sorry, it was Oprah Winfrey at first. It was too controversial for her, because this woman actually did shoot and kill a pregnant woman. But she was being assaulted at the time by a man who testified in court to having an assault record on two different police officers, and testified to pulling the woman in front of him and using her as a shield. And still this woman was used as this pro-life test case, like let's go ahead and charge her with double murder and get feticide laws on the books. It was pretty clear to me that she would get out if people knew, but I realized nobody was watching documentaries. They are just too different from the narrative films that people are used to. So when I started work on 'DIG!', for example, I really wanted it to be a film that was unfolding over time, which is why it took so long to get it done. Because the story just kept unfolding. Making documentaries entertaining first, and allowing people to have a familiar way to actually think about them.
Punk Globe: Your style really is very similar to the flow of a narrative film. In the future, are you going to be moving from documentaries to feature films?
Ondi: Yeah, the scripted film. That's what I'm going to be getting into next. Right now, I'm actually just finishing a script with the writers for the story of Robert Mapplethorpe and Patti Smith. And someday I want to write the story of my father and mother as well. So that's definitely on the horizon. But in scripted films, often it's black and white. There's a hero and there's a villain. And in my films, the hero always has a villainous side. They're human. All people have all sides..
Punk Globe: That has definitely been a major theme in a lot of your films. Your movie 'JOIN US' about families escaping their lives in a cult is a really good example of this…
Ondi: Yeah, that movie is a really good example of what I'm talking about. You've got to basically give people an opportunity to think for themselves. And by that I mean, make black and white turn to grey. I'm at this cult treatment centre and I'm hearing these horrible stories about this cult leader; and I've got this image of this guy in my head, and he's a monster. And then I go meet him, and he's not, you know. He's sort of fatherly. And I can suddenly see what he's getting out of it, and what they're getting out of it. And I realized it's black and white turns to grey. And there is the complexity of life. You can see it all happen right in front of you.


"Dad is like a servant. He just obeys the pastor. He listened to the devil when he thought it was God."

~ A child who had lived in the cult, JOIN US



JOIN US TRAILER
Punk Globe: And it's not always about just looking at the hero or the villain. It's what draws people to them in the first place..
Ondi: Yeah. Absolutely. It's not about what this guy's doing. It's about what we as human beings need that we're not getting. It's about us. That's why I didn't finish 'WE LIVE IN PUBLIC' until we were actually doing it ourselves. We started filming this project long before everyone was posting their lives online. I saw the first facebook status updates and I was like, come on, we're at the bunker! We are living in public! It really blew me away.
Punk Globe: Right around that time is when you started to see this new thing; this new reality where everyone wants to be on camera…
Ondi: Yeah, do whatever you can. And that's what the bunker started to feel like; like there's no limit to what I'll do to get the attention of the camera. And I feel like that's becoming more and more the way of the web for a lot of people. And the web is not an intimate medium. It's an incredible medium; an incredible way to share information and communicate efficiently with 50 times the amount of people, but with 50% less depth. And it's really important to understand that.
Punk Globe: People will do anything to get noticed; and sometimes the worse it is, the more people eat it up!
Ondi: Yeah, that kind of came up on this panel at Sundance… it was an incredible group - the heads of film at youtube, facebook, myspace, at Oprah… It was kind of an incredible group to be on this panel with. And Kara Swisher of the Wall Street Journal said: "Ondi's film is better than all of that stuff that's 1 that has millions of followers on youtube. What about quality filmmaking like that. How do you get that to be popular on youtube?" I mean, the top youtube thing is like some yodeler from Hawaii. So if that's what people want, then celebrity and fame does not carry the same cache that it used to at all. And yet that's still what people want. Maybe they think that they'll be happier if they're more famous.
Punk Globe: It's like a drug…
Ondi:It's like cocaine. It's a cheap high. It doesn't last. It doesn't tuck you in at night. And in fact, you're possibly even more alone. So I think it's about our umbilical cord being cut and we're alone and we spend the rest of our lives trying to figure out a way to be, or a plan to live by, or a way to get through. And if we've had really bad childhoods, we're more prone to be in a cult, for example. With the internet, we've got this 24/7 opportunity to trade in whatever to have that connection. And the idea of connecting in the real world, the physical world, is something that the next generations don't even really necessarily understand or appreciate. So it's definitely a really interesting time for all of us to be alive, and it's not worth saying this is bad or good. There's some great aspects to it. It's all just changing so quickly.
"Everything he does is a precursor to something that is going to happen to all of us…Everything."

~ Josh Harris' brother, WE LIVE IN PUBLIC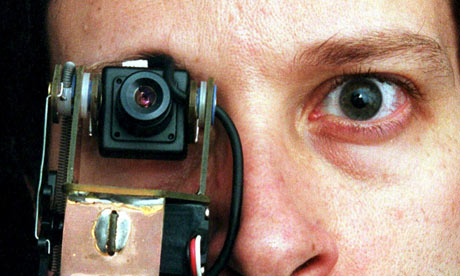 Josh Harris
Punk Globe: During the several years it took to film 'WE LIVE IN PUBLIC', you follow Josh through several incarnations. We watch as he dives progressively deeper into the virtual world, to the point where he appears to lose touch with reality. We first see him in the early 90's when he's made almost 100 million dollars in the business world; which he then left behind (and eventually lost) while creating these strange social experiments. He wanted to demonstrate how humans would react to the rapidly expanding new world of the internet: This 24/7 line to social interaction, and a door to a place where everyone could be famous. Josh believed that anyone would do almost anything for attention and fame.
Ondi: Yeah…
Punk Globe: In the early 90's, Josh creates the prototype for internet entertainment: 'Pseudo.com', which aired live web t.v. The station combined video with chat rooms so viewers could comment and interact in real time. There was bizarre comedy, music, performance art, gaming stations, and even live, interactive streaming porn. It was all far ahead its time. Then, around the millenium in 1999, he put together the 'Quiet: We Live In Public' experiment: One hundred people locked in this bunker for 30 days; having everything they did on camera 24 hours a day. After the insanity of this experiment was eventually shut down by FEMA, Josh turned the cameras on his own life and relationship with 'weliveinpublic.com'. As someone says in the film, Josh got so immersed in this media world that he really climbed inside the t.v. set. But he climbed too far in, and then lost the remote control. He really lost total control. Is this really the most important part of this cautionary tale? That we are all just going to fall too far in and eventually lose control.
Ondi: When I actually decided to make 'WE LIVE IN PUBLIC', it was because of the update of a Facebook status I saw in 2007, and it was not a conscious thought process…it was not like Boom! Boom! Boom! and the synapses fired. It was like a feeling in the pit of my stomach that was emotional about the bunker. The bunker made me uncomfortable; and so did the way people were starting to behave online just a few years later. I just get uncomfortable when people demean themselves. I've never understood the cult of celebrity and people feeling like 'oh this person's better than I am because they are famous'. As Josh would say, we're trading in our privacy for the hope of fame because we all want to be famous. Well, maybe we don't all want to be famous, but I do think that in our society fame has been upheld somehow as a cure all… If I become famous, I will not be alone and I will always be connected, and I'll be recognized, and I'll be immortal. It's all of that sort of wrapped up into one. That is what fame has come to stand for.
Punk Globe: And when you saw the changes that had started happening in the virtual world, did you know that you were really ahead of the curve with all the footage you had collected?
Ondi: That's exactly it…and that's why with this movie, we raced to finish editing 5000 hours in eight months. Because we wanted to lay it down. We wanted to be the film that said 'okay, here it comes'. And I think we are that film. I think we're the first film to come out and talk about this and I think it's ahead of its time also. It will be interesting to look at 'WE LIVE IN PUBLIC' over the next five years and see whether or not it takes on a life like 'DIG!' has. We've tried to put it out independently. We tried to reach out via Facebook and Twitter and all the very technology that we question in the film. Using the best aspects of it to reach our audience and see if in fact we can utilize the very DNA of the film to get it out there. In some ways, I think we're ahead of our time, because in a couple of years that will be standard. We'll reach millions that way. But right now it's still you and I, the three of us talking on Skype. We're still early adopters, comparatively.
Punk Globe: This film is really a warning shot saying watch out. Do not raise your kids on the internet. Keep an eye on what's going on.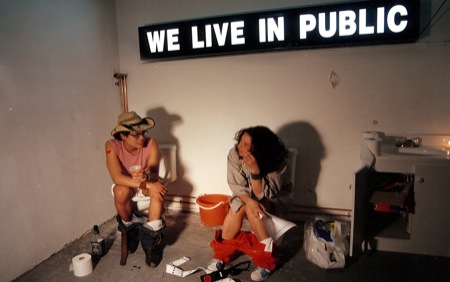 Toilet in the Bunker
Ondi: And don't put your relationship on the Internet. Don't put things out there that you wish to keep private
Punk Globe: Definitely don't drink and facebook…
Ondi: No (laughs).
Punk Globe: After 5000 hours of footage and 8 months of non-stop editing this project, were you able to take a break?
Ondi: Well, Bush had won the election in '04, and I was more excited to get working on 'JOIN US'. To tell that story about these families that realized that their corner church may be a cult. I thought that was more pertinent to all of us out there than Josh's story at the time. As I've said, it's not like Josh is Bill Gates. I didn't feel motivated to just tell a biopic on Josh. But then it became clear to me that his visions were coming true; and that he was a walking cautionary tale; which I kind of knew already. When it became clear that this cautionary tale applied to all of us, that was it.
"All I know is I came downstairs and saw a bunch of people running around naked, shooting firearms."

~ Bunker participant, WE LIVE IN PUBLIC


Punk Globe: There's a lot of stuff going on in 'WE LIVE IN PUBLIC' that feels like it could be psychologically or physically dangerous or damaging to the participants - everything from the firing range in the basement to those brutal psychological interrogations. At one point, it looked like someone was going to get sexually assaulted in the shower while a bunch of people were standing around watching. Did Josh have any kind of limits? Did you get the feeling that he was actually in control and would never let things go too far? Or did he just like for things to really be on the edge; where anything could happen, even if it meant someone could get hurt?
Ondi: I'm afraid to say that I don't think Josh would have had any difference in his behaviour if anyone had gotten hurt. I mean, he may have closed it down faster just to protect from any further legal stuff happening to him. But there's something missing with Josh. It's a cold, hard edge. His sister said maybe it was Aspergers Syndrome. And maybe she was right. She's a nurse practitioner; and maybe she's right about that. Whatever it is, to him life is a game. It's a show and we're all players in that show. On the one hand, it kind of allows him to live a lot freer than a lot of us live, because he doesn't have any kind of care about people's well-being in the same way most people do. He just wants to beat them. He likes them and has a gregarious feeling towards them. But he'll smile even talking about the death of someone if it's a good story. It's pretty wild. But at the same time, it stopped him from having intimate love, which is part of the cautionary tale of 'WE LIVE IN PUBLIC'. Part of it is 'Don't raise your children solely on technology'. You may have a Josh Harris on your hands who is more comfortable getting his nurturing off of technology instead of people… And the other one is the way he exposes his only intimate relationship in 'weliveinpublic.com'. Josh would say he never really loved Tanya; but those of us who were around can all vouch that he did – at least that is as close to love as he can come; and he took it and put it in public and made it an experiment , you know.
Punk Globe: At one point, in the middle of work on 'WE LIVE IN PUBLIC', Josh actually took all of your tapes because he didn't like the way he looked in much of the footage. It looked like that was the end of the project. After you won the Sundance prize for 'DIG!', however, he came back and asked you to make the movie. He basically gave you complete control, saying: I don't care how I look, just make me more famous. It seemed like Josh, this puppet master, was really not that much different from the people in his bunker…
Ondi: Oh yeah, he was glomming on. Like o.k., now I'm on an apple farm and I've run out of money; and Ondi's somehow made it in this world, and maybe if I get her to tell my story it will actually see the light of day. He was doing everything he could to get me back on the project at that point, and I wasn't so anxious to get back in bed with this charlatan. But he made me a deal I couldn't refuse: All the masters sent to me, full creative control, an opportunity to finish what I had started, and 50% partnership in the project. And I said one more thing… I get the opportunity to shoot you on a tractor. And he said O.K. That was the litmus test. So I went and that's how the scene at the apple farm happened. I'm a little more gracious in the voice-over; and I don't tell it quite like that. But that is what happened.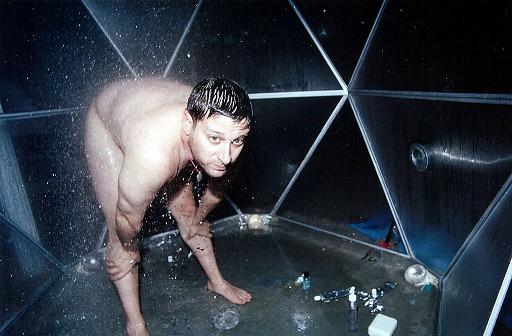 Josh showering in the Bunker
Punk Globe: When you spend years following a subject, do you ever get personally involved in a way that could affect the film? You know that this is the real Josh Harris you're following, for example; and it's going to be a lot more fascinating on film if you see the unedited darkness of his character. But do you sometimes want to reach out and help someone get things back on track, regardless of what is most entertaining for the film? When Josh was saying goodbye to his dying mother via video message, it was a heartbreaking and riveting scene; but do you feel like stepping in and saying: "Josh maybe this is not the best way to say goodbye. Maybe you should at least give your mom a call or drive up for a few days."
Ondi: Definitely, yeah. When he said: "I have a great idea - I'm gonna send you the tape of me saying goodbye to my mom on video."… I was like… wait a second I don't think that's a good idea. I urged him to go and see his family. I do intervene at times. I'm not like one of these people who stands up against the wall and says: "Well, I'm not gonna talk because it's cinéma vérité." You know what I mean. That's not where I am at with filmmaking.
Punk Globe: There must have been countless times during the seven years filming 'DIG!' where you felt like stepping in. It was so volatile and on the edge for these extended periods of time. The Dandy Warhols seemed to be able to push the limits, but they could usually find the line and kind of pull it back before they fell too far off track. Anton and the Brian Jonestown Massacre, on the other hand, seemed to always be surrounded by darkness. While they made incredible music, they were just this constant disaster waiting to happen. Whether it was heroin abuse, Anton berating his bandmates, stalking the Warhols, on-stage brawls during record company showcases; it seemed to be explosive at every turn. How do you deal with that?
"You fucking broke my sitar, motherfucker."

~ Anton, DIG!


Ondi: If Anton is lying on the floor in a puddle of piss because he's taken too much heroin… when I show up, you know, I am not going to just stand there and shoot that… So yeah, I will intervene if I need to; and I am also not interested in showing the darkest stuff necessarily if I can tell the same story with less. It's not like I'm muckraking. So I did shoot a puddle of piss at Anton's house; and didn't put it in the film because Anton nodding off was enough to tell you and the audience what was going on.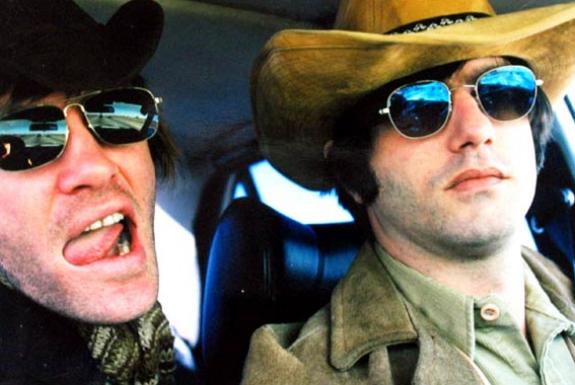 Courtney and Anton
Punk Globe: Watching the commentary tracks for 'DIG!', it's obvious that you really start to care about some these people you followed around the world for seven years… A lot of respect for the intelligence of guitarists Peter Holmstrom and Matt Hollywood; for the pure rock star talent of Courtney Taylor; the laid-back cool of Zia McCabe and crazy spontaneity of Joel Gion. And a dark fascination with watching Anton - someone who has jumped all the way in and doesn't care where he lands. Watching the behind the scenes stuff, you really see how much you care about these people in your film… It's really from the heart when you talk about someone like Brian Jonestown guitarist Jeff Davies, who had also been struggling with heroin addiction…
Ondi: Jeff's awesome.
Punk Globe: 'DIG!' definitely seemed like more of a familial experience. There were a lot of really intimate moments: You were there with your spycam in the middle of the night when Anton and his girlfriend were fighting (after which she ends up sleeping at your place); Anton freaking out in the bathroom of a club right before he gets arrested for assault. You were in the back seat of the car when Courtney played Anton their new song for the first time. You were actually on the road with them somewhere in the southern States when the van got pulled over for a drug search; and you ended up having to spend almost $12,000 to get out of jail and get your footage back from police.
Ondi: I was arrested…
Punk Globe: You were arrested.
Ondi: Wow!
Punk Globe: How valid is a rock and roll documentary if the filmmaker doesn't get arrested at least once?
Ondi: With 'DIG!' I was a lot more intimate with those guys – I was living really down and out – down and dirty… I slept on the dirtiest couch in America for sure – I can't imagine there would be a dirtier one. And that was in that 'Speaking In Tongues' club underneath the Communist Party headquarters in Cleveland; with Anton's socks in my face. My brother was right there with me, David and I - We went on that trip together and there was some dodgy times. You know in Chicago, when the band walked away, we were stuck there… We didn't know what to do. Gosh, I've shot Lollapalooza 3 summers in Chicago, and had the run of Grant park with three golf carts. You now what I'm saying… At that point in my life I had no idea where I was in Chicago. In fact, I still don't know where I was when I shot that (laughs). But I knew we had to get out of there. And the band walked away, and I knew we were down to it… We had no money and we were definitely living the life of some kids in their mid-twenties with stars in their eyes and a camera in their hands for sure.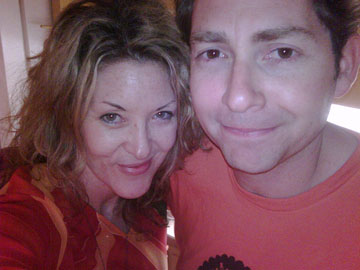 Ondi and her brother David
Punk Globe: Did you consciously pull back from such intense immersion after 'DIG!'?
Ondi:I want to be real clear that I don't feel like… I don't want to downplay the amount of immersion that there was in the bunker…I mean, I was there maybe 20 hours a day. I was definitely feeling the effects of the noise in that place and the way that people behaved (laughs).
Punk Globe: You've spent so much of your life immersed with intense characters like Josh Harris and Anton; even longer than a lot of marriages last... How does it feel to be linked together with complete opposites for such long periods of time for the commonality of making great art?
Ondi: Well, you know I'm not really spending all that much time with them… What's interesting is that when you shoot something over a long period of time you can cut it together – it's sort of like an accordion stretched out and you push it together with all the highlights, all the serendipitous moments, all the dots you can connect to sort of paint a picture of how life actually happens… You can clearly stand up on that mountain top and tell the story – and it looks like I was living in Josh Harris' bedroom; but I wasn't, you know. I would just pop in at the right times. Part of the intuition one needs to have to be a good documentary filmmaker is knowing when to show up and when to shoot.
Punk Globe:Do you think that after one of your films is completed, some of your subjects are surprised at just how far they let you in? And then sometimes regret having that mirror held up so close for so long?
Ondi: Anton and Josh both have a real hard time seeing 20/20 on any of their actions…It's not something that either one of them can really handle… They rewrite their history almost instantly. I think they are really missing something ethically; and it's funny, I think the moms take the fall in both films. But there's something missing…
"You burn in Hell for pretending to be God and not being able to back it up."

~ Matt Hollywood, DIG!


Punk Globe: One of your favorite writers, Nathanial Hawthorne, wrote cautionary tales suggesting that guilt, sin, and evil are the most inherent natural qualities of humanity. Many of the central characters in 'WE LIVE IN PUBLIC', 'JOIN US', and 'DIG!' have elements that tend to validate this sentiment. Ultimately, do you see this in your subjects? Do you feel a lot of the darkness surrounding the characters while these films are unfolding? Or is it only after being removed from the situation - and looking back from a distance - that you realize what a dark world you were surrounded by while making these films?
Ondi: I think that we have a hard time in our society dealing with the dark side. It comes up all the time. We're either fascinated by it from afar, or we covet it somehow; or we just completely hide it away (laughs). Because we just can't cope with it or face it. I don't go around thinking everyone is evil. The word 'sin' doesn't even enter my vocabulary. But I do think there's a complexity to human beings that is sometimes glossed over in media, especially in feature films. That idea of all of us having multiple sides to us. So often in relationships, we say that person is to blame; when it's probably a combo deal. And that's what brings people together too is that exchange of energy. I think it's more interesting to look at the world like that. I think with Anton, with Raymond Meltz, the people in the cult, with Courtney Taylor, with Josh Harris and the people in the bunker… it's not clear cut evil, good guy/bad guy… I really want to make a series about geniuses. Because the thing about people who are living that level of intelligence is that they are in touch. They can actually see over the edge. A lot of people want to stand back from the edge in their own lives and not look over it. Can you send me that Hawthorne quote. I'll tweet that shit!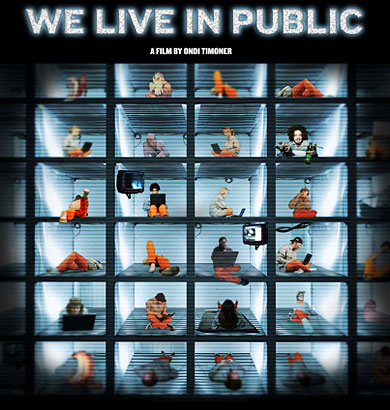 The Pods




Punk Globe: Watching 'WE LIVE IN PUBLIC', I was reminded of psychologist Stanley Milgram's experiments back in the 1960's on obedience to authority in which he had subjects deliver what they thought were severe electric shocks to other participants. He was a Yale alumni like yourself…

Ondi: (Laughs)

Punk Globe: His experiments showed that people would go far beyond their moral compass if they were being guided by someone they considered to be in a position of authority; even delivering what they thought were lethal electric shocks simply because the experimenter told them to do so. Doesn't it seem now that it's the person holding the camera that somehow has that implied authority, and people will do almost anything they are told while on camera?

Ondi: Yeah it's pretty much like that. I think the bunker pretty much preconfigured reality TV as well. I just have a problem seeing people jump in a bucket of worms. But people want that! They grow up surrounded by the media; and they just cannot help but want it. Like it's somehow going to buy them happiness.

v

Punk Globe: Ashton Kutcher said on his Twitter page that Jersey Shore was what the show COPS is like before the cops show up. Which I find funny… And the cast is holding out for a big pay raise.. Only ten years ago, with 'Quiet', people were willing to practically give up their sanity to get their fifteen minutes of fame. What people were once dying to do for free, they are now expecting a big payday for… Are we now living in a culture where people not only feel entitled to be on camera, but to also be paid a lot of money regardless of any discernable talent? Is there no real line between 15 minutes of fame vs. 15 minutes of shame?

Ondi: Yeah, like Josh says, I'm going to sell your life back to you. I think that's probably where we're headed except people are going to want to sell their own lives. You know nothing's sacred, like Jane's Addiction says (laughs). It's an evolutionary process. It's up to you to figure out what you want to keep private and what you want to make public. It's up to all of us to figure out what our limits are. And I hope this movie makes people think a little bit deeper about what they may be trading; or the price they may be paying for living in public.

Punk Globe: The internet satisfies the desire to connect 24 hours a day; and while our virtual lives and information are becoming more public, our real lives are being lived more and more in private - in front of our computers and televisions…

Ondi: That's the thing. Like I said, you feel like you're connecting with 50% more people, but you really are connecting with 50% less depth, at least. You put something out there, and someone responds, you get some feedback coming in. You feel like you're not alone and maybe your life matters a little bit. This kind of thing is not what real relationships and real life are about. But it seems like we need to have that, and we can't have that; so we all become sort of the stars of our own movie now. When you say I'm a prolific tweeter, it makes me feel embarrassed like, oh God, who would care what I'm doing. I'm embarrassed to be putting that out there in a way. And then I immediately say, well it's just a way to promote my movie.




Punk Globe: I love the fact that tweets were used on the poster for 'WE LIVE IN PUBLIC'. And yours was the first poster that ever used tweets as reviews of the film itself, which is so perfectly paired with the actual subject of the film.

Ondi:You guys are great (laughs). That was one of my ideas. I don't know what kind of money Sony pictures has to plunk down to get 40,000 views of a trailer in 24 hours. And I don't think there are many companies that can buy that kind of a response. And Ashton Kutcher in seven words can do it. So he deserves to be on the poster! That was a thought I had: Just remove some of the pod people on the poster, and stick in the tweets. And still put in the main press; still put some good press up there at the top. But let's face it, the New York Times didn't draw as many views to my trailer as Ashton Kutcher did - which unfortunately is back to celebrity again.

Punk Globe: Ashton's comment about your movie is how I got turned on to his page and started reading through his stuff, and then people who are connected to him. It's really contagious that way, in a sense that we connect over things that we're now interested in and have a common link to each other.

Ondi: Yeah, I love that..

Punk Globe: The way you use the technology is something that I think is going to be a template for a whole new breed of filmmakers and artists. You use the internet to not only let everyone know about your projects, interviews, etc. But also talk about people that you have connected with, and to help them connect with people in your audience with common interests. I saw something you had put up about this new storyboard application someone had come up with, and I checked it out, and it was great.

Ondi: Great, that's really cool. Because to me that's what it's about. It's about celebrating everyone else.

Punk Globe: You definitely have to weed through a little bit. There's a magazine that comes out in Vancouver that talks about all these different tweets… "I can't stand that lawn ornament on 5th and 16th." Who cares?

Ondi: (Laughs).

Punk Globe: Getting back to the movies… Your films don't go straight down the highway. They take all the side roads and you immerse yourself in these dark kinds of subjects we don't usually get to see up close. Not only do you manage to get behind the curtain, you hang out and have a drink with the wizard… Your subjects get so comfortable around you that they are really themselves, for better and for worse. And that's when the really interesting behavior happens. You get these thousands of hours of incredible stuff from these interesting characters, and then find the gold inside of it…You're like the new embedded underground Queen of cinéma vérité.

Ondi: That's good. I like that (laughs). But for me, it's really about the work. You'll see me go off the rails and totally lose it when I'm in the editing bay. That's where I'm most passionate and where the synapses really happen.

Punk Globe: When you were in college, you did something on your spring break called '3000 Miles And A Woman With A Video Camera'. That seems to be a fairly prophetic title for the career you've had so far.

Ondi: You know, on the DVD that's coming out, on the extras there's clips from that show. There's a whole thing of just me doing an interview; and it cuts to little clips from every movie.

Punk Globe: Does it have the clip from "3000 Miles…" when you ask the trucker what he fears most in the world; and he says: "A woman with a video camera"?

Ondi: You bet!

Punk Globe: You've got a pretty amazing show set up for March 1st for the release of 'WE LIVE IN PUBLIC'. Do you want to give people the info on what's happening and how they can check it out…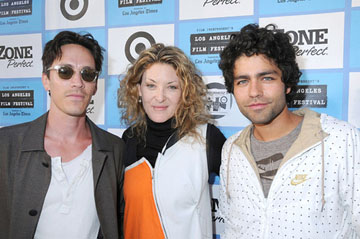 Entourage
Ondi:We want to get as many people to jump in on this March 1st feed as possible. The information is all at: weliveinpublicthemovie.com. The film will be shown at varying times starting at 6pm in L.A., 7pm in Denver, 8pm in Chicago, and 9pm in NY & Atlanta

We'll also be screening in Vancouver in Canada at the W2 Culture + Media House. (Doors open at 5:00pm.) It will be shown at different times across the country, so all screenings will finish simultaneously. My friend Adrian Grenier (ENTOURAGE) is going to host the New York party. Josh and I will be in Chicago. Eliza Dushku will be hosting the show at The Egyptian in L.A. There's going to be this whole twitter back-channel going. A chat where questions from people at home will be answered by us. And during the 90 minutes that the five theaters around America will be watching, Josh and I are going to be hosting a clip show online. So Josh and I will be lying on a bed in Chicago…
Punk Globe: That sounds scary.
Ondi: (laughs) And we'll be taking people through all the highlights of the film and extras, etc. And just bantering as we do. I don't know if you've ever seen the two of us together, but it's pretty gnarly. It should be a pretty funny show. People can see the whole thing at weliveinpublicthemovie.com. And from there they will be able to log on to the live chat on facebook. So people can follow @OndiTimoner on Twitter and go to the 'WE LIVE IN PUBLIC' fan page on facebook and sign on.
Punk Globe: What comes after the screenings?
Ondi: After, we're going to do a Q & A where all the audiences in all the cities get to ask questions and interact with each other.
Punk Globe: Besides spending an incredible amount of time behind the camera and in the editing bay, you have got a lot of business going on…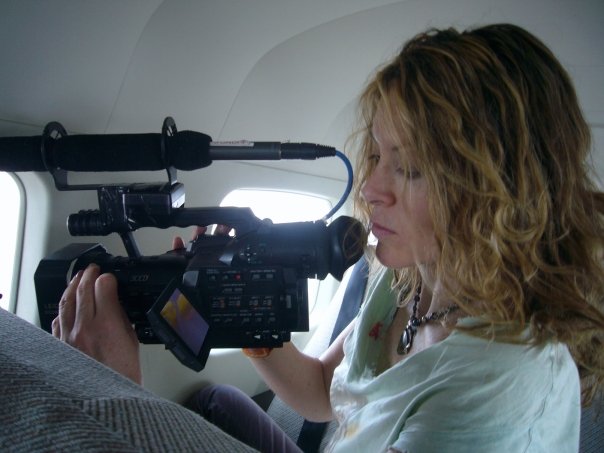 Working on a Plane
Ondi: I do have a little too much business stuff going on. But you know, I've had to wear that hat. In this day and age, unless you're James Cameron, you just can't expect that your film is going to be big. If you're an independent filmmaker, you have to get your kid off to college is what I always say.
Punk Globe: And you don't want community college. You want a good college
Ondi: You want a good college! And that means in this case we're getting our kids to college on March 1st at the live event.
(We hear a loud noise and Ondi's son Juki enters the room)
You've gotta meet this guy. He's my boss.
(He explains a new scooter trick he's been working on.)
This guy was in 'WE LIVE IN PUBLIC'. You remember him licking the camera? He looked a little different. He didn't have any hair (laughs).
Punk Globe: Hadn't he been to something like 18 countries by the time he was 2-years-old?
Ondi: Where are we going next?
Juki: MEXICO!!!
Ondi: Yeah.. We're going to Oaxaca. We're going to Gael Garcia Bernal's Festival Ambulante.

(And Juki is off again working on his stunts).
Punk Globe: How do you keep yourself healthy and motivated when the way you film can be so intense for such extended periods?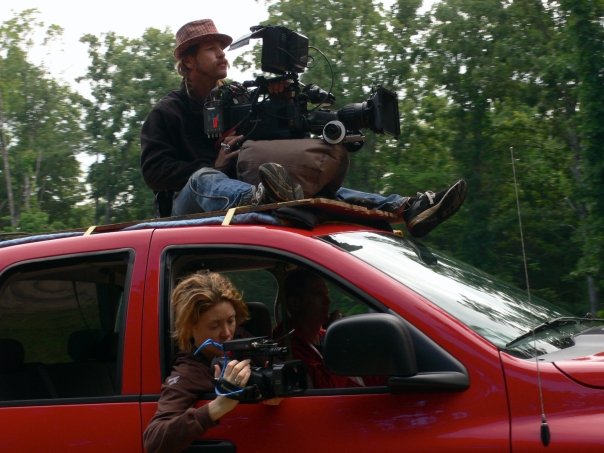 Jungle Fever
Ondi: I just have to remind myself that it's an amazing time to be alive. And it's important to realize you need to put your phone down during dinner if you care about the conversation; and just to kind of live in the present and the physical world as well. And figure out a way to preserve yourself. I have a yoga mat on my floor at all times. I travel with it too. I can't say that I jump on it every day, but at least five minutes a day I try to stretch out, and that's pretty vital.
Punk Globe: We want to thank you for really spending the day with us. You know studying your life and your work is amazing. It's like going to film school. I love the fact that in college, you studied film and literature and theater, but you actually learned to make films with your brother; wearing every hat…
Ondi: Yeah.
Punk Globe: It's truly inspiring. You're a celebrity, but you're so approachable; and because of that, you're making it real for so many people. And I think that keeps people grounded and inspires people to be ambitious without being intimidated. I'm really grateful that we had a chance to talk to you, and really get an in-depth look at how you work. You sneeze, and great interviews come out!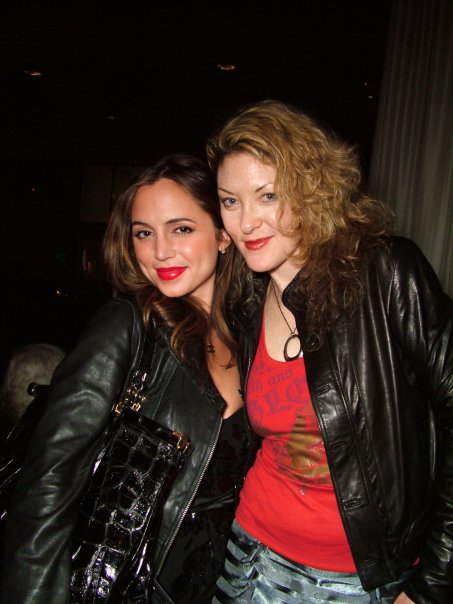 Ondi and Eliza Dushku
Ondi: (laughs) Thank you so much. I was saying to a friend the other night that with the twitter thing, I'm really trying to inspire people to realize that they can live a full life. That they can go and they can play hard and they can work hard and they can have a family… The way I live, maybe I pack too much in for the average person, but I've definitely lived. I've probably slept a few years less than most people my age as a result (laughs); but that's exactly what I'm hoping to do with any sort of celebrity that I have. I want to inspire people to be creative in all aspects of their lives; and to feel free to teach themselves through life and experience as opposed to paying some expensive tuition that's not necessary. So I'm really glad that it's come across to you in that way; and I'm really grateful that you're sharing it with me like that. I got into this originally hoping that… at first I called this company 'Footlight Films'… and I was hoping to be the lights at the bottom of the stage that light up people and their points of view; so through them expressing their points of view, other people would learn to express their own points of view. But that was before the digital revolution; and now with the internet, people don't have any problem expressing their points of view (laughs). So now it's a little bit more of a refined mission. Now, my twitter feed is really trying to shed light on the filmmakers that I see, and the people that I meet who are worth paying attention to. I think the film world suffers a little bit from tunnel vision. People just being obsessed with film. They're making meta-films about film, you know. And there's a whole world out there, and life and complexity like we were talking about before. It's all about the spaces between black and white. And the journey, not the destination per se. But having an idea of the destination really helps with the journey. In terms of a film, you should know where you're headed with the story, but then again - you should have the freedom to follow a muse for the sake of... as long as you love that thing. So I always say to people - make a film about what you care about. What you want to spend two years doing, minimum. Because it's your life.

Ondi at Sundance
Punk Globe: Besides getting ready for the big March 1st event, what are you working on right now?
Ondi: I'm shooting my new movie right now 'COOL IT' about climate change; and we just had this totally explosive interview go down at Stanford, and I was almost thrown out of this guy's office before I even got shooting. And then, I kind of talked him out of the tree. He was worked up during the interview, and I was worked up, and it was all before the morning cup of coffee! I relaxed and ordered my latte after, and I've gotta say, it was thrilling. There's certain aspects to the work itself that are so fulfilling; and I'm just so grateful that I've found something to do in my life that feels right; and it feels like I can contribute to society this way too. I mean it's why I'm on the planet. And I'm just lucky. I think we're all on the planet for a reason, and I'm lucky to have found that reason and to be able to do it.
Punk Globe: Ondi, thanks so much for the interview.
Ondi: Thanks guys…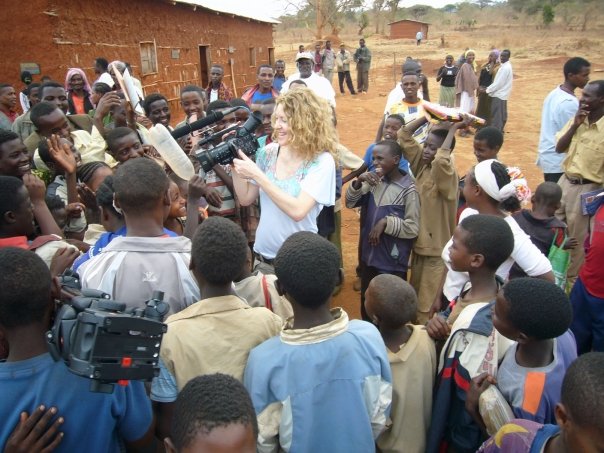 Filming in Africa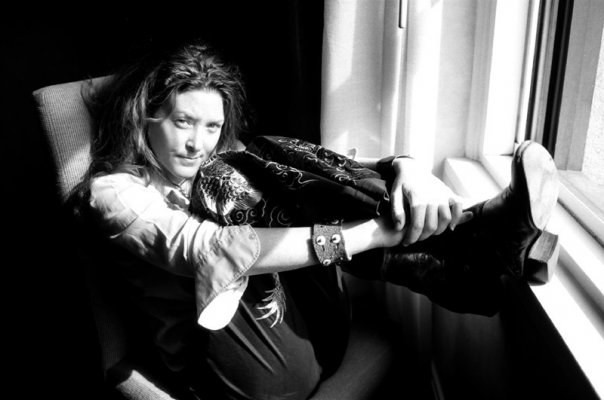 Hard at Work