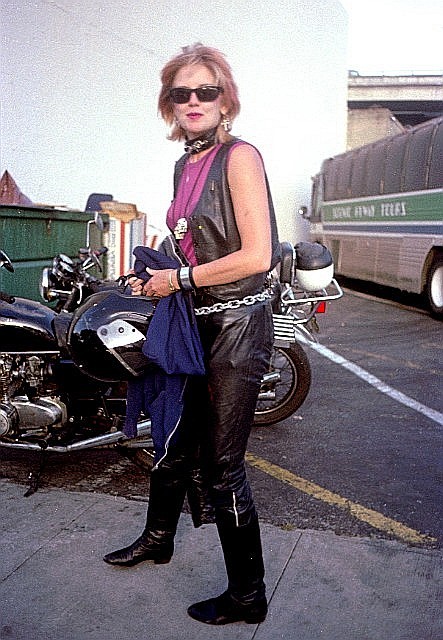 Olga de Volga
Friends and Fans Pay Tribute
to OLGA de VOLGA
Rest in Peace, Olga
REMEMBERING OLGA

SHE WAS A MASTER FORCE
IN THE SAN FRANCISCO SCENE
THERE REALLY WASN'T MUCH
THAT SHE HAD NOT SEEN

DRESSED IN BLACK LEATHER
A MOTORCYCLE WAS HER RIDE
NEVER PLAYED BY THE RULES
ALWAYS FOUGHT AGAINST THE TIDE

WITH SKIN OF ALABASTE
R SHE SANG OF BEING THE MASTER
THREW HER FATE LIKE A TOSS OF THE DICE
SHE WENT TO LIVE IN PARADISE

IT'S KIND'A SAD THAT NOW
SHE'S GONE AWAY
TO FIND OUT NOW HOW MANY
LIVES SHE HAS TOUCHED
AND SO FAR AWAY.

AND NOW AGAIN SHE HAS MOVED
TO A DIFFERENT PLACE
WHERE ALL THAT IS WORN
IS SATIN AND LACE
TO A PLACE WHERE YOU DON'T
HAVE TO LOOK TOO FAR
AT NIGHT JUST LOOK UP
THERE'S A BRAND NEW STAR


MISS YA BABE,
J. SATS BRET
Lead singer of The Lewd


"What's more fun than escorting a chinese funeral? Hair dye!"

Easily the most important thing that ever happened to The Lewd was having Olga deVolga join the band.
She played great, looked great and everyone loved her. She wasn't the easiest person to be in a band with,
but then she always played best when she was mad about something. She had a habit
of getting us kicked out of places when we tried to do photo sessions --
GG Park, Fort Point, the Grand Canyon.... we were kicked out of them all and more.
It seems her "nazi battle frau" outfits usually didn't sit well with people in charge of historical places.
We'd just laugh, pile back into the van and move further down the road.
Olga never did things half-way, she rocked as hard as anyone, partied harder than most, could be sweeter
than candy and absolutly made her dreams real. She believed.
She believed in rock and roll, punkrock, the power of youth and she believed in herself.
Four qualities in a combination that can't be beat and aren't often found in one person anymore.
Wherever she is now, she's probably dying her hair again.

BOB CLIC - The Lewd


So sorry to hear about Olga - thanks for the email.
She was always so cool and sweet.. she saved a gig one night:
Geza X & the Mommymen were playing at the Mab and
Dirk didn't get what he did, or something:
he booked an all art show with Zev the percussionist
but the Mommymen were a full band, not an art piece lol!
Anyway the classic Chevy some of them had driven up from So Cal
was stolen just before the gig, with the bass in the trunk..
well, there weren't any other bands on the bill so what to do?
We called around, and Olga said sure thing, use mine..
East Bay Ray and I drove over to her place, she threw her bass at us,
we drove back and threw it at Bobby who walked onstage.
It wasn't a full size bass so he had to adjust
but he did, and the gig turned out great..
not every musician would give up their ax for the night like that,
and I've often thought about how generous she was..
she was always in kick-ass bands too,
i was so sorry to hear about her passing :(

--Barbara Helbent
i hope you are happy
i remember practicing with her in her apartment near polk
before the offs were all together
she would arrive on her motorcycle.....at high speed...like her life
hey.....and the trip to play the whiskey for 2 nites in
with the nuns the dils and the sleepers
long may our memories of her live and give us life
....love to all....billy hawk ...and all members off THE OFFS living or dead

don vinil...RIP ...overdose
bobby martin...RIP....the fast life
fast floyd ...RIP....gunshot
olga....RIP....unknown

and remembrances to
bob steeler
eric peterson
johnny genocide
chris olsen
bobby "big shot" bassie morgan
bob roberts

we stayed with the screamers and all slept in one room
long live the punk globe the true fanzine billy hawk

--billy hawk



Olga... my Sweet Olga! How I will miss you...
I can't explain her in this tribute but
let me give you some brief highlights on our friendship...

I met Olga in the late 70's and we have been close friends every since..
I supported her when she played with The Offs--
rallied behind VS and loved her with The Lewd..
We also shared had a strong bond because
of our mutual love for Artist Lou Rudolph..

Once in the 80's I was The Scream Club in LA-
not really knowing anyone and
I saw a tall Woman enter the club
with a row of boys at her attendance
dressed in Leather with long Blue Hair --

Who was this Vixen? It was the one and only OLGA de VOLGA!
Within minutes- It was a party and I knew so many people
having a great time...that was the magic Olga possessed..

After The Lewd broke up she moved to Hawaii
Every Christmas she would send me a box of Chocolate Almonds
(that I would swear I would not eat.. but I always did)
along with other gifts..

Her cards would be filled with all sorts of cheers
like "WTD Rule".. "Ginger Coyote The Princess Of Punk".. "Punk Globe is #1"..
She would call me and tell me about her
health issues and her living situations but would also never fail
to mention that she had seen some young locals with crazy colored hair
jamming out a Ramones tune and she would cheer them on!!

Olga supported the arts -- she at one point taught dance at one
of the schools and still had her bass armed and ready to play..

She did marry a Japanese man and was known as Olga Kusano
but divorced him after he wanted her to move to Japan
to be closer to his family..

After thinking about all of the obstacles that Olga had to deal with
living in Pahoa, I now realize how strong she really was..
Being a beautiful blue eyed blonde Woman, she was a minority
and she fought the discrimination daily with courage and strength..

She would tell me about the locals
beating up their wives and girlfriends --
how happy she was to be single..
The roads were unpaved and the housing
was like living in a third world country.
But then she would tell me
about the beautiful Rainbows in the jungle
after a sporadic shower and that was worth it all..
She loved it when Mia from Frightwig was living in Hawaii
and told me that Mia was like a wild pinto.

Tim Gnomes and Sweet Tommy held a place in her heart...
Olga I will miss your calls (even though sometimes they came at 4AM)
and most of all your love and unconditional support...

There was only one OLGA de VOLGA
and I am so happy to have her as a friend for the many years I did....

-- Ginger Coyote

Sats and Olga -- Photo by Alanna Alberts-Wiitala
OLGA WAS INSPIRATIONAL. SHE WAS BOTH BEAUTIFUL AND TOUGH LOOKING ON STAGE.
MOST OF US WISH WE COULD LOOK THAT COOL ON STAGE.
SHE HAD A BIG SOUND AND LIKE A CHARACTER FROM A T.V. SCI FI SHOW ONCE SAID "SHE WOULD DO WELL IN BATTLE AT MY SIDE"!
SHE WAS "ZENA" AND "SARAH CONNOR" BEFORE ANYONE HAD EVER HEARD OF THEM.
SHE WILL TRULY BE MISSED !
TONY CALZONIE
Current Bass Player of The Lewd
Olga was the tall Scandinavian QUEEN of the Mabuhay Gardens in SF
and we all Bowed when she walked in the door with her Viking braids
wrapped around her ears in all colors of the rainbow.
She was sweet and unassuming, considering what a star she was
and all of the leather she wore!
She rode no high horse and did she Ever Rock the stage!!
We will never forget you Ms. Olga de Volga; you
will live on in the psyches
of all the true SF rock n rollers forever......

Love,
--Autumn Eyles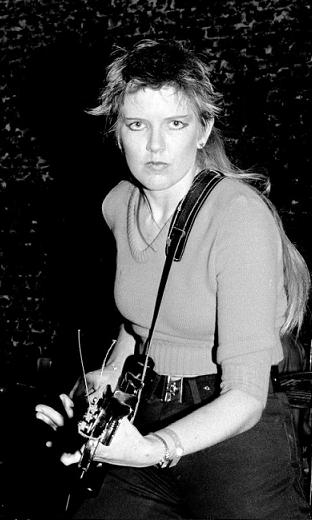 Olga Playing in The Offs -- Photo by Ruby Ray

Wow -- how sad! You know that I went out with Olga (Susan Smith then...)
back in 1976-77, in Phoenix and, later, lived with her for a while in a tiny
apartment around Fulton and Franklin in San Francisco.
She first picked up the bass right after I did, in 1976 or so.
We broke up after a couple of months of SF cabin fever,
and I moved back to Phoenix, but we stayed friends
until I finally lost touch with her when everyone else did,
some years after her move to Hawaii.
An inspiration to all who knew -- or even just knew of -- her,
that Olga de Volga was some kinda supergirl, to be sure.
Obviously she is going to be greatly missed,
even though most people -- even many of those who knew her --
will never even know the half of how amazing she really was.
Too bad that, like so many of the good ones, she forgot to breed --
We need more Olga de Volgas in this lame world, not less!

Bon Voyage,
Ladytron!

--Don Bolles- The Germs
Thank you sista Ginger, Here's a sister to remember......a fallen rocksistar, Olga
--ALANNA ALBERTS-WIITALA
Olga Photos by Alanna Alberts-Wiitala
sorry to hear the sad news. i didn't really know her,
but always found her friendly, no attitude at all.
besides her killer bass playing, i got a kick one time
seeing her on her motorcycle, working a funeral parade
moving through chinatown. she saw me,
and we both smiled and waved to each other.

-johnny strike

It was great fun playing on the same bill and seeing Olga perform at the Mab
with VS and the Lewd. Olga had the look, the attitude and the punk chops.
Our girl hero! We love you. Rest in peace, Olga.
--Kathy Peck, The Contractions bass player
Co-Founder of H.E.A.R.


Olga de Volga.....was one of the original punk rockers and Fetish fashion pioneers.
The original bass player for the Offs, founder and bass player of her own band, VS,
and later the bass player for the Lewd, she was a pioneer of Grrrrl Rock
and either had the gay boys on her lap or all the young boys on their knees!
Truly an inspired artist, performer, musician -- she was a mainstay in the SF punk rock scene
for years until she moved to Hawaii.........
She was one of my closest friends and partner musicians...
and was a badass leatherette ...
She was the punk rock lead motorcycle rider for funeral processions.
May she be remembered and appreciated, Love and Respects,
Indian Wells...
guitarist for VS (after Georgia)
and guitarist for his new band.....Acu-Funk-ture
Olga was amazing.When she was in those funeral processsions
it was a beautiful sight that I will never forget.
--Sally Mutant
When I was 19 and going to college in southern California,
I first read about the LEWD in a copy of "Ripper" fanzine I borrowed
from a friend. I picked up a copy of "American Wino" and HOT damn,
I was impressed. I loved the pics of Olga with her bleached-out ponytail
flipping in the air as she rocked out... all her chains and spikes... she looked
so hot, tough and sexy. Fast forward YEARS later when I was living in S.F. and my band the Loudmouths
got asked to back up 2 members of the LEWD (Bob Clic on guitar and Sats singing)
for a LEWD "reunion" of sorts... we did a set of LEWD songs and called ourselves the LEWDMOUTHS.
We only played two shows. I couldn't believe I was getting to play songs as the LEWD...
my 19-year old self who first bought the album would never have believed it!!
I felt a great sense of respect for Olga as I learned her bass riffs...
and when I told people about the band/project I'd always gush -- "and I get to be Olga!!!!"
After the LEWDMOUTHS the LEWD decided to reform the band and play out again.
I couldn't help but wish Olga would come back and play for a REAL LEWD reunion.
I had never met her and always wanted to.
Bob said she was in Hawaii -- and wasn't interested. But inside I still hoped...
and up until now, as the LEWD has been playing the last few years...
I still HOPED. That someday she'd come visit and as a suprise --
get up on stage, join in for a set and rock out for us. Sigh.
Thanks Olga for inspiring me to pick up a bass and rock out.
And helping pave the way for your punk rock sisters...Rest in Peace.

--Beth Loudmouth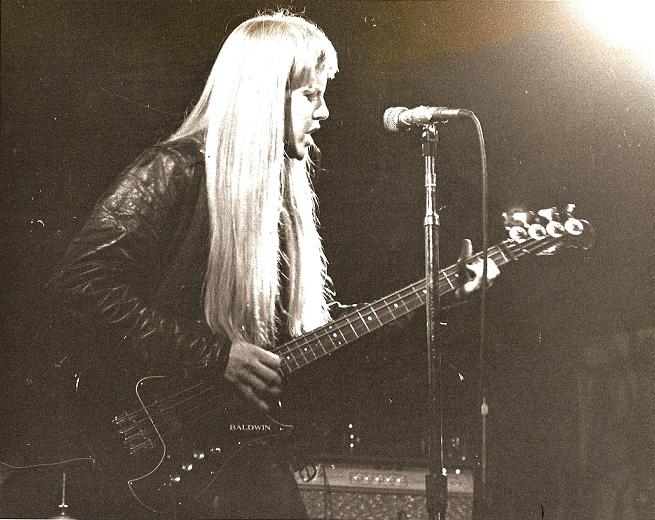 Olga with VS -- Photo Courtesy of Jane Weems
my name is Jane Weems, and I was the original drummer for "VS"...
I was fresh outta high school & just 17, when I was asked to join the group...
I was really thrilled to be playing such great shows with bands I really loved,
like the Dils, the Avengers, the Zeros, Crime, & the Nuns...
just a few months before, I had seen some of these bands open for the Sex Pistols, & now,
I was opening for them!...I had alot of fun with Olga,
who was just a big kid! she gave me a whole mess of funeral stickers,
because she had a side job providing motorcycle escort for funerals!...
she worked nights at the sunshine juice bar on polk street...
I remember, her boss was this old hippie who was heavy into EST,
& was trying to convince Olga to go on an EST retreat! (no bathroom for days! YIKES!!)
he absolutely FLIPPED when she showed up to work in full leathers!!!...
people thought we were a gang, not a band!...folk would cross the street to avoid us!...
she got her full on leathers from her father...
apparently, she was having a good time, boppin' around at an early ramones show,
when some guy tapped her on the shoulder, & told her to "sit down!"
she responded, "why don't YOU STAND UP???",
and turned back around to enjoy the show...again, the jerk taps her on the shoulder,
only, this time when she turned around, he sucker punched her
square in the face as hard as he could with a glass beer pitcher!...s
he woke up in the hospital, after days in a coma, with her worried
daddy all the way from texas waiting by her bedside...
when he saw her awake, he asked her "is there anything you want?"
to which she promptly replied "yeah....I want some leather chaps!"...
and she got 'em, too!...they were so fresh & tight the day she got them,
she was in agony!!...she tried to sit down on my moms couch, &
couldn't bend her legs!! but, she broke 'em in soon enough!...
riding on the back of her motorcycle was great fun, too!...
she used to carry 2 little mini cans of spray paint
in her bass case, one black, & one red, the colors of anarchy!...
we would spray paint everywhere!...olga never missed an opportunity
to spray the bands name somewhere, or spray over "offs" graffitti!...
(ha! ha!) we would piss the other 2 off, who didn't like smelling spray paint,
or getting over spray on their clothes & hair!...but, we were unstoppable!...
you can see my handy work behind lux & Ivy, in the Jimm Jacoy book "we're desperate!"...
that was with Olga's paint!...VS was the first band
to ever play the historic "temple beautiful" 1839 geary stage!...
he painted swastikas all over the temple beautiful the night we played,
while I ran around with Regi Mentle, trying to get to the rooftop next door,
to steal the big light-up "People's Temple-the Rev. Jim Jones, Pastor" sign for my bed room!...
we never did get the sign, but, we had a blast trying!...
Olga's swastika shennanigans made the joel selvin column
in the "Pink Section!"...he was really pissed, but, WE thought it was hilarious,
and Olga clipped out that little newspaper column,
& was putting it in her scrap book as soon as I told her about it!!...
I STILL have the scrap of paper we were writing on,
trying to come up with band names!... quite a few became names people later used...
2 of Olga's choices were "the Harry Pitts Orchestra" and "the Masingirls"
a cross between the masingil douche, & the manson girls!! I was GLAD when they chose "VS"!!!!...
Ha! Ha! Dear Olga-you were one of the best bassists i ever played with!...
you are very much loved & remembered!
we will miss you! love,

Insane Jane Weems, your Drummer!


She was just Susan to me. A bright-eyed Texan who shook up San Fran by wearing short-shorts
(not only in summer) and funky costumes...whenever! She lived life in a truly theatrical way,
entertaining us punks with her 'Olga' persona. An Off , a verse, a Lewd girl --
but she could do a mean ballet and Afro-dance, too.

The irony of all those years of near-misses in her former career as motorcycle escort
for Chinese funeral processions has not escaped me. A heat-seeking creature, 'Olga' got to
live her Hawaiian dream in Hilo. Dance every day. Result. Susan Shirley Smith aloha.

from Carmella (the raggedreporter)
One of the original SF punk rockers, Olga deVolga bassist and singer for VS.,
the Offs, and the Lewd, has shuffled off this mortal coil. May she rest in peace and her heaven
be filled with slammin' 3-minute, 3-chord songs and a pit full of admiring fans.

-- Stannous Flouride
Olga was a true friend to me in time of need. I would have literally been homeless
had not she and our friend and her roommate taken me in to live in their apt.
for a month until I could get back on my feet. For that, but not that alone,
I will never forget her.

Klaus Fluoride / Dead Kennedys

Olga de Volga playing "Fight" with The Lewd
Photo: Courtesy of Target Video
Olga was a talented and beautiful person who we will
never forget.
Not only was she a kick ass musician
but a good friend.
She was a very sexy woman and what
a glorious sight
she made riding around the streets of
San Francisco on her motor bike.
It's a sad day
without her.




--Joe Rees & Jackie Sharp