By: Ginger Coyote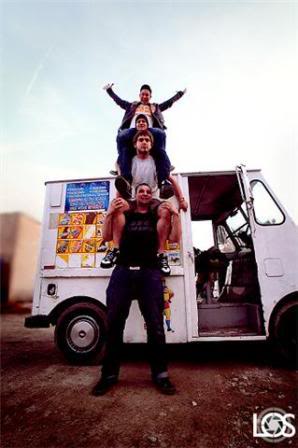 I recently did a review of Number 9 Hard and noticed that the review was getting quite a few hits so I contacted Ugly Tom about an interview. I hope you all enjoy the outcome.....
Punk Globe: Thanks so much for the interview. How did you get your band name Number 9 Hard?
Number 9 Hard: We're big fans of Taco Bell and Tacos in general, and it sprouted from there, but I like to tell people that it's a sexual innuendo and let them try to imagine what it means. You'd be surprised how slutty our fiends are.
Number 9 Hard: Ron 9 - Guitar Ugly Tom - Guitar Chris Hard - Bass 8oz Tom- Drums
Punk Globe: What is the scene like in Milwaukee?
Number 9 Hard: For us it's about drinkin beer and trying to find a good punk band or if we're lucky punk show because they seem to keep disappearing, but the scene in general is alive. I'd say it just needs a good kick in the ass, and that's what we're trying to do.
Punk Globe: Are you familiar with Mike and Beer City Records and Skateboards?
Number 9 Hard: Actually Chris Hard and Ugly Tom are the only ones in the band who somewhat attempt to skateboard, but skateboarding and punk rock go together like butt sex and cigarettes so the guys at Beer City sound like they know what they are doing. Unfortunately we don't know much about them, but we are definitely going to contact those guys and see if we can work something out together.
Punk Globe: How many releases does the band have?
Punk Globe: Are you signed to a label?
Number 9 Hard: Yes, Surrounded By Shit Records (S.B.S) but it's not run like a business or anything like that. It has been around for a little over a year now and the bands that form this 'label' are there to support each other by booking shows for tour or selling each other's merch at local shows. We're from Wisconsin, and S.B.S. and most of the bands are out of Ohio, but we've met and played most of these guys and they are all fucking rad people.
Punk Globe: Were you shocked to hear that Punk Globe had so many requests for your band in the search engines after reviewing your CD?
Number 9 Hard: Hell No, We rock AND bone damnit!!! Actually yes, completely shocked, if you like our music, fuck yeah we like you! Email us love letters, drunkin song ideas, or dirty pictures of your friend's mother at number9hard@gmail.com. Punk globe is good shit and we thank you guys for the support.
Punk Globe: How did you come up for the CD title All Lubed Up and Ready To Go?
Punk Globe: Has the band toured?
Number 9 Hard: Yea, in July we went on our second tour actually. Our first one was called Dick Fest 08 and we went out to the East Coast tour with our good friends from Milwaukee 36 Years. Our second one was called Get Smashed and Party Tour. This one was just us playing punk rock across the Midwest, we were drunk…. we played a church. But what we're most excited about is a U.S tour with our awesome friends Benedict Arnold from St Louis in the summer of 2010. If that goes down as planned, we might all die, so we are going to try to put out another album before then.
Punk Globe: Who are some of the bands influences?
Number 9 Hard: Any good punk rock, or ska punk. Suicide Machines, Operation Ivy, NOFX, Against All Authority, Potshot, Rancid, Minor Threat, Andrew W.K. [Party Hard], and all of our friends we met on the road.
Punk Globe: In September Punk Globe ran an article about the why there will not be a House Of Blues in Milwaukee. Do you have any personal feelings about this?
Punk Globe: Any website addresses for Number 9 Hard?
Number 9 Hard:
www.myspace.com/number9hard
Please check out the tunes, and see when and where we're playing next then come out and party with us. Or at least leave an enthusiastic message so we don't all give up!
Punk Globe: What is in store for Number 9 Hard?
Number 9 Hard: We plan to keep partying hard and play punk rock! This year we had bad luck with the tour vehicle braking down and shit, but as long as we can continue to put shows together and scrape up enough cash to get by we hope to keep going on the road because we've met so cool people and bad ass bands like Antiseptic and Benedict Arnold. We just got to keep it interesting because punk rock is our lives so we have plans for our next album, maybe a single or a split before then, and a 'House Party' music video in the works.
Punk Globe: Any last words for Punk Globe readers?
Number 9 Hard: Yeah. Just as a general announcement. If Number 9 Hard has ever played a show that somehow resulted in all of your friends hating you. Or crashed at your place and upper deckered your toilet. We are not sorry, and that is entirely your fault. We are Brew City drunks and you should know better.
Punk Globe would like to thank Number 9 Hard for the interview... Please go to their My Space Profile and check em out!