ISTANBUL CONCERT  SEPTEMBER 8TH – 2007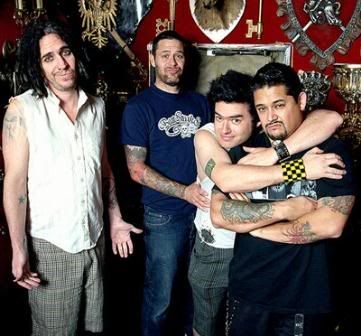 By Ozgur from Turkey

Formed in Berkeley, CA, in 1983 and relocating to Los Angeles not long afterwards, a club called Cathay de Grande hosted NOFX's first gig of 4 songs with another band's equipment.First demo tape was recorded with the guidance of Don Bolles (the drummer) of the Germs and sent  to fans if they mailed a self-addressed, stamped envelope with a cassette. NOFX's first tour was in 1985.Now 22 years has passed and vocalist/bassist Fat Mike (Mike Burkett), guitarist Eric Melvin, El Hefe (Aaron Abeyta) and drummer Erik Sandin (aka Erik Ghint/Erik Shun) is still touring,as well as recording a countless number of full-lengths albums plus EPs and singles.(To this date NOFX has released 11 studio full lengths, 15 EPs, and many 7" singles.)
In March 2006, they released the EP Never Trust a Hippy, and the full-length Wolves in Wolves' Clothing followed a month later which was recorded and mixed at Motor Studios, San Francisco, USA and produced by Bill Stevenson, Jason Livermore, and Fat Mike.
Within their Wolves in Wolves's Clothing album World Tour,as the next step after their Israel gig,Nofx gave their first concert in Turkey on the 8th of September 2007 at the concert venue called Bronx in Taksim – İstanbul.
Expectations and the excitement was high .There were people in the audience who started listening to the band in the early 90s and waiting to see them live for around 15 years.There were also 18-19 year old kids which Nofx was very new for them but lucky enough not to wait to to see live for long long years like others.The audience consisted of not only fans from Istanbul but people from different citites of Turkey who travelled just to watch them,too.
Bronx,the concert venue is one of the smallest concert venues in Istanbul and was the best choice to organize a gig for a band like this.Only 500 people had the chance to watch them.If it had happened in a different venue thousands of people could come without any doubt.On the other hand, it was very cool to watch them so close like a legendary Gilman Street concert,get in touch with them and enjoy their performance this way.Although the sound system was not excellent,it was one of the unforgettable nights for most of us,some can name it a dream come true.
The playlist was like below,but they changed it by playing different songs instead of a few ones :
Intro
Dinasours will die
Franco Un-American
Perfect Government
Leaving Jesusland
What's the matter with parents
Eat the meek
Louise (not played)
Stickin in my eye
Punk rock elite (not played)
New Herb
Murder the government
I'm telling Tim
Pee
Stink                                                        
Pee
Alcoholic
Fuck the kids
Juicehead
Radio Radio Radio
Leave it alone
Triple Rock
Brews
Straight Edge
Bob
Reeko
She's nubs
Linoleum
Bottles to the ground
Whoops I od'd
Kill all the white man
Idiot son of an asshole
Theme from a Nofx album / Eric Melvin Accordian Solo
Notes : Somewhere in between the songs they played a 1 minute improvisation called "Istanbul".
             During the "Nobody likes us,everybody hates us,Americans"  sing along,they played a very short part of Wig in a Box – Hedwig.
             One of the expectations was to see 2 girls as Nofx fans with one having a "Lisa" t-shirt on,while the other having a "Louise" t-shirt,but there were not.
             No songs were played from the "Heavy Petting Zoo" album.(amongst their 90s albums.)
*** MEMORABLE QUOTES FROM THE CONCERT WAS :
- El Hefe : "After 15 years we finally made it to Turkey."
- El Hefe : "I came here expecting to eat some Turkish food but all I had was chicken."
- Fat Mike : "Who spit at my face,we're trying to have a good time here,come on."
                     "From this part of the audience some asshole spit at my face.Come to the stage and spit at my face here if you can."
- Fat Mike : "Now we're gonna  play 9 songs in less than 5 minutes."
- Fat Mike : "I love the Ottomans."
- Fat Mike : " We're gonna play a song from the second best punk rock band in the world."  - El Hefe : "Avril Lavigne!!" – Fat Mike : "We're the best punk rock band in the world , we're gonna play Rancid,the song is called Radio."
 - El Hefe : " We don't like white bras,we like black bras.It's getting hot in the Turkeyland here:) ...."
- After a girl requested Fat Mike's Bad Religion t-shirt ,
  Fat Mike : "If you fucked me in the ass,I wouldn't give you this shirt,If you sucked my cock for 7 days,I wouldn't give you this shirt,it's a good shirt : )".
- Fat Mike : "This song was ok.(talking about - She's Nubs) But now these next three songs are better than that,you're gonna like them a lot ; " And Linoleum starts...
*** The concert took nearly 2 hours and it was like watching your old school friends performing live and enjoying every second of it like back in the old days once again, which made everybody leaving at the end with a smile on their face.
PHOTOS:
THANK YOU NOFX.
The storm had passed and the sun was shining yeah September 8th was a beautiful day…
CONCERT REVIEW BY OZGUR COKYUCE
PHOTOS BY BENAN NARLI
FOR
PUNK GLOBE