The World Famous Milestone Club, located on the west side of Charlotte, North Carolina, is everything you expect when you go to a punk rock show. Opened in 1969, this venerable venue bears the scars of music history. Over by the merch table, you'll see where The Bad Brains left their tag, and the building feels as if it is being held together only by the stickers left by thousands of other bands. The Milestone's website has a seemingly endless list of legendary punk, metal and alternative bands that have performed there over the past 45+ years. No Anger Control is one of the many talented, local bands that continues to breathe life into this historic musical oasis.
Musically, No Anger Control starts with a foundation of 80s New York hardcore, but adds a healthy dose of classic '77 punk, 80s thrash and skate rock. Bassist Jason D. and drummer John Ehlers drive the band's aggressive assault. No Anger Control is one of those bands where the rhythm section is so tight, you wonder if they might be brothers or perhaps communicating telepathically. Guitarist Levi Erikson shreds through the songs with lightning speed adding plenty of trashy licks and 80s skate rock energy to whip any circle pit into a frenzy. And, out front, with her retro looking microphone, Tiff Tantrum commands the audience's attention with a confident attitude, reminiscent of Poly Styrene, mixed with the rapid fire vocal style of Kurt Brecht. Lyrically, No Anger Control takes a no nonsense approach to identifying and correcting society's most basic faults and failings.
Photos By: Kevin McGee and Ken Trousdell.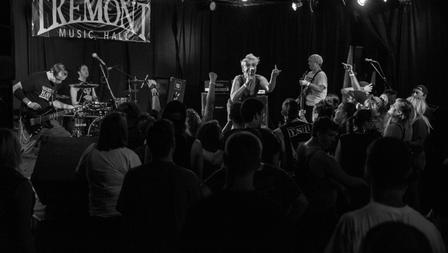 PUNK GLOBE: Where were you born and what was life like growing up there?
Tiff: I was born in Fort Lauderdale, Florida, but we moved because there were a lot of heavy drug problems in our area. We relocated to Hickory, North Carolina. It was boring. There was only one punk band. I spent most of my teenage years figuring out how to get out of there.
John: I was born in Tarrytown, New York, but I grew up in Stamford, Connecticut. I lived there from '76 to '94, then I moved down to Charlotte. Stanford was a great town, but it's too expensive to live there now.
Levi: I was born in Belleville, Kansas. Shortly before I turned five, we moved to Hot Springs, Arkansas. The closest place that had anything going on was Little Rock, but getting there was problematic. So, until I started skateboarding, growing up Hot Springs was miserable.
Jason: I was born in New Jersey. I grew up in northeast Pennsylvania. It was a great place to grow up, but winters always sucked there. As a teen in the early 90s there was a good local music scene and a couple of all ages clubs. We weren't that far from Philly and Trenton, so we would go there a lot. Then I moved to California, but most of my teen years were spent in Pennsylvania.
PUNK GLOBE: When did you first get into music? What were some of your favorite bands back then?
John: For me it started really early. I started with my Fisher Price record collection probably when I was about four or five. I started with "My Little Teapot." There's a B-side to that record that's really great. A lot of people don't know about it. Fisher Price was doing some really unique things then [laughter]. Seriously, the very first album I had was by the band Sweet, the one with "Ballroom Blitz" on it. Love that song. I used to play it all the time. Then I moved on to metal. I still have my record collection from high school – Iron Maiden, Dio and Motörhead. Then a friend told me about The Exploited, and that was it. I loved it.
Levi: I was a TV kid. I didn't even realize that my classmates were into music until about the 7th grade. So I turned on the radio, and I heard Bon Jovi, "Livin' On A Prayer." I thought, oh this is what I'm supposed to like as a 7th grader, but I never really could get into it. Not long after that I started skating, and of course there's a big connection with music and skateboarding. I could tell these bands had more substance to their lyrics than Bon Jovi. My window to the music world was skateboarding videos, Rip magazine, Metal Maniacs and Thrasher.
Tiff: My dad's record collection took up almost a whole room. When I was about eight years old, I discovered he had an album that said Sex Pistols, and I asked him, 'why do you have something that says sex on it?' He played the record for me, and I really liked it. Then I started listening to the debut album from The Pretenders. I was really into Christie Hynde's voice because it is deep like mine. Then I got into The Ramones, Rocket To Russia and then I got the Minor Threat complete discography. I was fully into punk after that. Later, I got into bands like the Yeah Yeah Yeahs, I saw Karen O and I thought that's who I want to be on stage.
Jason: My first cassettes were Huey Lewis & The News and Cinderella "Night Songs." [laughter] It was all downhill from there. When I was in middle school that was what was on TV, hair metal stuff. I started getting into punk when I was 13, around 1990, with the classic punk bands like Dead Kennedys, Sex Pistols, Pagans, Ramones, ya know. After that I started going to shows, but living in Pennsylvania, not a lot of punk bands came through. It was more NYHC stuff like Agnostic Front, Sick Of It All stuff like that.
PUNK GLOBE: What were some of the memorable shows you saw back in those days?
Jason: It was probably 1990, the Escape From New York tour with The Ramones, Debbie Harry and Tom Tom Club. I remember it being so loud, but we didn't care. We were sittin' as close as we could to the front. My ears were ringing for two days. My mom picked us up afterward, and she was yelling at us because it took her forever to find us after the show. But, my ears were ringing, so I couldn't hear her anyway.
John: I guess my very first show was when I was in middle school. I remember seeing David Lee Roth come down on a surfboard in the middle of New Haven Colosseum. And, I was 14, I can't believe my dad let me go to those shows. I saw Kiss at Madison Square Garden. Then when I was about 16, I started going to clubs, and I went to The Anthrax club in Norwalk, Connecticut. It was a totally different experience. The Meatmen were probably the most memorable band from that time. They were playing songs off of the Rock 'N' Roll Juggernaut album. The place was packed. They had a fog machine, and you couldn't see the stage at all. Then all of the sudden they open with the first chords of the song "Rock 'N' Roll Juggernaut," some skinhead jumps off the stage, and the whole place exploded and everyone went nuts.
Levi: Growing up in Arkansas, there were no shows. If we wanted to go to a show, we had to put it on ourselves, in a buddy's garage or whatever. I didn't go to any big shows until I moved to Los Angeles, in the early 90s right after high school. I went to some of the last great backyard punk shows in San Gabriel Valley – kegs, classic style, low riders and everything. The first big show that's memorable for me was Rancid at The Whisky right before Let's Go came out, and it was awesome.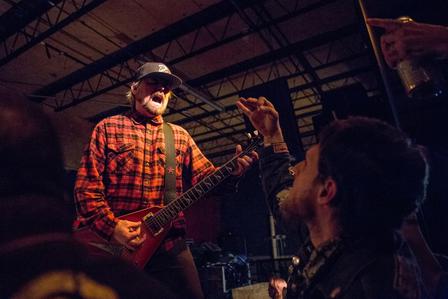 PUNK GLOBE: I know that No Anger Control is not your first band. Prior to this band, which of your former bands would you say is your favorite?
Tiff: My favorite is also my least favorite. We started out with kind of a riot grrrl sound and we were call Sheena's Wasted, but then it morphed into a band called Princess And The Criminals, because our bass player thought our original name made us sound like a Ramones cover band. With the name change we moved away from the riot grrrl sound. The band lasted five years, and at one point we got to open for Murphy's Law. Thanks to the amazing and wonderful Eddie in the band Patriot. We toured the east coast some, but it ended very badly with probably the most drama I've ever had in a band. The guitarist is actually now my ex-husband. With that band I learned how to book shows, networking with contacts, how to perform and it taught me what I need to know to be in a band like No Anger Control.
Jason: Mine would probably be the first band I played in, Ordeal. We played kinda NYHC style. That was the first time I picked up a bass, the first shows I played, the first songs I wrote. I still know all those guys to this day. It gave me a good foundation for the bands that followed.
John: I've been playing in bands since 1986, and my first band was called The Entombed, not to be confused with the metal band. I'm not sure if it was my favorite, but I learned a lot playing in that band. I learned band etiquette with other bands. I learned how to deal with clubs and booking agents. I was just a young kid still learning how to play drums. But, we got to play a lot of great shows with bands like The Undead and Reagan Youth.
Levi: I would have to say the band I was in in Portland, Maine at the end of the 90s called Don't Hit Your Sister. And, I have that tattooed on my left arm. We were a mixed bag of personalities. We had a female bass player, that was a first for me and it was awesome.
PUNK GLOBE: What year did No Anger Control start and how did you meet one another?
Levi: July 2012.
Jason: I had met Levi through a Craigslist ad several years prior to that. He was already playing in a band called When It Hits, but he was trying to get another band together. We got together a couple of times, but it didn't end up materializing into anything. But later I saw an ad looking for a bass player for When It Hits. Levi and I ended up playing together in that band for a couple of years. About a year after that band broke up, we decided we wanted to get a new band going. We knew John from his band South Side Punx.
Levi: I'd like to go on record, South Side Punx is my favorite band in Charlotte, always has and probably always will be. Jason and I talked with John at a South Side Punx show one night, and we told him that were trying to get something going. Not long after that, the three of us started working on some stuff that John had already written by himself.
Tiff: They were playing as a three-piece, and they recorded a few songs before I even moved to Charlotte in September of 2012. Jason and John had seen me with the BAMFs. John approached me at The Milestone one night and asked me if I wanted to try out. We ended up playing a show in December in Rock Hill, South Carolina at Firewater 110. I did like three or four songs with them and at the end of the set they said, 'hey, we want you in the band.'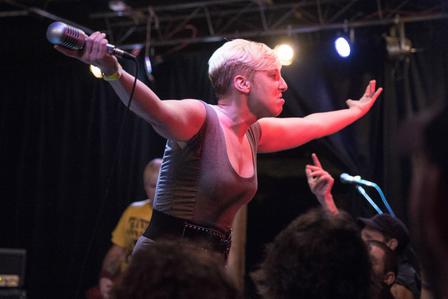 PUNK GLOBE: How would you describe No Anger Control to someone who has never heard the band before?
Tiff: Real loud, angry and fast. I guess you could say we've got a little taste of Minor Threat.
Jason: I think our music has some oblivious '77 punk influences, but also some of the NYHC stuff that John and I grew up with. Some breakdowns, different thrash elements, it's definitely a mash up of all of the music we love.
PUNK GLOBE: Tiff, what inspires your lyrics? What kind of stuff do you write about?
Tiff: I literally write about what is making me angry. I know that sounds cliché, but that's the truth. Sometimes Jason will bring a song to me with lyrics, sometimes we will work on them together, but it all comes from what we're seeing around us. The things we witness on a personal level, in the music community. When I see my friends getting treated like shit, and other people are glorifying it. I'll write a song about it. Take for instance the song "My Time." There's a lot of rumors that go around in any music community, and I'm tired of it. So, when I wrote the lyrics for "My Time," I wanted it to be my way to get up on stage and tell these people to just shut their mouths. I want those being talked about to know that someone else sees what is going on. That they aren't alone. I see you. I hear you. I understand what you are going through. We are going to make sure that other people know, too.
PUNK GLOBE: In 2013, you released your self-titled, 8-song debut CD. Was your first recording a difficult process? What's your favorite song and why?
Tiff: [laughter] Am I allowed to bring this up? [laughter] I'm not going to tell the full story about everything that happened, but I literally got attacked by a dog right before we recorded that. Everyone was saying I needed to go to the emergency room, and I was like 'no, we need to do this now.' I didn't want to lose the momentum that we had going already. It pushed me. It made me even angrier. So, we went ahead and recorded that day. I believe that I put all of my fire into that recording, especially the song "Take It Back." I think it completely explodes on the album.
PUNK GLOBE: Isn't that fire, as you call it, what most people refer to as rabies?
Tiff: Every band is better with rabies. [laughter] I did get a tetanus shot the next day, so we're good.
John: Yeah, I think that came out as a real solid CD. To be honest, it isn't my favorite release. I thought the mix was good, but I wanted it to be a little more raw. But, everyone else loves it.
Jason: I thought it came out great. My favorite song is "No Anger Control." It's kind of become the theme of the band. We play it usually towards the end of the set, and it always gets a great response.
John: You know, that actually that wasn't our first release. We did do a four song EP as a three-piece before Tiff was in the band.
PUNK GLOBE: Really? I didn't know about that.
John: Yeah, we recorded the whole thing at my house.
Jason: We probably have about a hundred of those laying around if you want a copy.
Levi: I don't think I have a copy, actually.
Jason: We'll hook ya up. [laughter]. Yeah that was the moment we realized we needed a singer.
PUNK GLOBE: So in 2016, you hooked up with Drunk in a Dumpster from Asheville, North Carolina and released a split LP on No Profit Records. What's the story behind that?
Levi: Jason and I were talking after a matinee show at The Milestone that we should talk to David Baird, the singer of Drunk in a Dumpster, about releasing a 7" for us on No Profit Records. He is been running a label of some kind for more than 20 years. No Profit Records started in 2010, but before that he did Peer Pressure Productions back in the 80s and early 90s. We had no idea of how to breech the topic with him. So, we decided, let's just go ahead and text him about it. He responded with, 'it's funny you should bring that up. Drunk in a Dumpster is recording some songs soon, but it's too much to fit on a 7". I was thinking about asking you all if you wanted to do a split LP with us.'
Jason: Yeah it was really just good timing. We've played with those guys plenty of times. We love those guys. And, I think each band complements the other band's music well. It was a great fit.
Levi: And that relationship continues to be awesome. We just played a show with them last weekend.
PUNK GLOBE: What's your favorite song from the No Anger Control side of that split and why?
Tiff: "My Time" that song I was talking about earlier. That song is just so powerful to me, and when I think about the lyrics, they aren't even the best lyrics I've ever written. It's just what the song is about. People spread rumors, gossip and lies about others, but are you really thinking about what is being said. And, why do you automatically believe what they are saying? It's a big problem right now. Plus it's real fast. I love it.
John: I like "Vanity" a lot and "My Time," too. Both songs are just so different from each other. "Vanity" is just kind of a straight-forward tune. It's got a cool little hook and drum wise it's easy to play and it's, you know, catchy. When you listen to music, you want something that grabs your attention and both of those songs do.
Levi: We spent more time on the split record and I really like the way it came out. And, I like "My Time," too, but "Bloody Friends" is just low and mean and it's just got that driving beat. It's a real fun song to play. As an aging punk rocker, when I hear a band play a song like that, I think to myself, 'ok, I'm going to go take a couple of laps in the pit.'
Jason: I like "My Time," too. It's a classic hardcore song, with the breakdown and dueling vocals. It has a lot of pretty cool elements to it.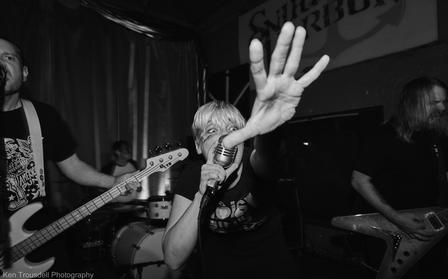 PUNK GLOBE: What's the Charlotte scene like? Who are some of your favorite bands? Where are the best places to play?
Tiff: When I lived in Raleigh, I came to Charlotte two different times with my band The BAMFs, and we played at The Milestone. I remember playing there the first time and I was thinking 'oh my god, look what they have here.' The scene was like a family. They pulled me in and accepted me right away. People started asking when I was going to move to Charlotte and start a band. People wanted me here, and it felt so good. I'd experienced that some in other places, but not like it was here. There are tons of people that put their heart and soul into what they are doing. They actually care. When a venue closes here, they find a new location. They don't give up. I don't care what is put in front of us or what we have to face, we will not be stopped. And, we have The Milestone that was opened in 1969. That's several years before CBGBs. We've got Snug Harbor down on the main strip. Anyone can walk in and see you play. They bring in acts like Valiant Thor and different bands that will draw a huge crowd, but they still look out for the local bands. Then there's The Station that's more DIY, and it's great, too.
John: Yeah, we've played out in a lot of different towns in the region and Charlotte really has a lot going for it. Unfortunately, there's a lot of growth in Charlotte, so some clubs like Tremont Music Hall are getting closed down. But there're a lot of music fans here, and the scene is really strong. Where I come from there are no music venues at all anymore. It's really sad. I think even New York City is hurting in that department. So we're lucky here in Charlotte.
Jason: There's so much diversity with the bands here, too. There are tons of punk bands, metal bands, hardcore bands. Some of my local favorites are The Commonwealth, Van Huskins, DSR and these are just off the top of my head. There are so many talented bands here. You can go out on almost any night and catch some kind of hard music show somewhere.
Levi: When I moved to Charlotte in late 2007, that New England experience was fresh in my mind. Seeing all of those heavy hitting bands up there when they were playing small rooms, ya know. But when I got here, I started seeing bands like 25 Minutes To Go, South Side Punx, The Rogue Nations, The Not Likelys and others, and I quickly realized that pound for pound that this town has bands that are as good as any band I saw living up in the northeast or what I saw when I was out in Los Angeles. And in the ten years I've been here, the bands and the scene here have only gotten better. We aren't on I-40 or I-95, so I think a lot of bands bypass this area, because they just aren't aware of what's happening on here. Charlotte has really got it going on.
PUNK GLOBE: Tiff, you identify as a Christian. Do you ever get hassled by people or ostracized because of that?
Tiff: I'm not really open about it when I first meet someone. I don't walk up to people and introduce myself as a Christian. I'll really only mention it if it comes up in conversation. But, I gotta be honest. Whenever I hear people smack talking Christians, or I see the horrible things my friends say online; two things come to mind. Do any of them realize I'm a Christian, and that I NEVER tear down their beliefs? And I wonder, what else are they saying behind my back? It's not going to change my beliefs, and it won't make me smack talk yours. I see Christianity as being kind to others, and more of a golden rule type of thing. I treat others the way I wanted to be treated. And, when I explain it like that to people, most of them can relate to it and understand. It's part of who I am, like it or not.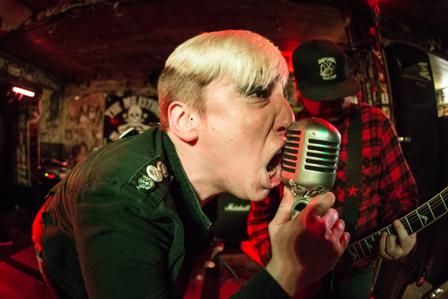 PUNK GLOBE: John, you're the only member of No Anger Control who is in other bands, can you tell us a little bit about your other projects?
John: I've been playing in South Side Punx for more than ten years. We are a street punk band. Our music is aggressive and fast. The music really kicked my butt when I first got in that band, but I really enjoy it. I also play in another band called, Run Engine, which is more of an alt-rock band, and that's fun because it is totally different than the two other bands that I'm in. The music is a little slower, more straightforward. All these projects keep me busy, and I love playing drums. I know too many people that I played in bands with when I was younger, who have just stopped playing music. I refuse to do that.
PUNK GLOBE: Levi, you got seriously hurt skateboarding a few years ago. What happened and don't you know that you are too old for that shit?
Levi: [laughter] You're wrong about the old part. Because I know a ton of skaters who rip on me, and they've got 10 or 15 years on me. I work in a factory, second shift, 3 to 11. I have a mini-ramp in my backyard, and I wanted to get some skate time in on a Tuesday afternoon. I knew things were slow at the plant, and I had some sick time, so I called my boss and told him I was sick that day. Here's a lesson for all of you kids. Don't do that, because karma will come back to bite you in the ass. I folded my ankle at almost 90 degrees, and that was bad enough. But, about two weeks later, I was in the emergency room because I was having trouble breathing and other issues. It turned out that I had developed blood clots in my leg and in my lungs. Apparently, I have a genetic predisposition for this. I spent four days in the hospital, and another week in bed at home. I called in, lied to my boss and the universe punished me for it.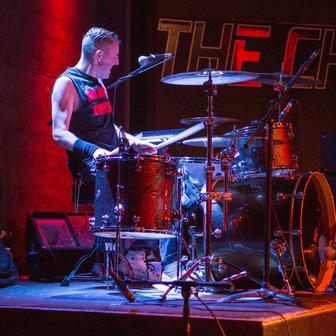 PUNK GLOBE: But, now you get to wear those sexy Suicidal Tendencies socks though.
Levi: [laughter] I'm supposed to wear this compression sock that goes up pass my knee. I've had people think I have a prosthetic. Other people think that I just don't know how to dress myself. [laughter] So, I wear my Suicidal Tendencies socks, they're high socks, and they cover it up. Then no one bugs me when I'm wearing shorts.
PUNK GLOBE: Levi works in a factory, what do the rest of you do to pay the bills?
Tiff: I'm a nanny. I've been with the family I work for almost five years. There are two little boys. They were two and four when I first started, now they are seven and nine. Yes, they do know the band. Yes, they do know some of our lyrics, but only the ones without cursing. So, they don't know much. [laughter]. It's a great job. I've always worked with kids. I've been a teacher before, and I've even worked in a hospital with kids. Me molding the minds of future generations might be scary for some people, but I promise you they're going to be very cool kids.
John: I work at a hospital. I do medical education simulation for training doctors and nurses. So basically I play with dolls, big dolls. [laughter]
Jason: I'm a vehicle fleet analyst. Whatever you wanna think that means. [laughter] Basically I ANALyze vehicles. [laughter]
Levi: Cars have anuses? [laughter]
PUNK GLOBE: Jason, I've heard that you are a pinball wizard. Do you really collect pinball machines?
Jason: For me, playing pinball is kinda like playing music. What I lack in skill, I make up for with enthusiasm. [laughter] I never got into video games when I was growing up. So when I would go to an arcade, I always played pinball. I bought my first machine about ten years ago. I've bought and sold a bunch of them since. It's probably a harder hobby to have now that there is some renewed interest with all of these arcade bars opening up. So that's making it a little more difficult to buy stuff. The biggest problem with collecting pinball machines is that they breakdown a lot, and you run out of room in your house really quick. I'm at max capacity right now. I think my wife is gonna kill me if I come home with another pinball machine. [laughter] There's a pinball machine sitting in the middle of my living room right now. [laughter]
PUNK GLOBE: What advice do you have for those out there who want to join their first band?
John: The best advice is just get out there. If you think you're too young or you don't think you are good enough, just do it. Just start and continue doing it, and you will get better. And, enjoy it. Do it for fun.
Jason: It helps to get together with people that have the same goals. You have to realize that there are gonna be ups and downs. There will be points where you are probably going to hate the other members of your band. But, you have to be mature about dealing with that stuff. Just stay focused on the goals of the band, to record albums, go on tour or whatever. Get your set of goals together and stay focused on them.
PUNK GLOBE: Last question. Contest time. Who has the most embarrassing onstage story?
Tiff: Oh, no. [laughter] This happened to me in another band I was in. I'd never really realized how hard I sing, until this moment. It was that time of the month, because I am a woman, yea. I was on stage at The Maywood in Raleigh, and I sang so hard and pushed so hard, that my tampon shot out. [laughter] It went down one of my pants legs. That was pretty embarrassing because everyone out in the crowd saw it too.
PUNK GLOBE: Wow, that's a good one, who can top that?
John: Not me. If I have any, I blocked them out.
Levi: No ankle control? [laughter]
John: You can't top that one from Tiff.
Jason: I'm racking my brain for times when I, like, crapped my pants. I'm like, that's not as good. Dammit, Tiff wins.