Nipple Violator
Double Suck (12 inch EP)

by Carl Macki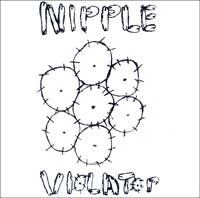 Nipple Violator
Double Suck (12 inch EP)
Bloody Stump Records -- BSR-001
Buy album $9.75
http://www.foreignfrequency.com/bloodystump.html

Personnel
Bloody Shit Napkin -- Lead Vocals
Mucous Lubricant -- Guitar
Disembowled Man -- Bass
Fetus Eater -- Drums

Tracks
Double Suck
Feces Addict
T.S.B.
Jesus Wants To Fuck You
Stalk The Children
I Wanna Die
Revolution Now
You're My Fuck Toy
Annihilate The 90's

Gardiner, Maine band rocks out in the style of G.G. Allin. Careful!