I caught up with the multi talented Nick Oliveri at The World Awareness Day For The West Memphis Three at The Anarchy Library on July 23rd.I had been a long time fan and was thrilled to have Nick agree to the following email interview. I hope you enjoy it.
Punk Globe: Hi Nick, Where to begin. How about with all the bands you have played with?
Nick: Katzenjammer, Sons of Kyuss, Kyuss, Dwarves, Jugulars, Blag Dahlia, River City Rapists, Mondo
Generator, The all time lows, Masters of reality, and Queens of the Stone age.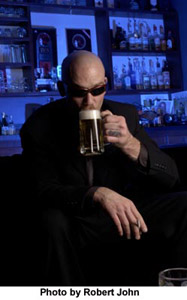 Punk Globe: I had read that you joined the Dwarves after leaving Kyuss that is quite a change and you played Guitar rather than play bass. That is cool.
Nick: Yeah, I've always been a dwarve. In 1990 Blag and,co. took Kyuss out on our first major tour. Brant Bjork (drummer) and I being fans of the band , made sure this happened.

Punk Globe: How long did you play with The Dwarves? Did we ever meet when you were playing with them. I met Blag when he moved from Chicago to SF

Nick: I believe we met and as you know I am familiar with your work with the dwarves. As far as how long I have played with the dwarves. Since 1993, the Sugar fix tour.

Punk Globe: Did you tour alot with The Dwarves?

Nick: 1993-on and off again till present. I wasn't able to always go on tour, because of Queens and Mondo Generator but I was always on their records in some form

Punk Globe: That is great! You were always involved recording with The Dwarves

Nick: I'm on 5 albums as Rex Everything.

Punk Globe: When did you play with Masters Of Reality? How long did you play with them?

Nick: I played on Deep in the whole record and did the tour and also we recorded a record called Flak n
Flight. I guess about a year. I hope to do more work with Chris when he feels like doing Masters again.

Punk Globe: What year did you and Josh Homme decide to form Queens of The Stone Age?

Nick: In 1997, Josh came to a Mondo Generator show in Austin, Texas (SXSW) I was living there and most local unsigned bands were not allowed to play the festival. So we all played a show called "South by So What" @ a gay bar by day , punk club at night called the "Blue Flame" . All these industry folks were there so I took off my clothes filled my mouth with 151 and blew fire right over there heads burning eyelashes & grabbing there attention. after gig Josh asked me if I would consider moving back to the Desert. The rest is history! (Sorry about the long answer)

Punk Globe: I remember talking with Mark Lanagan when he was staying at Duff from Velvet Revolver's house with Paul Solger (The Fartz). He was mentioning something about you and Josh and this was in the late 90's.

Nick: Yeah Mark is one of my top 5 all time fav singers. He sang on Rated R around that time. He sang lead vox on " into the Fade" And backups on Autopilot , & Think I lost my Headache

Punk Globe: How many recordings did you do with Queens Of The Stone Age ?

Nick: With Studio, live acoustic & band stuff (B Sides, Ep, Etc) Hundreds

Punk Globe: Were all your recordings with Inpecac Records? I love Greg Wreckman I knew him well when he worked at Alternative Tentacles. He really liked my band White Trash Debutantes alot.

Nick: I also think Greg is a stand up guy! well I first started working with Ipecac with Mondo G's 2nd
album " a drug problem that never existed "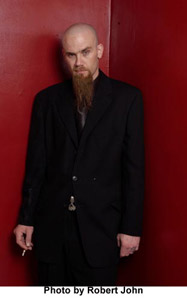 Punk Globe: Did you tour a lot with Queens Of The Stone Age?

Nick: Every tour since the band began! About 5 1/2 years . When we off tour we were in the studio , or
on tour together in Masters of Reality or I was filling in off days with Mondo touring and recording
so its good to get a break from each other. But all the same a great fucking time!

Punk Globe: No one can accuse you of being lazy! Any favorite Countries that you enjoyed playing?

Nick: Argentina, Brazil, U.K. , Poland , Japan. to name my top 5!

Punk Globe: The White Trash Debutantes played an after party for your show at The Joint in Las Vegas a couple years back and it got really wild with a big mosh pit and wild shit going on.

Nick: That was a cool show! I had a really good time. I think i won a couple $$ that trip!

Punk Globe: What year did you start Mondo Generator ?

Nick: I recorded "Cocaine Rodeo" with my friend Steve Feldman @ Chris Goss' Monkey Studios in Palm Springs, Ca. It was a Kyuss reunion that kinda slipped through the cracks. I called Josh, John, and Brant all separately and they didn't know that we were going to be playing together until we were all in the same room! Oh yeah: 1997

Punk Globe: Was Mark leaving Queens Of The Stone Age a major factor in you also leaving the band?

Nick: Well that is quite complicated. I was a 50% owner/partner with Josh in the Queens. Josh had fired Mark after a tour in Australia, and didn't bother to ask me my opinion. Up until this time everything we did we made sure both partners agreed on any and all decisions. Unfortunately , Josh had me sign a thing that was suppose to be a limited liability partner agreement. Because I trusted my longtime friend(known him since age 14) I just sign it. Well it turns out I signed my "voters share' of the band.(50% Josh 50% Me) away to Josh. In other words @ 50/50 , neither one of us could vote each other out. Now with Josh having a controlling share he also voted me out of the band. Mark was fired for using , and I'm still not sure why he dissolved our friendship and partnership? He has said about 10 different things in 10 different mags.The fact still stands , I was fired right before the record advance for , what would have been our next release come in.

Punk Globe: That is really fucked up! Might I add I think you were the coolest member in Queens Of The Stone Age. You had a heart, liked to have fun and that rawks for me!

Nick: Thank you

Punk Globe: I really enjoyed your set at The West Memphis Three benefit at The Anarchy Library? But, that was not the full band am I right?

Nick; No , I sometimes have my whole band with me , but,my band lives in England . I''ve Ben Perrier on Guitar , And Ben Thomas on Drums . Both from the band 'Winnebago Deal". Check them out . very heavy and great live too! But for the WM3 I'd play by myself if no one else can!

Punk Globe: Tammy Adin will be so happy to hear that. How long have you been a supporter of The West Memphis Three? I know that Margaret Cho is like a Guardian Angel for them.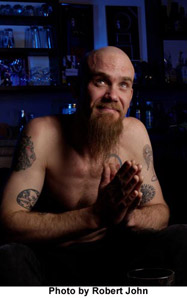 Nick: I first found out about them from " Paradise Lost" 1 & 2 then a phone call came in from Henry Rollins, and I got to sing vocals on "Jealous Again" on the "Rise Above" record. Rollins was very cool too! It was a pleasure and if anything that I can do to help is cool.

Punk Globe: Who are some of your musical influences?

Nick: Black Flag! , Black Sabbath , Ween , Dicks , Bad Brains , RAMONES , Motorhead , Butthole Surfers, Modern Lovers , Devo , New York Dolls , Stooges ,Sonics , Elvis , Dead Kennedys , Rollins Band , & of course the Debutantes

Punk Globe: Nick, You DO know how to make a girl feel good! Tell the readers about Mondo Generator recordings.

Nick: Well the recordings so far have been nothing but a good time , With nothing to lose it's always fun!
angst , humor , sex , a little this a little that! you name it . Anything goes, Uncensored!

Punk Globe: You just got off tour with The Dwarves. Where did that tour take you? You are also going to Europe right?

Nick: We just did a west coast . But we are going back to Europe! Very exciting! Dwarves @ Reading & Leeds Festivals both about 100,000 people! Very big shows , I cant wait!

Punk Globe: I know I should not ask you such a serious question but what the hell. If you could be
one of the girls from "The Facts Of Life" Who would you be? Natalie, Tootie, Blair, Jo, Mrs. Garrett or Beverly Ann.

Nick: I do know this show from being a kid. And I always wanted to be Gerri Jewel! Or maybe I just wanted her?! Blair's cousin the comedian!

Punk Globe: Any words of wisdom for Punk Globe readers and tell us what is in the future for Mondo Generator?

Nick: Positive: sex on speed , Negative: being alone on speed
Mondo Generator will be recording new songs for new record this fall! Check it out !
Thank You - Nick Oliveri aka - Rex Everything

Punk Globe: Thank you Nick! It was my honor and privilege to to speak with you. Readers make sure to check out Mondo Generator The Dwarves, Rex Everything and most importantly Nick Oliveri.