Punk Globe:Thanks for doing this interview .. Give us a description of Delito Proletario?
NAPOLEON GUITAR:Crime Proletariat/Delito Proletario is a band of Oi! With influences of Street punk and hardcore, with combative lyrics that express real life experiences, and the crude reality in which one lives.
Punk Globe:Tell us about the members of Delito Proletario?
NAPOLEON GUITAR: The members of the band are Mauricio González (vocal), Napoleón Saenz (guitar), Carlos Mejía (bass), Stanley Ramos (2nd guitar), Sandor Dubon (drums).
Punk Globe: Tell us how you came up with the name of the band?
NAPOLEON GUITAR: As the name comes in allusion to the working class, since we come from working families, our parents, friends, our people, and the members of the band struggle every day to survive, because in this country it is a Crime to be proletarian and poor.
Punk Globe: Where is the bands home base and in what year was the band formed?
NAPOLEON GUITAR: The band is originally from Santa Tecla, El Salvador, we formed in June 2016, and we are all from the same neighborhood.
Punk Globe:How many albums do you have out and when were they released?
NAPOLEON GUITAR: We have a Demo and an Album, the Demo we released ourselves, in November 2016, is titled: "Do it yourself or die," with 5 songs recorded casually, and 1 professionally recorded for a tribute to the Chilean band Curasbun.
In May of 2017 we released our first album called "Oi! Like yesterday ", under the label SOLID FOUNDATION RECORDS, consisting of 10 tracks of Streetpunk Oi! And a bit of Hardcore influence on some songs.
Punk Globe: Tell us about your last Cd. Who writes the music and what do they reflect?
NAPOLEON GUITAR: The last CD that is called "Oi! As yesterday "contains 3 remastered songs from the demo, and 7 new ones. All the songs have been composed by Napo, the guitarist of the band, with contributions of ideas of the others of the band, which reflect motivational subjects, experience between the scene, social discontent, fighting spirit, etc.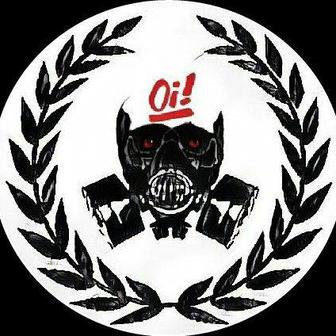 Punk Globe: What is the story about the graphic designs for the covers of your releases?
NAPOLEON GUITAR: The graphic design of our Demo is quite related to the idea of ​​it, since the title is "Do it yourself or die", and the cover is about a doctor who operates the same, we did it in reference to the effort to create music in a country where there is no support for this genre.
Punk Globe: Who are some of your musical influences?
NAPOLEON GUITAR: Influences come from the Oi! , Street Punk, and Hardcore, among some bands we can mention are Cockney Rejects, Sham 69, Perkele, Non Servium, Urban Kaos, Agnostic Front, Madball, etc.
Punk Globe:How is the music scene in El Salvador?
NAPOLEON GUITAR: The music scene of our genre (punk) is quite stereotyped by ideas that point that people who are involved with the Oi are all addicted, delinquent, violent, etc. Well, that is not true, there are many productive people in the Oi scene.
Punk Globe:Are there a lot of places to play at El Salvador?
NAPOLEON GUITAR:There are just a few places to play, because we live in a country where society is quite prejudiced, and are not tolerance for certain musical genres that the general population do not understand. There are also bars that no longer book shows because there have been fights at the concerts, but in recent years this has gotten better.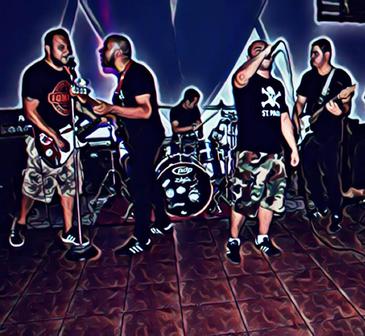 Punk Globe: Some favorite place or city for your show?
NAPOLEON GUITAR: Well we do not have favoritism of place or city, what's more, we play in the punk and skin scene, it's the scene that gave birth to us, but we also played in ska shows, hardcore concerts, and also in the scene Metalera, which have supported us enough and been tolerant of our music.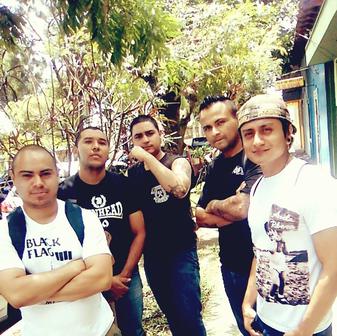 Punk Globe: The band signed with a record label or is it independent?
NAPOLEON GUITAR: The Demo "Do it Yourself or Die" is independent, and the album "Oi! Like yesterday ", we released it in the recording studio of Solid Foundation Records, which is a friend of the band, so there has never been any signed contract or something formal legal for that release.
Punk Globe:Do you remember your first concert? Tell us what you feeling at the time?
NAPOLEON GUITAR: The first concert was on June 25, 2016, almost the year since, and it was in the Plaza El Salvador del Mundo, where it was a big stage, a lot of people because there were 18 bands playing that day, Concert, was a big challenge, because it was not our first toke in a small bar with few people, but it was great, and it was a mixture of nerves and emotion at the same time.
Punk Globe:Have you performed national tours in Salvador or international band?
NAPOLEON GUITAR: We have not gone abroad yet, we are a new band, which we are beginning to know in Central America, there have been ideas from a friend from Honduras, Guatemala and Costa Rica to go and play there, But we hope to make it happen this year.
Punk Globe:With which soloist or band would you like to share stage?
NAPOLEON GUITAR:Well in this country that is very rare for a band of our genre of Oi/ Hardcore, I can say that with anybody, lol, but personally according to our influences we would like to share the stage with bands like Cocksparrer or Non Servium. That would be a killer show.
Punk Globe:What is the best anecdote lived in a concert?
NAPOLEON GUITAR: Always the best anecdote has been our previous concert, since we have seen that every time the shows pass people support us more, and sing our songs, each concert is becoming the best anecdote.
Punk Globe: And the worst?
NAPOLEON GUITAR:For the moment we have not had a bad show which is remarkable. Perhaps when the battery case was stolen from our band.
Punk Globe: Tell us what you all do besides playing in the band?
NAPOLEON GUITAR:We all work or study, Piro the lead singer of the band is licensed and works in a company, Napo is a student, Penk the bass, works in a supermarket, the crazy Stan is exploited by a call center, and Sandor the drummer in electrician.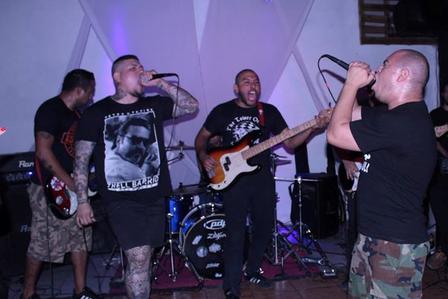 Punk Globe:Do you have any Internet addresses you would like to share with Punk Globe readers?
NAPOLEON GUITAR: WEB:
https://delitoproletario.bandcamp.com/releases
FACEBOOK:
https://www.facebook.com/DelitoProletario/?pnref=lhc
YOU TUBE:
https://www.youtube.com/channel/UC144ZvDhWRWdEqGffVVjQIw
Punk Globe:Some last words for Punk Globe readers?
NAPOLEON GUITAR:Many thanks to Punk Globe for opening this kind of space for promoting Latin bands, and congratulate them on their very hard and beautiful work of the magazine! Matthew Coleman/Sharla Cart you do a great job! Health and Hi!