Key Arena, Seattle WA
By: Gabrielle Tittel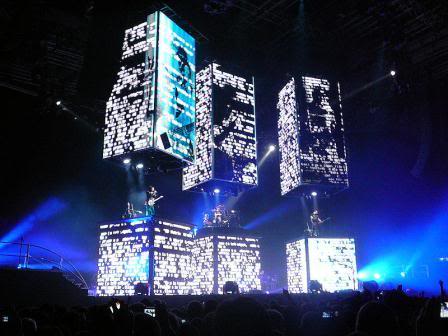 Muse, the English band that has slowly crept its way into our rebellious and ever greedy appetites for new and amazing music, has made a permanent home in the hearts of many Seattle-ites after they rocked us ragged April 2nd at Seattle's Key Arena.
Starting out in 1994, in Teignmouth, Devon; England, Matthew Bellamy, Christopher Wolstenholme, and Dominic Howard united to begin their long career together, blending Rock, Classical, and Electronica, creating a sort of Space-Rock that has become loved by so many world-wide.With their 7th album, The Resistance, Muse had their first opportunity to produce their songs themselves, as well as launch their longest tour to date, which started in Finland last October, and won't finish until September of this year. I had never seen Muse, and determined to catch the show, went to the Key money in hand. Then I did what any other fan in my position would do, looked for a scalper and began to haggle for a good seat at a low price. Drenched by rain so typical of the North West I made a deal, and hurried inside. I had already missed the Silversun Pickups and was admittedly sad but kept in mind my ultimate purpose which was to see Muse in action.
As the lights went down I was struck by an amazing set, the intricacy and scale I'd never seen before. Three life size skyscrapers stood on a circular stage and on each tower were projections of city lights, men walking down stairs and later in the show, the band members themselves. This was spectacular in itself, but when the towers broke in two, the bottom half lowering to reveal the musicians standing there while the top of the skyscraper hung in place above them, in combination with the music, it was perhaps some of the most spectacular and thrilling stage presence ever. The set started with "We are the universe" as an intro to the pulsating "Uprising". From there we were beaten against wave after wave, as we heard one hit after another. "Resistance" was played straight with a calculated coolness, of which Bellamy is no stranger. The crowd showed real hype for "Super Massive Black Hole" and was every bit as good as the famous Wembly Stadium performance of the same song. By "United States of Eurasia" I began to see how Queen was infact a huge influence on their sound. Towards the end of the show things began to slow down. Throughout, the towers were rising and falling and as the music took its turn toward the sincerest melodic, Bellamy's platform again rose, this time to reveal a translucent piano that he then played wildly and beautifully. There were moments sublime during this 3 to 4 song section where it was just piano and voice and the entire audience was in awe of Bellamy's angelic voice. You could have heard a pin drop. It was at this point I was actually crying and pondering the possibility that had Anne Rice's novel Lestat been real, it would have undoubtedly been this band, and Bellamy the unearthly talented Lestat. Picking up again after the tart and sexy "Undisclosed Desire" Muse went on to close their show with "Plug in Baby", and after only a few minutes of shouts from the audience came back on to play an Encore of three. They ended the evening with a personal favorite "Knights of Cydonia".
All told it was one of the best shows I'd seen in years. If I'd had any complaints it would have been with the seriously lackluster and oh so typical Seattle crowd that seemed just too cool at times. I honestly believe one should stay at home unless they are willing to be a part of the concert experience. Muse will go down in history as pioneers of rock, not because their sound is so unique, but because they are in fact such tested and true musicians with an uncanny ability to blend music that moves us with God given talent creating something that is soulful and inspiring.
If and when they come to town, by any means necessary, get there. Bands this great are few and far between these days. And as for Muse, I'm sure this is only the beginning of continued success and musical genius.