Motor 76 recorded 'Plastic Classic' during 2005/2006 with producer Rob Gal at Snack 'n' Shack Studios, Atlanta.
Lars and Bryan's influences include the Stooges, Ramones, Dead Boys, Devil Dog's and the Heartbreakers.
With the addition of new drummer, John Barnes, and a new bass player, Ken Plastic, Motor 76 played Europe twice (06 & 07) along with this last June, where they played CD Release Parties for 'Plastic Classic'. They played in Ireland and took the place by storm, finishing up at London's 12 Bar Club on June 15, where London's very own legendary 'Simone Stenfors' came out and rocked with the band.
Lars : Simone told Bryan and I that she'd seen the Heartbreakers a bunch of times, along with being good friends with Johnny Thunders and Jerry Nolan, and she liked Motor 76 a lot!! We were thrilled and honoured to play for her and her friends from 'back in the day' because a lot of the riffs we write on the guitars are based upon those wonderful heroes of ours.
Playing the 'Plastic Classic' release party at the 12 Bar Club was everything this record is….Sweaty and LOUD!!!!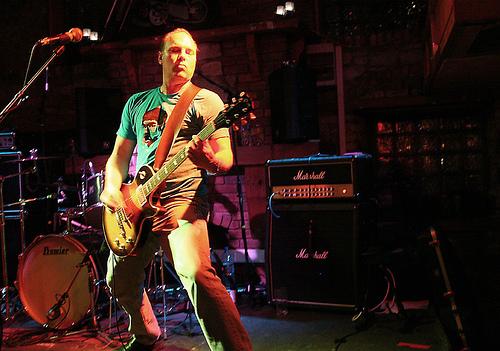 Motor 76 Line-up
Chris Gray – Vocals
Bryan Stuart – Lead Guitar
Stevie E – Bass Guitar
Lars Nagel – Rhythm Guitar
Brad Parker – Drums
John Barnes – Drums
Ken Plastic – Bass Guitar
Songs
You Got Nothing
One Night Stand
Lead You On
All Used Up
Long Way To Go
Plastic Classic
Blacklight
Rock n Roll Whore
Loud, dirty, snotty guitars and a blistering backline sets up the show very nicely for Motor 76, on this release 'Plastic Classic'.
The tempo is just right, the volume shocks you to the bone, it's high energy rock 'n' roll served up just like it's supposed to be.
The guitars snarl in the styles of Johnny Thunders and Ramone combined and the rhythym section blitzkrieg and pure-driven lyrics back it all up. Think Iggy and The Stooges 'Raw Power' and the Dolls first album and your almost there….This is pure, dirty rock 'n roll and it takes no prisoners!
Motor 76 officially RaaaWWWKKK!!!!
Check 'em out at …
Motor 76 Myspace site : http://www.myspace.com/motor76rocks
Motor 76 Website : http://www.motor76.us
Katie O' Neill , Jason Shattles Photo Credits
ChrisRock 2007 PunkGlobe