MISS GUY started the NYC legendary club SQUEEZEBOX which became world famous for giving rock'n'roll back to NYC. It was the place to be, where celebrities were dancing with everyone and the stage was kingdom of rockstar, rockers, punky drags and anybody in love with good old rock. He found himself leader of one of the real last glamrock band TOILET BOYS touring with the big names all over the world. Now he's one of the best djs in NYC and soon he'll be out with his own CD "TAKE ME TO ANOTHER WORLD" so before his departure for another world enjoy this interview and run to his dj sets…he might be soon one of the " last of the international icons"…
W GUY!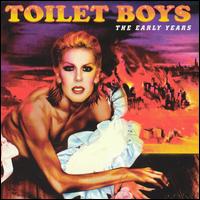 Punk Globe: How did you start Toilet Boys?
ASKED A FEW FRIENDS, WHO PLAYED INSTRUMENTS, IF THEY WANTED TO PLAY WITH ME FOR ONE SHOW OPENING FOR DEBBIE HARRY & THE RESPONSE TO THAT FIRST SHOW WAS SO GREAT THAT WE GOT ALL THESE BOOKINGS.
Punk Globe: Are you guys still together or have another project?
NO, WE'RE NOT. WE'LL DO SOME SHOWS IN THE FUTURE, BUT NOT ANYTIME SOON. SEAN, EDDIE & I ARE ALL DOING OUR OWN THING & AS FOR THE OTHER GUYS, I DON'T KEEP IN TOUCH WITH THEM, SO I DON'T KNOW WHAT THEY'RE UP TOO.
Punk Globe: What are the bands that inspired TB?
WE HAD INSPIRATIONS AS A GROUP & INDIVIDUALLY. I GUESS THE ONES WE AGGRED ON WERE THE RAMONES, KISS, THE MISFITS, MOTLEY CRUE & THE LIST GOES ON REALLY.
Punk Globe: Was it difficult to have your first record to be published?
NO, SOME GUY WITH A SMALL LABEL IN L.A. WANTED TO PUT IT OUT. THAT WAS ROCKANDFUCKINGROLLRECORDS... OR SOMETHING LIKE THAT. HE PUT OUT THE LIVING LIKE A MILLIONAIRE EP.
Punk Globe: How was touring with the real big names like RHCP in huge venues?
THEE ABSOLUTE HIGHLIGHT OF OUR RUN AS TOILET BOYS. IT WAS SO FUCKING GREAT & WE HAD THE TIME OF OUR LIVES AND RHCP WERE REALLY SUPER NICE TO US! AND OFCOURSE PLAYING ARENAS WAS OUR ULTIMATE DREAM ALTHOUGH WE WANTED TO BE THE HEADLINERS, BUT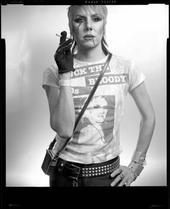 Punk Globe: Can you tell us more about the legendary "SqueezeBox", how did you start djing there?
WELL, I STARTED THE NIGHT WITH A COUPLE FRIENDS & IT TOTALLY BLEW UP BEYOND OUR WILDEST IMAGINATION. WE WANTED A FUN NIGHT WITH GOOD MUSIC & CUTE PEOPLE.THAT WAS OUR MAIN MOTIVATION. NOT TO MAKE MONEY OR HAVE IT PACKED WITH CELEBRITIES OR BECOME KNOWN INTERNATIONALLY, BUT WE LIKED ALL THAT TOO!
Punk Globe: When "SqueezeBox" started, it was a real news for NYC clublife. I remember that other clubs were all about house and dance. Now in NYC is very cool to play rock. How was the reaction at the beginning? How are the clubs now?

THE REACTION WAS GREAT PRETTY MUCH RIGHT FROM THE BEGINNING BECAUSE THERE WERE A LOT MORE PEOPLE INTO WHAT WE WERE INTO THAN WE THOUGHT. THE CLUBS NOW ARE THE SAME I GUESS. YOU JUST HEAR MORE ALTERNATIVE MUSIC THANKS TO ME & SQUEEZEBOX.
Punk Globe: Do you have a role in the movie about "SqueezeBox"?
I WAS INTERVIEWED FOR IT & I GUESS THEY'LL SHOW TOILET BOYS FOOTAGE FROM WHEN WE USED TO PLAY THERE.
Punk Globe: You are a very well known dj at the moment. How do you choose your setlist?
I DO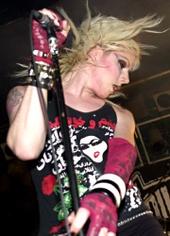 N'T PUT ONE OUNCE OF THOUGHT INTO IT. I GO TO MY DJ GIGS & START PLAYING WHAT I WANT TO HEAR & SEE IF THE CROWD IS INTO IT & GO FROM THERE.
Punk Globe: What about your next record? I know you have a solo project? How did you go from glamrock to electro?
WELL, I JUST DID ONE DANCE SONG, IT'S NOT A NEW DIRECTION. I'M STILL DOING ROCK, BUT I WANTED TO TRY A FEW DIFFERENT THINGS BECAUSE I LOVE ALL TYPES OF MUSIC. AND NOW I'M WORKING WITH THESE PRODUCERS CALLED SUPER BUDDHA WHO ARE AMAZINGLY TALENTED & CAN PLAY A LOT OF DIFFERENT TYPES OF MUSIC, NOT JUST R'N'R.
Punk Globe: What are you planning for the future of your artistic life? Any cooperation with other artists?
I'VE DONE A SONG WITH BOY GEORGE, I'VE DONE A COUPLE SONGS WITH DEBBIE HARRY & WE'RE GOING TO WRITE MORE & I'M HOPING TO DO MORE COLLABORATIONS WITH FRIENDS & PEOPLE I ADMIRE.
Punk Globe: One of your best friend is Debbie Harry which is a real living legend. How did you meet her?
YEAH, SHE IS A LEGEND & THE SWEETEST PERSON IN THE WORLD! I LOVE HER SO MUCH! WE MET SEVERAL TIMES OVER THE YEARS & STARTED GETTING CLOSE ABOUT 5 YEARS AGO I GUESS.
Punk Globe: Are you fascinated with rock celebrities? Who inspired you most?
I USED TO BE, BUT NOT REALLY ANYMORE. I'M A MUSIC FAN STILL & I LOVE JACK WHITE! AND MISSY ELLIOTT! I GUESS ELTON JOHN & DAVID BOWIE INSPIRED ME MOST AS A CHILD. AND BOY GEORGE WAS VERY INSPIRING AND STILL IS. HE'S SO TALENTED & I'D SAY HE'S VERY UNDERRATED. HE'S A GREAT SONGWRITER, PHOTOGRAPHER, FASHION DESIGNER, DJ AND HE ALWAYS LOOKS AMAZING! JACK WHITE IS A BIG INSPIRATION TO ME TODAY & BILLY CORGAN FROM SMASHING PUMPKINS. AND I LOVE CHER!
Punk Globe: Your look is now imitated by any NYC alternative wannabes. Proud or jealous?
I THINK IT'S NICE.
Punk Globe: What are you listening at the moment ?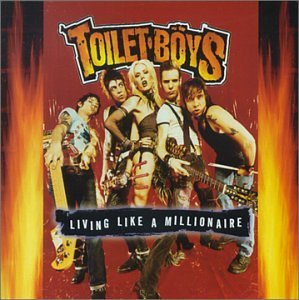 NOVEMBER RAIN BY G'N'R BECAUSE .ME & A FRIEND ARE SINGING IT TOGETHER AT A G'N'R TRIBUTE NEXT WEEK, SMASHING PUMPKINS, ELVIS COSTELLO, ELO, HOLE, BOWIE, ELTON...
Punk Globe: What do you think about MTV music generation and all new boy/punk bands?
I LOVE AND HATE MTV! I THINK IT'S RESPONSIBLE FOR RUINING MUSIC & YET I STILL WANT TO BE ON IT. THE FEW WEEKS THAT MTV2 PLAYED OUR VIDEO FOR ANOTHER DAY IN THE LIFE WAS GREAT. I REALLY THOUGHT THAT WAS IT, THE BIG TIME. HOW WRONG WAS I!?! I DON'T THINK MUCH ABOUT THE BOY PUNK BANDS. I DO LOVE GREEN DAY THOUGH.
Punk Globe: Is rock'n'roll homophobic in 2005?
MAYBE A LITTLE. IT'S ALWAYS BEEN SLIGHTLY HOMOPHOBIC WHICH IS HILARIOUS BECAUSE SO MANY ARTISTS ARE GAY & EVERYONE KNOWS THAT. BUT I THINK IT'S MOST HYPOCRITICAL IN R'N'R WHERE MEN HAVE ALWAYS LOOKED OUTLANDISH... ELVIS, LITTLE RICHARD, MICK JAGGER, BOWIE, MARILYN MANSON, ETC. THAT'S WHY I THOUGHT IT WAS SO WIERD WHEN PEOPLE WOULD FREAK OUT OVER ME WHEN WHAT I WAS DOING WITH TOILET BOYS WAS NOTHING THAT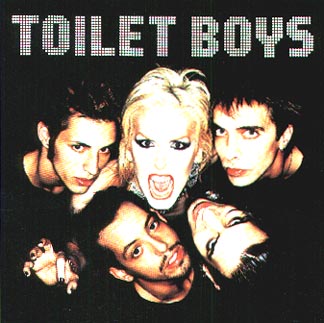 HADN'T BEEN DONE BEFORE. WELL, MAYBE I PUSHED IT A LITTLE FURTHER, BUT IT WAS STILL THE SAME IDEA OF ENTERTAINING WHILE ON STAGE. THANK GOD FOR MEN IN MAKE UP! KEEP 'EM COMING BECAUSE IT IS ENTERTAINING AND EXCITING. DOES THAT ANSWER YOUR QUESTION?
Punk Globe: 5 things you want to say to people you know (you can name them if u want) and 5 things you want to say to people that still don't know you (if there are any between our readers)
1-OK, MISS HOTTPANTS, I WANT TO HAVE SEX WITH YOU.
2-MOM, YOU'RE THE BEST.
3-SEAN & EDDIE, THANKS FOR SOME REALLY FUN TIMES.
4-AND DEBBIE, YOU'RE TOO GORGEOUS.
ANYONE I DON'T KNOW... CHECK OUT MY MUSIC AT MYSPACE.COM/GUYNYC
Punk Globe: 10 MUST HAVE records…
1-SIAMESE DREAM BY SMASHING PUMPKINS,
2- EAT TO THE BEAT BY BLONDIE,
3-STATION TO STATION BY BOWIE,
4-GOODBYE YELLOW BRICK ROAD BY ELTON
5- LIVE THROUGH THIS BY HOLE,
6-MY AIM IS TRUE BY ELVIS COSTELLO,
7-KISS ALIVE,
8-COLOUR BY NUMBERS BY CULTURE CLUB,
9-APPETITE FOR DESTRUCTION BY G'N'R,
10-ALL THAT YOU CAN'T LEAVE BEHIND BY U2
& MY CD, TAKE ME TO ANOTHER WORLD, WHEN IT COMES OUT NEXT YEAR!