"http://www.w3.org/TR/xhtml1/DTD/xhtml1-transitional.dtd">
MEATHOOK
TERROR WORLDWIDE
By: Rotten.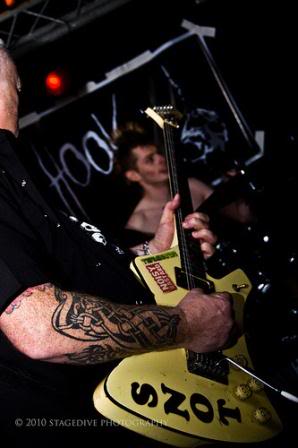 Myself and my girlfriend decided to slope off in the wintry cold snap and sub zero temperatures to Birmingham's old wharf venue on a Sunday evening for the album launch of Hardcore Punk / Metal / Noise merchants MEATHOOK, and after a support slot by the excellent Brum punk's ROTUNDA, Meathook took to the stage for 50 minutes of intense hardcore. They sounded great live, but as with so many bands, they never match it on CD........but surprisingly MEATHOOK actually do!
The album, TERROR WORLDWIDE is an extremely well played and produced album, Kicking off its 12 tracks is an instrumental - almost classical piece, named INTRO TO OBLIVION, which soon gives way to the pounding fury of BROKEN BONES. Singer / Guitarist TAT has got a sound here that will rank amongst albums by Discharge and is in parts reminiscent of the EXPLOITED's THE MASSACRE sound. Complemented TAT with strong bass and drums are JAKE and JAY respectively.
The funny thing is, If I hadn't have braved the weather and gone to the album launch, It would still be an album I would buy definitely. This is a very strong debut and a credit to the band, as well as being good people too.
You can find these guys on Myspace, I really suggest you pick up the album, because you'd be pissed off if you miss it...........MEATHOOK grabs you and forces you to listen, so let them grab you!