The expanded edition of the various artists album, "Max's Kansas City 1976" is released on April 21st,and it fills me with memories of the excitement generated worldwide by it's release; it was the first various artists compilation to reflect the NYC underground scene, an indie product, an early component of the DIY phenomena which was to follow this historic album. I was so excited that one of the earliest headliners of the scene, Wayne County,would finally have tunes on vinyl, after her horrendous treatment by the Bowie company, MainMan, several years earlier..and Cherry Vanilla on vinyl!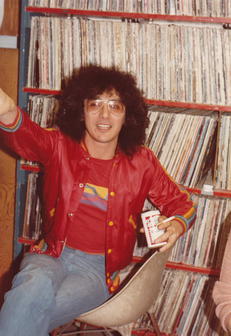 There was a great party at Max's for the release of the album: I had already brought it into Sam Goody's, a major East Coast record chain, as I was the record department manager in a Long Island Goody's store. Prior to the album's release, I had become more notorious than ever by creating the "Death To Disco" button and bumpersticker, based off of John Holmstrom's "Death To Disco Shit" editorial in Punk Magazine #1; I got rid of the 'Shit"and the button became a hit; the night of the Max's release party, Miss County proudly wore her button, as did Cherry Vanilla, who can be seem wearing it in her book "Lick Me" (Vanilla talks about this in her book as well.) We pinned Debbie Harry with one of the buttons and not too long after that, Blondie broke through to the big time with disco sounding hits, "Heart Of Glass" most notably and later "Call Me".
I didn't hate disco, what I hated was both Top 40 radio and FM album rock radio ignoring my obsessions like glam era Bowie, T.Rex, Lou Reed, Mott The Hoople and The New York Dolls; FM stuck to the earth shoe California Eagles type bands, and AM top 40 ran to John Denver, Helen Reddy and then Disco! This turn of events did not please me, and the success of the buttons and bumperstickers indicated that I wasn't the only one who felt that way: the buttons became very popular on Long Island, my home base, so popular that a local group, Twisted Sister, saw the buttons and bumperstickers at Smitty's , a record store next to The Mad Hatter of Stony Brook, a popular rocknroll club where Sister packed them in; the next thing I knew, Sister was advertising a "Death To Disco" party on Long Island's WBAB FM: I was not amused,and jumped into action; I had been managing a local heavy band, Sonic Fury, and fearing that Sister would beat me to the punch, I decided to write and record a "Death To Disco" single,before anyone else did. Thank you Dee Snider, for launching my recording career.
This of course, would not be a Sonic Fury single, but a one off novelty record which would highlight the great band members and set them up for their own release: but what then to call the band? Jayne County's song off the Max's album, also a single release, "Max's Kansas City 1976", ran though the names of all the bands on the scene at the end of the song: Ramones,Lou Reed ,Patti Smith, Talking Heads, the list went on forever and, at the end, Miss County says "..and there's this new group that everybody's talking about, The Psychotic Frogs!" It was a made up name, but astoundingly, worldwide, people who heard the song thought that this was a factual statement; once again, fireworks went off inside my head; built in worldwide publicity thanks to the Max's single and album: Jimi LaLumia & the Psychotic Frogs was born.
My friend, James Nipo Antonucci had started an indie label, Death Records, and we agreed that my disco/radio bashing debut would be the first single. I brought a box of the records to my employer, Sam Goody , who promised to distribute it; then they played it, and once they heard "try your luck, but don't get fucked, by disco, it SUCKS!", they gave the box right back to us; there hadn't been a commercial single released in America with 'fuck' as part of the chorus; we were banned by a major record chain, and the rest is history; we'll continue that history at another time, but we became a Max's band, played there a number times thanks to Max's monarch Peter Crowley, who booked us, and put the single on the jukebox at Max's, my biggest thrill of all! Word reached me that a certain Sid Vicious heard it at Max's and thought it was hysterical; and now, "Death To Disco" is included on the new expanded version of that 1976 groundbreaking Max's album, and I couldn't be more proud!