20 Minutes Into The Future,
25 Years Into the Past
By Rotten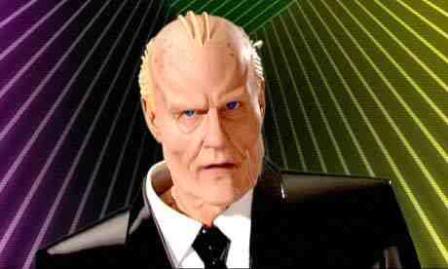 There was all this talk of a TV show hosted by a stuttering, computer generated head, that showed music videos.....It was so new, so different, . Britain's newest TV station Channel 4 were showing the movie pilot on how he came to be, and I HAD to see it.
The premise of the story was that Network 23's best video journalist, Edison Carter (played expertly by Matt Frewer), gets too close to a story involving his own network, and during a bike chase, has an 'accident' and smashes through a Maximum Headroom barrier in the Network building car park. To keep his shows going, (and the BLIPVERT affect a secret), The network's boffin Bryce Lynch recreates Carter's mind on a computer screen.....It has his looks, sense of humor, but worryingly, his memory.
Although the Network tries to have Carter killed and disposed of, he escapes the Body Bank, and exposes the truth about Blipverts........and Max Headroom is born.
I was mesmerized as a youth, Max was funny, and people even believed he was computer generated!!! The Max make up took 6 hours to apply to Frewer, but sadly at the character's peak, the guy who designed the make up didn't even get paid!!!
Max was becoming a pop culture icon by 1987, advertising New Coke, Radio Rentals (a TV hire chain in the UK), and had a hit single with the Art Of Noise called PARANOIA.
Then the ABC network commissioned a season titled MAX HEADROOM......this was a Sci Fi series following on from the UK pilot movie with Max and Edison Carter exposing crime, a great adventure series, both funny and gripping, even running to a second season, until disaster struck!..........
Max was gone for good............or was he??????
On 22 November 1987, two Chicago TV stations had their signals hacked by a man wearing a Max Headroom mask, the second of the two, on WTTW Channel 11, was hacked during an episode of Doctor who, with "Max" talking unintelligibly, insulting WGN workers, and then being spanked on his bare buttocks with a fly swatter!!!! The Hacker was never caught.......
Then in 2007, the REAL Max Headroom returned in a series of Advertisements for Channel 4's digital switch over (Get Set For Digital campaign), in the commercials, Max looks aged, the new make up really setting the jokes up well.
Max's influence has spread to parodies in Back To The future 2, Sledgehammer, a Playboy feature (Maxine Legroom), comic books, video games, and even a pornographic movie, called Maxine!!!
There are so many Max Headroom fans on line buzzing about the DVD release of the series which has not happened. There are questions and legal problems on who owns the rights to Max. All3media owns part of it, as do Chrysalis Visual Programming in the UK. Because of this, we fans will never get a full Max Headroom remastered DVD set, so will have to make do with the ones we find on E-Bay.
25 years after the series ended, Max Headroom is still remembered fondly, as the greatest Cyberpunk series of them all.