"http://www.w3.org/TR/xhtml1/DTD/xhtml1-transitional.dtd">
By: Timm Carney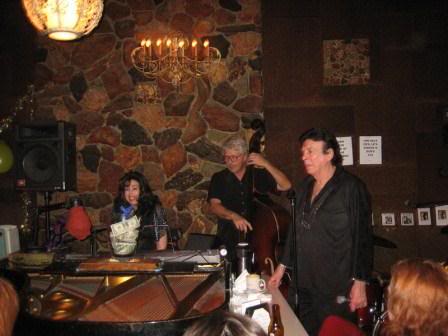 Hollywood is all about going out. There are thousands of clubs, bars, theaters and restaurants to choose from. I personally favor the more off beat and hidden gems. The Dresden Room is one of those gems. Jenine de Shazer's was the reason to check out the Dresden Room. Marty and Elayne are the reason to go back.
Stepping into the Dresden Room is like stepping back in time. Opening in 1954 and the layout is pure old Hollywood. The dining room is all white leather booths and candelabras while the lounge is paneled with cork and lined with red leather banquets. It is "Mad Men" meets "Laugh-In".
On most nights starting at 9pm Marty and Elyane take the stage. Well it's not really a stage, it's a grand piano and a drum kit set up in the middle of the lounge. The evening starts off quiet and low key with jazz standards and Sinatra covers. Marty works the room with his microphone. "Anything you want to hear? Anything you don't want to hear?" He solicits audience song selections from their enormous inner songbook. Our waitress clued us in that "Marty works for green if you know what I mean." We tipped Marty $20 receiving a lot of attention and insuring all of our song selections were performed.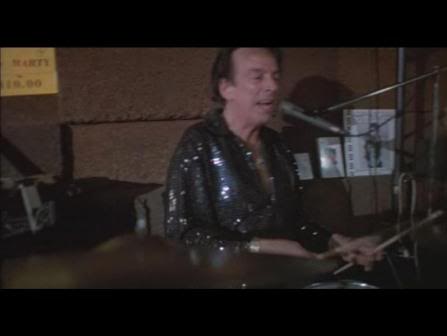 As the evening rolls along and the dining room closes Elayne starts to let loose. She breaks out her electric organ, her flute and wild scat singing style. Her version of "Muskrat Love" is nothing less than inspired. Ginger Coyote was supposed to be with us the night we were there but she was under the weather. We did get Marty to dedicate "La Vida Loca" to her, Ginger would have loved it!
We chatted with Marty when he took a little break and he told us they'd been at the Dresden since 1982. They are originally from New York but love Hollywood! He is technically an excellent drummer. We watched him tweak his skins while playing never missing a beat. Elayne is a master on the keyboards. They put on a thoroughly enjoyable show. Marty & Elayne at the Dresden Room a true Hollywood experience.
The Dresden Room isn't technically in Hollywood proper it's really Los Felez right off of Hollywood Blvd on Vermont St. It has a true LA luxury Parking! Make the effort to visit if you are in the area you'll be glad you did.