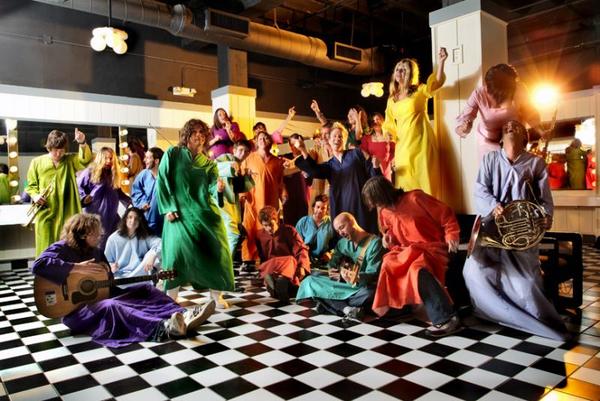 Interview with MARK PIRRO

of


and
By OZGUR COKYUCE

Mark Pirro……a Dallas-based musician, bass player
in the magnificent and magical band The Polyphonic Spree
and former member of Tripping Daisy
He is also the inventor and manufacturer of the copperphone,
which is a hand crafted specialty microphone.
It's a pleasure for me having the chance to do this interview with Mark…
my friend and the former member of two of my all-time favourite bands…
So let's start…
PUNK GLOBE: Mark, as The Polyphonic Spree, you toured during 2007 for your latest album
"Fragile Army." How is the touring going compared to the previous tours?
(It seems like the the feedback gets better and better with every new album?:)
What are the plans for the rest of 2008 and 2009?

MARK: Well the most recent tours for the Fragile Army have been going well...
This time we've been fortunate to get two tour buses instead of the regular one.
I'm grateful when we have one tour bus, but having two really
takes the stress off while on the road!

Can't say what are plans are for 2009 as that is too far in the future,
but looks like we might have some interesting opportunities for 2008.
It is still in the works, but there might be a chance for us to play the opening
of fashion designer Oscar de la Renta's new store at Red Square in Russia.
We got to play for one of his fashion shows last year and it was
one of the most unique things we have ever done.

PUNK GLOBE: Please tell us a bit about the early days. Where did the name come from?

MARK: Well the whole thing started as an idea that our singer Tim had.
He knew he wanted a lot of musicians to be able to perform the multi-instrumental sound
he had in his head. I suppose the name came from describing the sound...
Polyphonic, meaning many sounds and Spree, meaning an extravaganza of sorts.

PUNK GLOBE: Also as Tripping Daisy, during the 90s you performed under different names like
"Hulla Poppers or "Gasper-Goo" or "Flare Hair Jig." Is that right?

MARK: Yeah, those are names of classic fishing lures. For a brief time, we had a rehearsal place
in a farm house out in the country. We liked to fish and there were plenty of fishing spots on the land
where the house was. We got that rehearsal place to be a bit more secluded and work on new material.
Ironically we spend more time fishing than rehearsing! Anyway, when when all was said and done
we had a bunch of new songs and we wanted to showcase them live, but we didn't have them
recorded on a record yet. In order to keep a low profile while playing out with this
new material, we played under those assumed names so that only our
true fans would know and be able to come and hear us play our new stuff.

PUNK GLOBE: When did you start music? Was it your plan or thought to be a bass player in a rock band
when you were young? What was the most important thing that made you decide to start making music?

MARK: Yeah, I knew from a young age I wanted to be in a rock band.
However, at that time I didn't know what instrument.
Ironically, I remember being asked by my 4 grade teacher in front of the whole class what I wanted to be
when I grew up. I of course announced with confidence that I wanted to be in a rock and roll band
and the whole class laughed at me. Funny how things worked out.

PUNK GLOBE: In forums,we see some rare/unreleased Tripping Daisy song names
(mentioned by fans) like "Dinosaurs And Feet Don't Fail Me Now," "Foolish Game," "Too Much For Me,"
"Get Off My Case," and more. Please tell us about these songs, if they were recorded or when,
to which albums they were planned to be included, etc?? Are there any other unreleased songs that exist?

MARK: I remember the dinosaur song, but I'm not sure I recall the other ones...
If I heard the music I could probably recognize them. Anyway, none of those songs,
among many others, every got recorded properly. There might be some live recordings or
rehearsal recordings of them out there. In fact I have a shoe boxes full of demo recordings and whatnot that
I need to go through. However, it seems like a daunting task as there is probably
over 100 hours of tape to go through. One day I will get to it...

PUNK GLOBE: There was a talk of a Tripping Daisy Anthology box-set. Both Spree and Tripping Daisy fans
are waiting to hear about that.When will it exactly see the light of the day and which hidden treasures
(demos, b-sides, alternate versions or outtakes) are planned to be included in it?
And…Tripping Daisy Gum Product Video…is there a possibility that it can be a part of the Anthology box set?

MARK: This has been a project talked about many times in our camp, however,
at this time we are too consumed with Polyphonic Spree. When will it see the light of day
and what sorts of unreleased things will be included? Those are good questions I don't have answers for.
I would assume this project will become more of a reality once thing
with the Spree die down and we can go through those shoe boxes of tapes.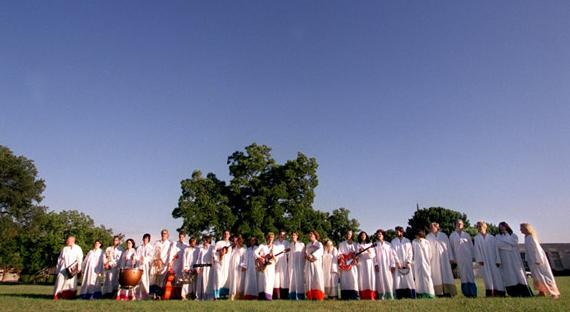 Polyphonic Spree in White
PUNK GLOBE: As we continue talking about Tripping Daisy,The Polyphonic Spree song called
"Fields Glide Without Motion"... was it an old Tripping Daisy song from the 1998-1999 era?
People mention the Tripping Daisy christmas shows at trees like legendary..
For the ones who missed them, can you tell us a little of what you remember from those days?

MARK: Yes, the spree version of 'Fields...' was a rendition on a Tripping Daisy song.
Trying to remember details of the Tripping Daisy Christmas show...
well I remember it being a packed house and probably well over the fire code capacity.
One thing that really stuck out in my mind was that one of the
opening bands doused a cymbal with lighter fluid and lit it up.
The singer would hit the cymbal and cause a ten foot flame to shoot up in the air.
I remember we had one of our backdrops on stage and the flames were getting really close.
What a potentially disastrous situation! Oh yeah, and the show was good too.

PUNK GLOBE: The Polyphonic Spree has covered old songs
like "Sonic Bloom" and Foot Dance as "Debate Montage." Tripping Daisy
also re-recorded the song "One Through Four" for the last album.
Will this cool tradition continue in the future Spree releases,what can we expect?

MARK: Don't know for sure, but maybe one day a Tripping Daisy reunion?
Actually there is a few local musicians here in Dallas that want to do a "Jesus Hits Like the Atom Bomb'"
tribute where they perform the whole record live from front to back.
I told them let me know when, I'll be on the front row!

PUNK GLOBE: My last question about Tripping Daisy.
Has there been any video released or made to "Sonic Bloom" for the "Jesus Hits Like The Atom Bomb" album
and if Tripping Daisy had continued to this day, (maybe with a possibility of increasing number of members)
would the sound be the same or very similar to The Polyphonic Spree?

MARK: No videos were ever done for "...Atom Bomb." If Tripping Daisy had continued
I don't thing we would have increased the size of the band.
I do thing the recorded sound would have kept expanding though.
I'm sure we would have gotten session players and like.

PUNK GLOBE: A question I would like to ask the most: you released many albums
in your career and I'm sure everyone of them is a great experience for you
but which one is your favourite album and which song is the most special for you amongst others ?

MARK: My favorite album by far is Jesus Hits Like the Atom Bomb.
It was an incredible experience to make, but I think a more impressionable experience
was the making of "Elastic Firecracker." I think that is because it was the first 'real' record
we did on a major label. We took a few months to do it, lived at the studio
and just plain had a great time. It was then that I really found my passion with the recording process.

PUNK GLOBE: Which bands -- can we say -- had most influence on the general sound & melodies
of The Polyphonic Spree? This may give an idea also to new listeners who made
a great mistake of not knowing your band before.

MARK: The Beatles.

PUNK GLOBE: Mark,you played in two wonderful bands until today. But, if you were
to create your all time dream band,who would be the members of this heroic army? :)

MARK: John on vocals/guitar, George on lead guitar, Ringo on drums, then me on bass?
Where would Paul be? Hanging out with Pete Best of course.

PUNK GLOBE: What were you listening to in late 70s+80s and what are you listening to nowadays?

MARK : Mainly classic rock - The Who, The Rolling Stones, Boston, The Beatles, AC/DC, Yes, Rush, The Eagles.
Who am I listening to nowadays? The same of course! Oh... I have also been listening to a lot of classic Motown too.

PUNK GLOBE: Last question : If someone puts an album up on their wall, are they doing it
because it looks cool or because they love the music on that record? What's your opinion?

MARK: I have no idea, but I could say for me it would be a little bit of both.

PUNK GLOBE: Any last words for Punk Globe Readers???
MARK: Yes, buy Polyphonic Spree's "The Fragile Army."

Punk Globe would like to wish the best to The Polyphonic Spree
and thank Mark Pirro for taking the time to do this great interview....