Mark's wife Molly and I have been friends for years. I have just recently gotten the chance to reconnect with Mark. We had met briefly in the early 80's when we met at The Mabuhay Gardens... Mark is a way cool , wicked funny, and immensely talented .
Matthew Coleman, our webmaster, grew up on The Teenage Ninja Mutant comics and was charged when he heard that I was interviewing Mark. ... I hope that you all will enjoy my interview with the talented Mark Bodē.
Mark and Molly Bodē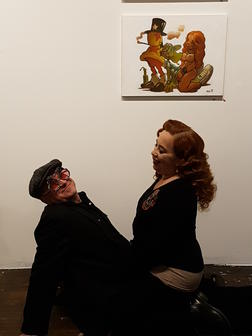 PUNK GLOBE: Thanks for the interview Mark. Tell us a bit about your early years?
Mark: Your welcome Miss Ginger. Its my pleasure and honor to be asked to be part of such a monumental issue of Punk Globe! I never dreamt I'd be here! Well if I must talk about myself (I seem to know a lot about the subject) I grew up in upstate New York in Syracuse and Utica hardly a place to brag about but my humble beginnings never-the-less. My fondest memories are having a Heids hot dog with my dad on Onadaga Lake in the mid 60s. At the time it was the most polluted lake in america. But somehow my creative father made it wonderful, look son it's a dead bloated fish floating in, lets chuck a rock at it and make it explode! We ate hot dogs and I sipped my chocolate milk as we would chuck rocks until the carcass popped and sunk slowly out of view. On occasion across the lake the animal control plant would pile up the dead animals and burn them. Yes, it was one of my fondest memories back when I was a wee lad.
PUNK GLOBE: So, you were born in San Francisco?
Mark: No Utica NY My mother and father were also born in Utica and Syracuse. My lovely wife Molly was born in Brooklyn NY, our daughter Zara was born in San Francisco in 1983.
PUNK GLOBE: How old were you when you discovered you had inherited your Dads talent of art?
Mark: Well my earliest memories were at his drawing board in Syracuse, I could hardly stand up but he would put a pencil in my hand and let me make my "Mark" on his comic pages. I would use the pencil right at first then quickly turned it around and stuck the point into my forehead and let out a blood curdling wail. I still have the mark on my forehead if you look close! I was 2 maybe, but whats strange is I remember the moment jamming the point into my little know nothing noggin.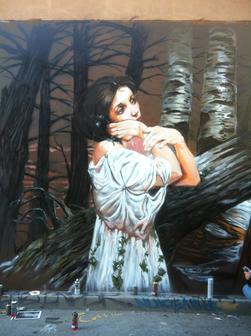 PUNK GLOBE: Tell the readers about your father Vaughn Bodē?
Mark: Vaughn Bodē was the second of 4 children born to Elsie May Morton and Ken Roland Bodē in the 40s. Vaughn and his siblings lived a very tumultuous childhood. Their mother Elsie was a sweet, loving, hard working gal at the General Electric plant in Utica and Ken was a frustrated writer and poet who would get drunk and get sad and when he was sad he would get mad and abuse the kids and his wife physically. This abuse made my father delve into his own worlds at a very tender age. He went so deep and created universes so involved so he could escape. Vaughn populated these universes with thousands of characters. As early as 15 he had created a "safe" universe to escape to and thus his most infamous characters were born. Cheech Wizard and the Bodē Lizards were created then in the years 1957 and 1958. Vaughn's creations within a decade would start to change the comic industry as we know it. Influencing not only pop culture and underground comics, but influencing the earliest train graffiti artists in NYC in the mid 70s. Many copied the Bodē characters and copied the copies. Vaughn passed in 1975 in a mystic experiment gone wrong via auto erotic asphyxiation and never got to see his influence on street art or the subway art culture.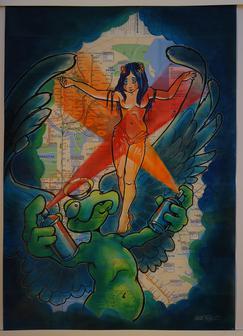 PUNK GLOBE: Besides your dad what other artists were inspirations to you?
Mark: Its always changing who is an influence . My early influences were my dad and Jeffery Catherine Jones both were cross dressers in the early 70s when it was not cool or accepted.They both had wives and at the time happily married. Vaughn and Jeff both had beautiful youthful appearances and amazing art styles to boot. They may have been lovers but this is not proven as fact. I innocently knew nothing of their world other then their incredible art. They often teased me and enjoyed my innocence. When I was 7 years old my father playfully taught me to draw tits. He said Mark if you draw them this way you will always make money. I did and I have. I've lost the question…. yes I love all artists that draw the female form well or have a full vision view in their work. Moebius,Milo Manara and Frollo to name a few. Jeez don't get me started.I could go on and on.
PUNK GLOBE: Who are some of your musical inspirations?
Mark: ENO, FERRY, FRIPP, KRAFTWERK sounds like an incantation from another realm. When I work I listen to Buddha Chill or ambient music. If the music has too many lyrics it's distracting to me.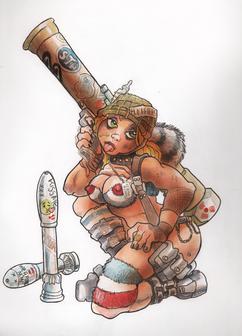 PUNK GLOBE: Did you go to The Mabuhay Gardens?
Mark: I was very young in my teens but did once or twice on the sneak. One of the last times I saw you Ginger was there before recently when we hooked back up. It was JackCassidy's band SVT. It seemed so intimate and not many people almost cafe like. I could have a distorted memory but that was how I remembered that night. I also did my first flyer image for Naomi Ruth Eisenberg and her band The Dada's for the Mabuhay while I was still in high school. One of the perks of being son of Vaughn I guess.
PUNK GLOBE: Tell us about your first big break?
Mark: That would be our founders, our full circle connect. COYOTE in 1979 My wife Molly (at that time girl friend) was working for Margo St James and Margo had used such artists as Robert Crumb and David Wills , both incredible stylists and innovators in SF underground and pop culture circles. Molly suggested to Margo to give this young man a chance at designing the Hookers Ball T shirt logo, I submitted a design and Margo loved it! In the arts she may brag I popped his cherry,' ummm I was very young but in with the "cool crowd" Ginger you know.
PUNK GLOBE: Shit happens when you have Molly behind you...Tell the readers about your many jobs in doing art have been?
Mark: My first professional job in comics was coloring my fathers work for Heavy Metal magazine when I was 15 in 1979, I've worked for Marvels Epic Illustrated in 1982, started a series with writer/artist Larry Todd called Cobalt 60 shortly after, based on my fathers creation for the same magazine in 83. I worked for Penthouses HotTalk Magazine and Hustler, started a comic called Miami Mice in 1986 which was a black and white best seller. I then moved to work on the original Teenage Mutant Ninja Turtles comics for 7 years, designed Bodē clothes and sneakers with Marc Ecko and Puma, and worked on numerous books and magazines over the years. I have also been a tattooist for over 20 years.I can continue but yes I've had a wonderful career thanks to my fathers path.
PUNK GLOBE: That is an incredible resume.. Tell us how you met your lovely wife Molly?
Mark: Molly is my soul mate, we first meet at my birthday party in Oakland in 1977. She danced with Larry Todd's girlfriend at the time and I felt quite undeserving. I figured these hot Belly Dancers were here because of my famous father and I secretly cried in the back room from missing my father so much. In comes this beautiful red headed nymph and gives me an innocent birthday kiss and a shock reverberated through my body like a cosmic connection had finally been made. It was awhile till we actually hooked up but when we did we stuck like glue. She runs our family business and is my muse for life.
Melbourne 2016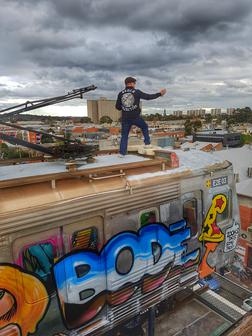 PUNK GLOBE: You recently celebrated your wedding anniversary tell us about that?
Mark: We have been married 34 years now longer than my father lived. Our talented daughter Zara Bodē is also that age and is a country honkey tonk singer. Her band is called The Sweetback Sisters. What's not to celebrate?
PUNK GLOBE: You and Molly have both worked on projects together.. Tell us more?
Mark: We have always worked together! She gave me my start! But recently we have been working on a Alternative Reality animation project where she was THE voice for queen BBC in the animation, her big line was "GENOCIDE MUTHA FUKAH!! and she blows away a Radio soldier. I'm quite proud of her after all she IS THE BODĒ BROAD number ONE!!!
PUNK GLOBE: A role that Melissa McCarthy was born to do! Your work has taken you abroad many times. Tell us about some of your most memorable work trips?
Mark: Oh my so lucky we are. In the Ninja Turtle days we stayed at the most prestigious locations abroad, we stayed at The Browns Hotel in London which Queen Victoria stayed in the 1800s. The very proper butler saw me in a leather jacket and long hair and asked me in his aristocratic English accent: 'Mr. Bodē what are you in a Rock n Roll Band?' "We are cartoonists," I answered, and he nearly choked in disgust with a ' guffaw oh my'… Ha, we were worst than the worst undeserving that had ever come through those doors. Molly and I have had many trips around the globe we are humbled and I have been brought to tears many times with our loving welcome from mere strangers and fans of our art.
The Warfield theatre SF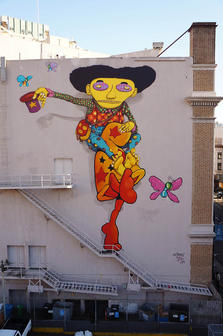 PUNK GLOBE: It seems like you are in high demand for doing street art and murals? Tell us about that?
Mark: Vaughn has set forth a strong foundry in street art and I am proud to have hosted dozens of Vaughn Bodē tributes in Barcelona, London, Paris, Stockholm, Melbourne, Berlin and various cities in the US. I love doing street art more than any other art form I have done to date. I can also change my style and I have done many tributes to my fallen heroes like Moebius, Jeffrey Catherine Jones, Spain Rodriguez as well as my father. I painted the back of the Warfield theatre in downtown SF with some friends from Brazil the Osgemeos brothers that is 5 stories high. Spray can has advanced to such a level it's like airbrush in a can and you can cover a huge area in a short amount of time. It is a renaissance in art.
PUNK GLOBE:Wow! What does the future hold in store for Mark Bodē?
Mark: I'm experimenting in animation at the moment. We have had so many big companies approach us for a series or a movie etc. It always goes up the ladder and the money people shake their head and shoot it down. Bodē has staying power. It has lasted over 50 years and is still loved, revered and imitated all over the world. I've decided to do it myself with the help of animator and computer genius Mark Butler. We have been working on AR and VR animated Bodē projects and doing it ourselves. No suit and ties, no money people, just love for the material and the property my father left us. This is my goal to bring my fathers work to the 21st century where it belongs. Also we just started filming a Vaughn Bodē documentary to be directed by Nick Frances here in SF.
PUNK GLOBE: Any thoughts on Punk Globe being around for 40 years?
Mark: We are still hot and sexy Ginger. Lets never get old!!! OK???!!!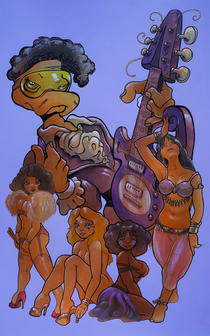 PUNK GLOBE: Do you have any Internet Addresses you would like to share with Punk Globe readers?
Mark: My Instagram is: markvbode
Facebook: Official Mark and Vaughn Bodē Fan site
Our direct contact is markbode@comcast.net
PUNK GLOBE: Describe yourself in three words?
Mark: Stratospheric Lizard Pimp
PUNK GLOBE: Thanks so much for the interview. Any last words for Punk Globe readers?
Mark: That 40th anniversary illo was a bitch to do. What else is new? Love me a Miss Ginger!
Tribute by Bodē to Moebius
used in the series Sense 8